Portico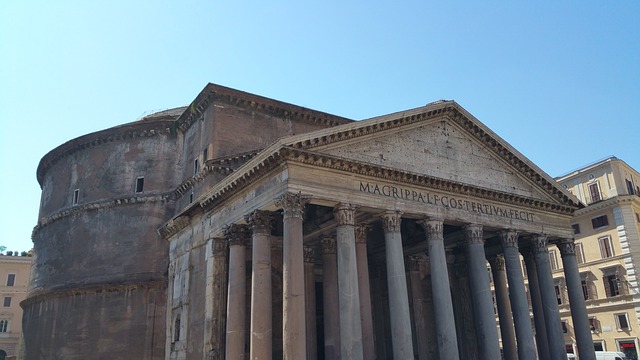 In classical architecture, a portico is a colonnaded porch leading to a building's entrance, or a covered walkway which is enclosed by walls and supported by regularly-spaced columns.
Porticos were a widely-adopted feature of temple architecture in Ancient Greece and were subsequently adopted in many other cultures, particularly Roman architecture.
There are two general types of portico in plan form.
The first is where a temple's walls extend beyond the cella (inner chamber) and form side walls of the porch or anteroom. Generally, these long walls would terminate with antas (corner post or pilaster). The portico, or open end of the porch, is supported by between 1 and 4 columns in antis (between the antas).
The second is where a temple terminates with a porch, open at the front but also at the sides. The temple is referred to as 'prostyle', with freestanding columns across the entire portico. The different types of temple are referred to as:
Amphiprostyle: Porticoes in front and back.
Peripteral: Colonnade running all the way around.
Dipteral: Double line of columns running all the way around.
Pediments were sometimes used to top porticos.
The terminology for porticos dependent on the number of columns they have is:
The city with the most porticos is Bologna in northern Italy, where they are part of a UNESCO World Heritage site. Most of the city's porticos were constructed from timber until a city ordinance in 1567 decreed that 'wooden pillars be replaced by brick or stone'.
Bologna also boasts the world's longest portico, stretching approximately 2 miles (3.5 km) from the edge of the city to the Sanctuary of the Madonna di San Luca. With 666 arches it represents civic mindedness, built by contributions from Bologna's citizens.
IHBC NewsBlog
Alnwick Civic Society thanks IHBC and Civic Voice etc
Alnwick Civic Society has secured £6,600 for a special publishing project on local 'Heritage Heroes', thanks to seed-funding from the IHBC and Civic Voice.
---
New DBW post on understanding dampness from IHBC Context
The article from IHBC's 'Green Retrofit' Context by John Edwards and Peter Ward, is now DBW through the IHBC's Conservation Wiki resource.
---
Five towns and cities shortlisted for UK City of Culture 2021
Coventry, Paisley, Stoke-on-Trent, Sunderland and Swansea have been shortlisted to host UK City of Culture 2021.
---
Jodrell Bank's Mark II telescope gets Grade I listed status
Jodrell Bank's second largest radio telescope has been given Grade I listed status for its pioneering role in radio astronomy.
---
New Generation Thinkers scheme 2018 from the Arts and Humanities Research Council
The pioneering scheme aims to develop a new generation of academics to bring the best university research and scholarly ideas to a broad audience.
---
National Churches Trust - five point plan to secure the future of UK church buildings
Prioritise maintenance, create community centres, add to the visitor and tourist map,

create a one-stop shop for churche funding and open church buildings every day.

---
IHBC Belfast 2018 preamble: Titanic Quarter project gets £29m
The co-owner of the project has injected another £29m into the business, ensuring that there will be even more to consider at the IHBC 2018 School in Belfast in June.
---
Halifax Piece Hall opens after £19m regeneration
The UK's only surviving 18th Century cloth trading hall has re-opened after a £19m restoration.
---
Historic Environment Scotland Blog - work to unroofed nave at Dunkeld Cathedral
The stone of the nave is vulnerable to changing climate but specialist conservation teams are working to protect it – from 1920 into Scotland's Year of History, Heritage and Archaeology.