New Design for Old Buildings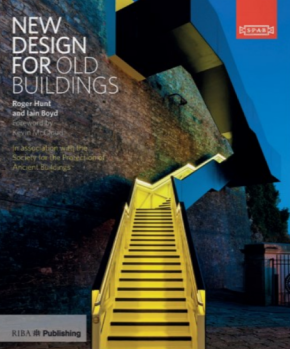 New Design for Old Buildings, Edited by Roger Hunt and Iain Boyd, RIBA Publishing, 2017, hardback, 272 pages, numerous colour illustrations.
---
This beautifully produced book is the result of an exciting and novel collaboration between the Royal Institute of British Architects and the Society for the Protection of Ancient Buildings. It is set out in a way that will make it an invaluable resource for students and practitioners, as well as planners and conservation officers. There are case studies and themed chapters with plenty of excellent illustrations.
The technical sections on materials used in traditional buildings are an exemplary primer for those starting out in practice. The approach is fresh, the book is clearly laid out and some of the best recent work in architectural practice is illustrated here.
The editors have included the SPAB manifesto at the beginning of the book. A quote from its first secretary, Hugh Thackeray Turner, that 'new parts should be plain and unostentatious…' was surely inviting modernism in design, and advocated taking a distinctive approach to extensions to historic buildings. A good example of that approach, illustrated here, is Stanton Williams' extension to Compton Verney. To work in this way we need knowledge and understanding of the significance of historic places. The SPAB has always argued that new interventions in historic buildings should be 'legible', but I would suggest that new work should not give offence, and that creative conservation should not always mean change.
I doubt that anyone would delight for long in the 'conservative' repair, after fire, of St Giles House, Dorset. There, in a state room, half a wall of plaster remains next to bare brickwork, yet paintings hang on both surfaces. It looks shabby and temporary. Contrast this with the careful rebuilding after a disastrous fire at Uppark, where the contents and paintings from the house have been returned and sit comfortably in their old surroundings. Despite the SPAB's suggestion that restoration would produce a 'sterile copy of a vanished work of art', the National Trust was able to complete the faithful restoration of Uppark and I doubt that many of their visitors consider that they are looking at a 'sterile copy'.
These arguments are met daily by those of us working with historic buildings. We have often resisted the term 'conservation architect', which seems to imply that we do not have the creative flair of others in the profession. Paddy Dillon of Haworth Tompkins speaks of someone working successfully in the historic environment as 'a creative artist being highly sensitive to and respectful of the existing structures around them'. This is a good starting point. That sensitivity and understanding is shown in many of the illustrated examples in this book.
The finest example in a recent major building must be Michael and Patty Hopkins' Hostry and Refectory at Norwich Cathedral, informed by a deep understanding of the historic development of the cathedral and its cloister. This, while subservient to the medieval structures, is bold in its modern detailing. A similar achievement, but at another scale, are Adam Richards Architects' museum extensions to the farmstead at Ditchling. They show how, by using traditional materials and forms, modern design can be unassertive, delightful and appropriate.
The book contrasts this approach with Zaha Hadid's extension at St Anthony's College Oxford, which crashes into the side of a pleasant (but, fortunately enough, not distinguished) row of Victorian houses. We need to be prepared to be critical and to explain what is tactful, sensitive and delightful, while also being able to identify schemes that fail. The book shows several examples of the work of the Churches Conservation Trust, ranging from the superb little addition to Holy Trinity Goodramgate in York by simmonsherriff to the intrusive work in All Souls Bolton.
Here, by contrast, the work seems to be modern for its own sake, and the form of the internal pod and its placing in the church shows no understanding of the building's history or significance; rather it is seen as a shell to be played with. I hope it is reversible.
That major interventions in historic churches can be sympathetic and stimulating is clear and well-illustrated by Dow Jones Architects at the Garden Museum. Here the spaces remain largely undivided, but are subtly remodelled to provide exhibition, shop and cafe spaces. At all times it is clear that this is an ancient building 'hallowed by prayer', and that the architects and curators have understood this and worked with the building rather than against it.
The furniture maker Nicholas Hobbs sets out an approach for those working with historic buildings. 'You're never starting cold, you're coming in at a certain point in history.' This book encourages readers to understand both history and traditional crafts, and to make our own distinct and appropriate contribution. It also stimulates discussion, and will no doubt be referenced for many years to come, to justify or criticise new design in old buildings.
---
This article originally appeared in IHBC's Context 156 (Page 54), published in September 2018. It was written by Jane Kennedy, partner of Purcell.
--Institute of Historic Building Conservation
IHBC NewsBlog
IHBC Virtual School 19 June: Heritage Reflections & Speculations from a Pandemic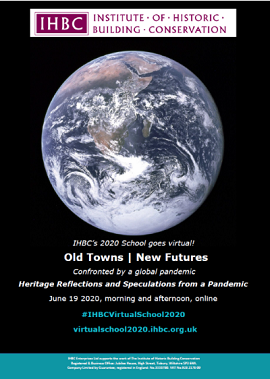 How the current pandemic will shape historic urban areas and their surrounding communities across the globe is impossible to tell. Join us to reflect on the implications for our current approaches to caring for valued places, and even speculate on future strategies and responses.
---
RTPI calls on government to issue planning guidance to prevent development delays

The Royal Town Planning Institute (RTPI) has called on the government to urgently issue planning guidance to prevent unnecessary delays to development from the pandemic.
---
How to Enjoy Heritage from Home, from the Heritage Fund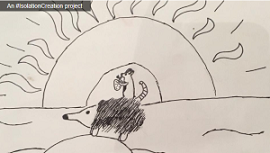 The Heritage Fund has put together a list of heritage-inspired activities to be done from home.
---
Listed Property Owners Club's Spring Checklist for Buildings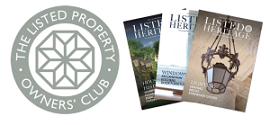 Spring is a good time to stand back and consider any building repairs that are required over the next 12 months, notes the LPOC, and regular inspection and maintenance is the key to keeping homes in good repair, as per its accessible step-by-step guidance.
---
Firefighters tackle blaze at converted Grade II listed former mill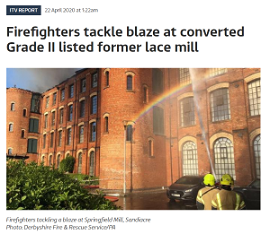 Derbyshire Fire and Rescue Service said "rapid and effective firefighting" had saved three quarters of the mill – which is now apartments.
---
Thieves take advantage of lockdown to steal lead from church roof in Halsham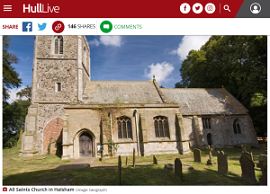 Police have appealed for witnesses after thieves stole lead from the roof of All Saints Church in Halsham near Hedon during the coronavirus lockdown.
---
IHBC's CPD Circular provides info on digital CPD opportunities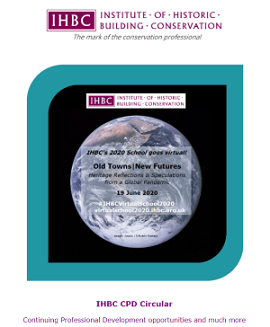 The regular newsletter showcases the IHBC's own Continuing Professional Development (CPD) content as well as online opportunities from 'IHBC Recognised CPD Providers' and other conservation related training and events.
---
Frank Lloyd Wright houses offer virtual tours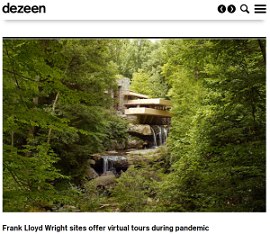 To make sure the public still has access to twelve of those famous works, #WrightVirtualVisits has been launched, which offers virtual tours of 12 iconic houses.
---
CIC's Coronavirus Digest review and survey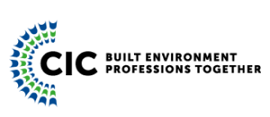 The Construction Industry Council's (CIC's) 'CIC Coronavirus Digest – Issue 8' surveys the latest government advice with updates from the construction industry.
---
COVID-19: Advice and Updates collated from the Heritage Sector
Organisations with conservation links have been collating resources on COVID-19 impacts, including Built Environment Forum Scotland (BEFS), Historic Environment Forum, The Heritage Alliance (THA), and Historic England, on cleaning surfaces.
---
Councils considering 'executive powers' as measures to avoid planning gridlock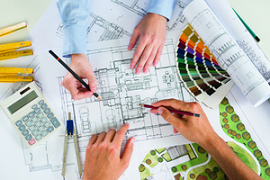 Councils are reported to be considering taking up rarely-used executive powers to keep the planning and development system moving during the coronavirus pandemic.
---
Historic England provides updated flood recovery advice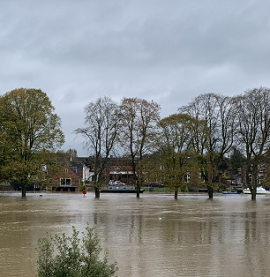 Historic England's 'After a Flood' provides timely advice on how to dry walls properly and avoid further damage to the building fabric.
---
Conservation of Timber Buildings: an example of evolving conservation techniques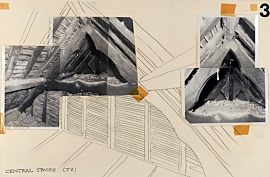 Context Issue 162 offers a peek into an archive of timber conservation history through the records of the practice of FWB and Mary Charles Chartered Architects.
---
Call for VAT rates for Refurbishment to be Reduced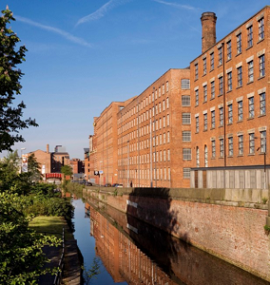 To meet the government's target of being carbon neutral by 2050, we must recycle, reuse and responsibly adapt our existing historic buildings, according to this year's Heritage Counts report, so Historic England and partners are calling for a reduction in VAT rates to incentivise this more sustainable option.
---