Building a Crossing Tower: a design for Rouen Cathedral of 1516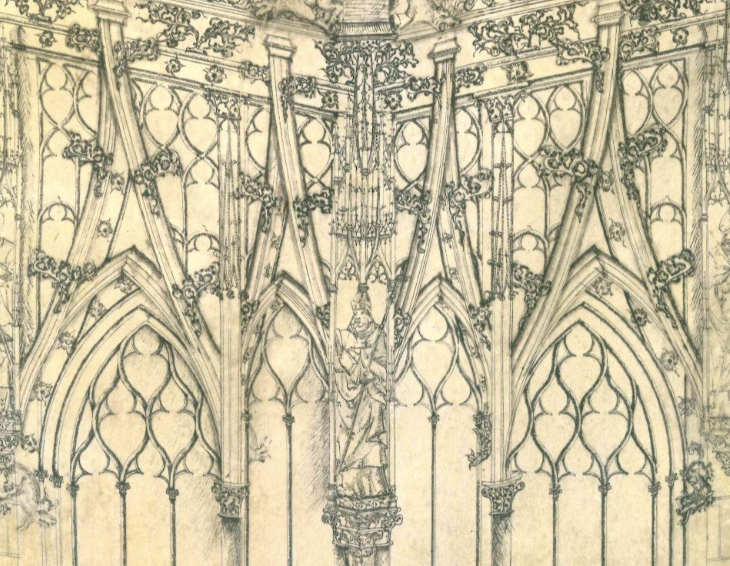 Building a Crossing Tower: a design for Rouen Cathedral of 1516, by Costanza Beltrami, Paul Holberton publishing, 2016, 135 pages, 97 black and white and colour illustrations, paperback.
The sum total of all surviving medieval gothic architectural drawings is no more than 600, of which barely 15 remain from all gothic France. The discovery in 2014 of a previously unknown drawing of a gothic tower with an immense, soaring spire was therefore an unusual event. The drawing, which is an impressive 3.5 metres in height, corresponds to no surviving gothic tower, and bears no signature or identifying title. What is also extraordinary is the top-down perspective from which the tower is represented, something that is not paralleled in any other medieval drawing.
The drawing is the subject of this absorbing book, in course of which Costanza Beltrami's diligent research has enabled her to reveal its date, subject and probable designer. Moreover, she provides a wealth of fascinating information about the political and civic context in which the project was devised and the practice of late gothic architects. It concerns the final phase of the gothic style, known in France as the style Flamboyant, shortly before it was displaced by renaissance classicism.
The churches, chateaux and town halls of this period are not well known in Britain, but they represent some of the most thrilling architectural creations of the late middle ages in Europe, of which the drawing is a supreme example. The tower as depicted is a kind of fantasy, bristling with pinnacles, gargoyles and statues, and smothered in floral decoration, its spindly structure appearing to defy gravity. The book begins with a series of huge double-spread enlargements of sections of the drawing, which emphasise the compelling power of the design.
By extraordinarily good fortune, Beltrami has been able to attribute the drawing to Rouen Cathedral on the basis of surviving Chapter minutes. These record that following the destruction of an earlier crossing tower by fire in 1514, the cathedral canons held a competition for a replacement. Unsure which scheme to select, the Chapter sought advice from artisans and local citizens, eventually deciding on a compromise by which the ruined tower stonework would be repaired and finished off with a timber spire. This instruction, however, was ignored by the cathedral architect Roulland le Roux, who proceeded to build a stone tower to his own design.
When in due course this was found out, he claimed that his action was for the good of the cathedral. Another hiatus followed, with a new drawing produced by Roulland showing his intended design at first being accepted by the Chapter and then later rejected. The partially-built tower was duly capped off until it was completed 40 years later in the renaissance style. On the basis of the Chapter minutes, which are included as an appendix to the book, Beltrami has argued convincingly that the tower drawing is the one which Roulland submitted to the Chapter, and that its visionary character was intended to overcome the canons' reluctance to permit him to continue.
To give context to this tale of intrigue and cultural ambition, Beltrami examines the use of architectural drawings in medieval Europe, the role of architects and craftsmen, and the commissioning process and associated political infighting. Written in a clear and engaging style, and beautifully illustrated with other comparable late-gothic drawings and buildings that are also little known, Building a Crossing Tower is a fascinating and informative book.
---
This article originally appeared as 'Flamboyant fantasy' in IHBC's Context 155, published in July 2018. It was written by Peter de Figueiredo, heritage Consultant.
--Institute of Historic Building Conservation
IHBC NewsBlog
IHBC's 2019 'Yearbook' Now Released "Extending the Reach of the IHBC"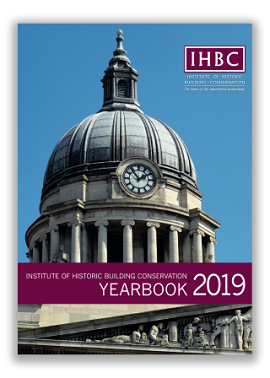 The IHBC's Yearbook for 2019 includes regular IHBC reviews, updates and listings, from IHBC's HESPR listing to our Recognised Conservation Courses and member directory.
---
IHBC 2019 Marsh Awards now out: at the IHBC's 2019 School, Nottingham 4 – 6 July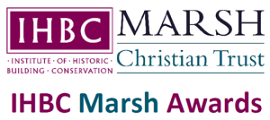 The judges are delighted to confer the 2019 IHBC Marsh Awards for Successful Learning in Heritage Skills and Community Contribution (Retired Member).
---
Rail stations in line for £300 million funding boost to improve disabled access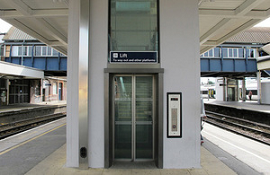 Disabled rail passengers across Britain will benefit from better access at stations and newly accessible stations will open up routes across the country.
---
A historical take on the future of Notre Dame, from IHBC's former Membership Secretary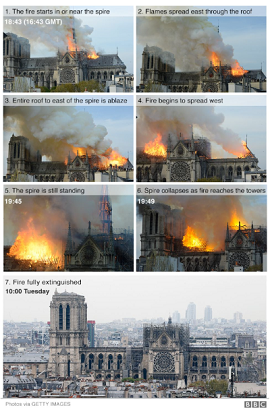 The IHBC asked former Membership Secretary Paul Butler for a take on some critical and historical issues around the modern response to Notre Dame.
---
CPRE's State of Brownfield 2019 report: Enough land for more than 1M homes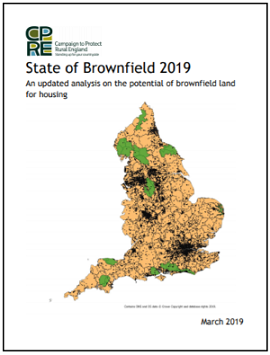 CPRE shows there is enough suitable brownfield land available in England for more than 1 million homes across over 18,000 sites and over 26,000 hectares.
---
BBC on 'The grief that comes from lost buildings'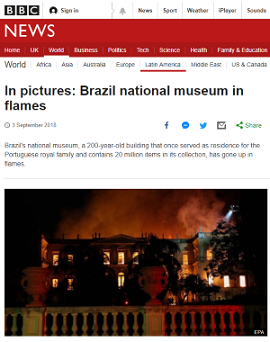 BBC News has reported on how, across the world, destruction of cultural attractions causes a specific sort of communal grief.
---
Enter the Brick Awards 2019: Closing 31 May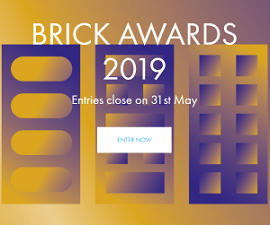 The Brick Development Association (BDA) has highlighted the opportunity to compete at the industry's highest level and be recognised by top-tier trade and national press.
---
STBA-SPAB Conference – 11 June 2019, London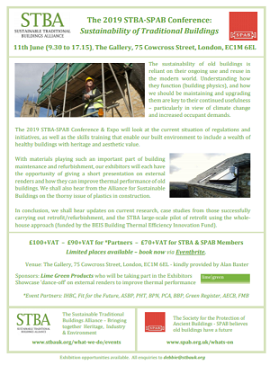 The 2019 STBA-SPAB Conference & Expo will look at the current situation of regulations and initiatives, as well as the skills training that enable our built environment to include a wealth of healthy buildings with heritage and aesthetic value.
---
Historic buildings on fire – Fisons Victorian factory near Ipswich destroyed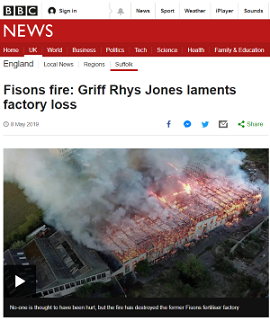 The former Fisons warehouse in Bramford, near Ipswich, was the victim on another fire affecting our heritage. Listed Grade II and dating back to 1858 the building was destroyed by a fire thought to be arson.
---
Highways England pours £4 million into canal restoration scheme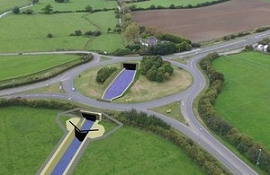 A mile-long stretch of canal in Gloucestershire that disappeared more than half a century ago is closer to being restored, thanks to £4 million of funding from Highways England.
---
Westminster: Legislative plans for Olympics-style body to oversee restoration works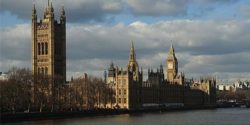 MPs vote on proposals for Houses of Parliament refurbishment, as the restoration and renewal of the Palace of Westminster reaches a major milestone.
---
Ever wondered 'How Venice Works', with 124 Islands, 183 Canals & 438 Bridges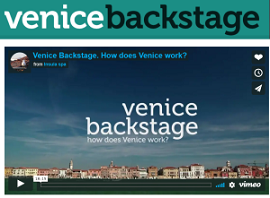 Open Culture has featured the Venice Backstage exploration of Venice and how, when the tourists leave the city, 60,000 year-round residents stay behind.
---
---