Approved inspector
The building regulations require that a project's compliance is independently verified. Historically, this verification could only be given by local authorities, however, it can now also be provided by a privately-appointed approved inspector.
Approved inspectors can be individuals or organisations. They must be registered with the Construction Industry Council Approved Inspectors Register (CICAIR) which provides a list of approved inspectors . Approved inspectors must themselves be re-approved every five years, and must have insurance from a scheme approved by the Secretary of State, which includes mandatory run-off cover.
A set of building control performance standards have been prepared by the Building Control Performance Standards Advisory Group (BCPSAG) to help ensure competition between local authorities and approved inspectors does not drive down standards and to encourage the consistent application of building control functions.
If the client decides to appoint an approved inspector, they and the approved inspector must jointly notify the local authority of the intended building project by submitting an 'initial notice'. The local authority will then place responsibility for building regulations verification on the approved inspector.
This might require the approved inspector to:
It is important to ensure that a final certificate is obtained as evidence that the works have been approved and that, as far as it is practical to determine, the works comply with the regulations.
NB: The term 'final certificate' can be confusing as it is also used to refer to completion of the works in the construction contract. See Building regulations completion certificate for more information about building regulations final certificates. Under changes to the building regulations made in December 2012, completion certificates must be given, they do not need to be requested.
If the approved inspector does not believe the works comply with the building regulations they will not issue a certificate. If disagreement arises between the client and the approved inspector, which cannot be resolved, they may cancel the initial notice, and responsibility for verifying compliance with with building regulations is then likely to revert to the local authority.
The Building Act also allows individuals and organisations that are considered sufficiently competent, to join a competent persons scheme, and then to self-certify that their work has been carried out in compliance with the building regulations and to issue a certificate to the client. Their ability to self-certify is limited to those areas of the works in which they are considered sufficiently competent.
NB: From 31 March 2014, the Department for Communities and Local Government (DCLG) and Welsh Government Ministers have transferred responsibility for approving Approved Inspectors to CICAIR Limited, a subsidiary of the Construction Industry Council (ref. CIC, CIC launches CICAIR Limited, 27 March 2014).
For further information, see the CICAIR website.
In 2019, LABC launched of a BSc (Hons) degree in Public Service Building Control Surveying at Wolverhampton University.
In 2019, following the Grenfell fire, a court case considered whether approved inspectors owe a duty of care under the Defective Premises Act. The court of appeal found that section one of the Defective Premises Act does not apply to approved inspectors, it only applies to those who positively contribute to the creation of a dwelling. Ref http://www.constructionmanagermagazine.com/legal/approved-inspectors-duty-care-herons-court-v-nhbc/
[edit]
External references
IHBC NewsBlog
IHBC's first Virtual School a Marked Success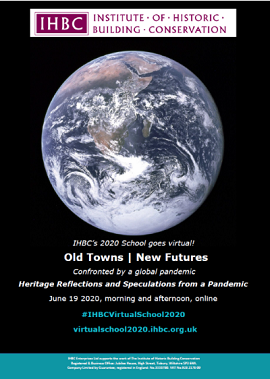 The first 'Virtual School' hosted by the IHBC was launched on 19 June with lead speakers covering pandemic-related topics shaping valued places over two sessions.
---
Ireland National Heritage Week: 15-23 August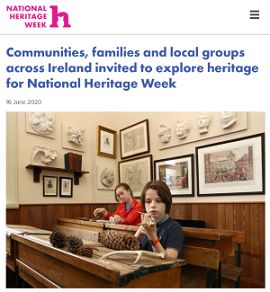 Plans are in place for a modified National Heritage Week for Ireland, which take into account ongoing restrictions on events and gatherings due to COVID-19.
---
Grimsby's historic Ice Factory thrown new survival lifeline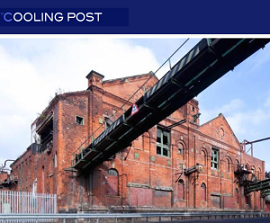 Opened in 1901, and derelict for the last 30 years, the Grimsby Ice Factory is the earliest and largest known surviving ice factory in the world. It still contains an array of historic ice making equipment including four J&E Hall ammonia compressors installed in 1931.
---
Risk Assessments and Contractual Impact from CIAT

A note on contractual obligations under the current COVID-19 pandemic has been issued by The Chartered Institute of Architectural Technologists(CIAT).
---
RTPI calls on government to issue planning guidance to prevent development delays

The Royal Town Planning Institute (RTPI) has called on the government to urgently issue planning guidance to prevent unnecessary delays to development from the pandemic.
---
How to Enjoy Heritage from Home, from the Heritage Fund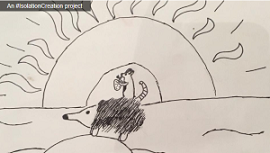 The Heritage Fund has put together a list of heritage-inspired activities to be done from home.
---
Listed Property Owners Club's Spring Checklist for Buildings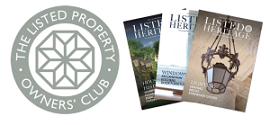 Spring is a good time to stand back and consider any building repairs that are required over the next 12 months, notes the LPOC, and regular inspection and maintenance is the key to keeping homes in good repair, as per its accessible step-by-step guidance.
---
Firefighters tackle blaze at converted Grade II listed former mill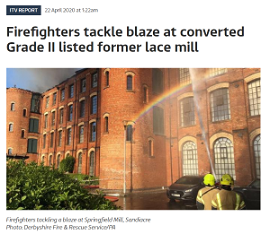 Derbyshire Fire and Rescue Service said "rapid and effective firefighting" had saved three quarters of the mill – which is now apartments.
---
Thieves take advantage of lockdown to steal lead from church roof in Halsham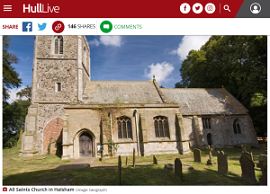 Police have appealed for witnesses after thieves stole lead from the roof of All Saints Church in Halsham near Hedon during the coronavirus lockdown.
---
IHBC's CPD Circular provides info on digital CPD opportunities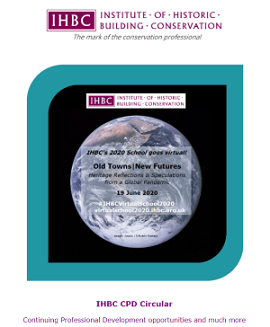 The regular newsletter showcases the IHBC's own Continuing Professional Development (CPD) content as well as online opportunities from 'IHBC Recognised CPD Providers' and other conservation related training and events.
---
Frank Lloyd Wright houses offer virtual tours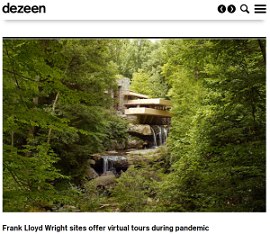 To make sure the public still has access to twelve of those famous works, #WrightVirtualVisits has been launched, which offers virtual tours of 12 iconic houses.
---
CIC's Coronavirus Digest review and survey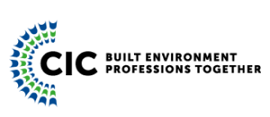 The Construction Industry Council's (CIC's) 'CIC Coronavirus Digest – Issue 8' surveys the latest government advice with updates from the construction industry.
---