Grotesque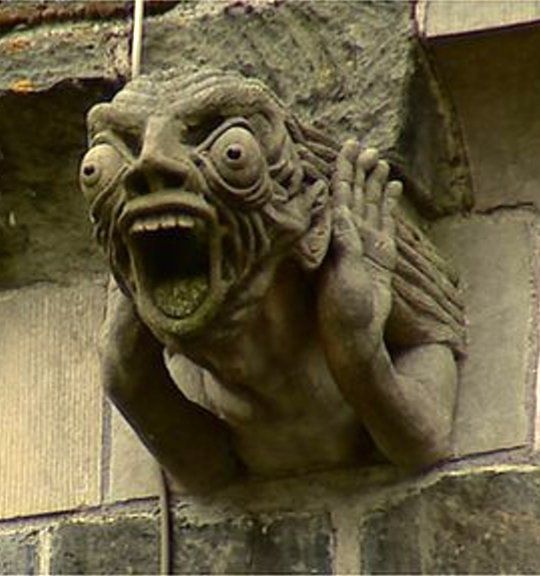 In architecture, a grotesque, also known as a chimera, or boss, is a fantastical or mythical figure used for ornamental purposes. Regional variations of the term include 'hunky punk' and 'onigawara'.
In common parlance, they are referred to as gargoyles, although the strict architectural usage of that term refers to those features that also serve as a waterspout.
The word is derived from grotteschi, the Italian term for the Roman grottoes that contained such decorations. They were revived as an ornamental feature in the Renaissance and became popular throughout Europe, being used most frequently in the decoration of frescoes.
IHBC NewsBlog
This week's employment opportunities totalling more than £50K of annual income. For applicants or employers - IHBC Jobs etc is the first place to visit.
---
IHBC Annual School 2018 Belfast 21-3 June - Day School lead speakers
Visit the Speakers' webpage which highlights speakers and topic areas, so now prospective delegates can see the theme and topic areas relate to their CPD priorities.
---
IHBC Heritage from the doorstep

Stroud TC's developing NDP heritage list - Victorian postbox, old tomb and several historic buildings….
---
IHBC Heritage from the doorstep

Mocha Parade, Manchester – 'neglected shopping precinct that time forgot' to face bulldozer.
---
HES new Guidance Note on windows
Historic Environment Scotland has launched a new 'Guidance Note, Managing Change in the Historic Environment' on windows as part of a series of non-statutory notes.
---
Heritage audience insights update - review of HE's online advice and guidance
Historic England commissioned research in 2017 into whether their written advice and guidance provides the right information to the right audiences in the most effective way.
---
CMS Committee on the impact of Brexit
The Culture Media and Sport Select Committee reports on the potential impact of Brexit on the creative, tourism and digital industries.
---
The Golf Ball – the next blip on the London skyline
Designs for spherical concert venue are set to add even more diversity to the capitals 'suggestive skyline', the Guardian reports.