Notre Dame fire
On Monday 15 April 2019, at around 7pm, fire ripped through the iconic Notre Dame cathedral in Paris. By 9am the following day, the centuries-old masterpiece of French Gothic architecture had suffered catastrophic damage to its roof and some of its contents, while the 90m-high oak and lead spire over the crossing had collapsed completely – to the horror of stunned onlookers.
A building that had taken nearly 200 years to build had suffered almost irreparable damage in just a matter of hours. Fortunately, the Paris authorities were later to confirm that the structure itself had not been irreversibly damaged.
Thanks in part to the action of the 90 firefighters, the fire did not reach the towers on the front elevation, and generally the building's walls remain structurally sound. But the timber roof has been completely destroyed, as have some of the religious artefacts. However, a full damage assessment had yet to be undertaken at the time of writing.
Within hours of the fire taking hold, president Macron vowed that the cathedral would be rebuilt within five years (although this timetable has been criticised as being political rather than practical). French businessmen were also quick to pledge more than €300m to a rebuilding fund. Anne Hidalgo, the mayor of Paris, also promised that city funds would go toward the rebuilding project, while the Ile-de-France regional government said it would donate a further €10m. An international fund-raising drive is expected to further boost the monies available.
The fire's origin is as yet uncertain but is thought to be the result of ongoing renovation works. It is clear however, that the fire probably started in the roof space above the stone vaults of the interior, as it would have taken a long time to spread to the roof, and would likely have been noticed sooner, had it have started on the ground.
See also: Notre Dame, a conservation perspective.
Building work on the cathedral began in 1163 during the reign of Louis VII but it was not until 1345 that construction was completed. Since then, the cathedral has seen numerous high-profile ceremonies, such as crowning Henry VI king of France, Napoleon Bonaparte's coronation in 1804, and the beatification of Joan of Arc in 1919.
Perhaps more famously, the cathedral was the setting for Victor Hugo's 1831 novel, 'The Hunchback of Notre Dame'.
This story will be updated as events unfold.
IHBC NewsBlog
Find an IHBC HESPR accredited professional using our map-based search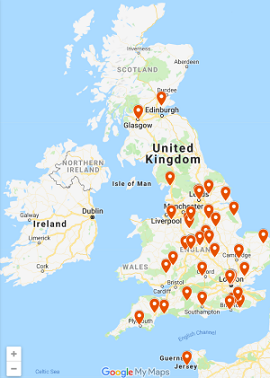 Find the office locations of HESPR members – IHBC's Historic Environment Service Provider Recognition (HESPR) scheme – using our map-based facility.
---
The Liverpool Grade II 'jewel' that lies empty, derelict and vandalised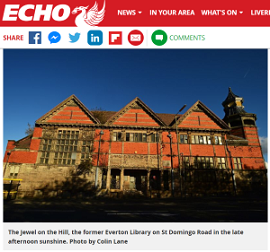 Liverpool landmark the Everton Library, a Grade II (GII) listed building that has been the focus of calls to restore it to its former glory continues to lie leaking, vandalised and derelict, when £5m could renovate the building, reports The Liverpool Echo.
---
Flintshire: Shotton steelworks' John Summers building to be restored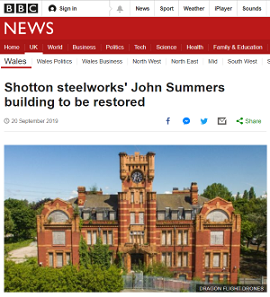 A landmark on a list of the UK's most endangered buildings, Shotton steelworks' Grade II-listed general office and clock tower, is to be brought back to life in Flintshire.
---
Rochdale Market, Manchester, to close as trader numbers and revenue continue to fall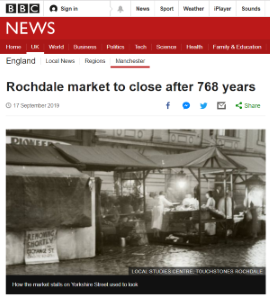 Rochdale Borough Council writes: Over the past year the number of traders regularly attending the market has halved and it is not financially viable.
---
IHBC supports Climate Heritage Network Global Launch: Edinburgh 24-25 Oct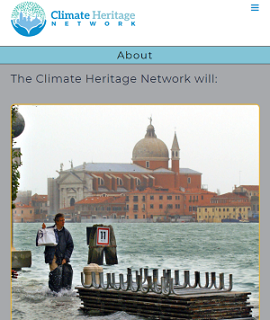 The Climate Heritage Network (CHN) Global Launch is a two-day program devoted to urgently mobilizing the cultural heritage sector for climate action across the globe.
---
Brunel's 'other bridge' in Bristol to be 'saved with £62k grant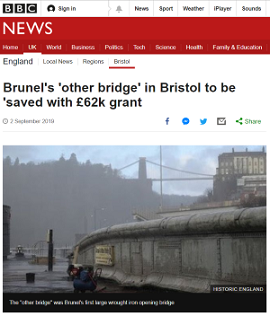 A swing bridge that was designed by Brunel is to be 'saved' with a £62,000 grant from Historic England.
---
Victorian Society announce Top 10 Most Endangered Buildings 2019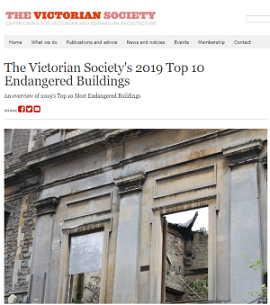 On September 13th the Victorian Society announced its Top 10 Endangered buildings list.
---
American Cities Then & Now: See How New York, Los Angeles & Detroit Look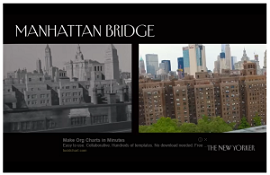 An Open Culture article takes a look at the American Cities of New York, Los Angeles and Detroit comparing how they look now compared to the 1930s and 1940s.
---
Great Yarmouth's Venetian Waterways to recapture former glories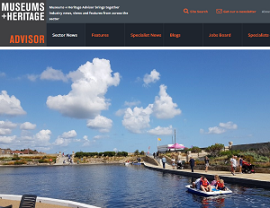 Great Yarmouth's 91 year old Venetian Waterways has been re-opened to the public following a £2.7 million regeneration project.
---
Fire engulfs Grade II-listed Horncliffe Mansion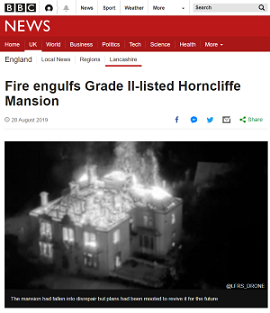 BBC news has reported on how the Grade II-listed mansion, Horncliffe Mansion in Rawtenstall has been 'completely gutted' after a fire tore through the derelict building.
---