Notre Dame fire
On Monday 15 April 2019, at around 7pm, fire ripped through the iconic Notre Dame cathedral in Paris. By 9am the following day, the centuries-old masterpiece of French Gothic architecture had suffered catastrophic damage to its roof and some of its contents, while the 90m-high oak and lead spire over the crossing had collapsed completely – to the horror of stunned onlookers.
A building that had taken nearly 200 years to build had suffered almost irreparable damage in just a matter of hours. Fortunately, the Paris authorities were later to confirm that the structure itself had not been irreversibly damaged.
Thanks in part to the action of the 90 firefighters, the fire did not reach the towers on the front elevation, and generally the building's walls remain structurally sound. But the timber roof has been completely destroyed, as have some of the religious artefacts. However, a full damage assessment had yet to be undertaken at the time of writing.
Within hours of the fire taking hold, president Macron vowed that the cathedral would be rebuilt within five years (although this timetable has been criticised as being political rather than practical). French businessmen were also quick to pledge more than €300m to a rebuilding fund. Anne Hidalgo, the mayor of Paris, also promised that city funds would go toward the rebuilding project, while the Ile-de-France regional government said it would donate a further €10m. An international fund-raising drive is expected to further boost the monies available.
The fire's origin is as yet uncertain but is thought to be the result of ongoing renovation works. It is clear however, that the fire probably started in the roof space above the stone vaults of the interior, as it would have taken a long time to spread to the roof, and would likely have been noticed sooner, had it have started on the ground.
See also: Notre Dame, a conservation perspective.
Building work on the cathedral began in 1163 during the reign of Louis VII but it was not until 1345 that construction was completed. Since then, the cathedral has seen numerous high-profile ceremonies, such as crowning Henry VI king of France, Napoleon Bonaparte's coronation in 1804, and the beatification of Joan of Arc in 1919.
Perhaps more famously, the cathedral was the setting for Victor Hugo's 1831 novel, 'The Hunchback of Notre Dame'.
This story will be updated as events unfold.
IHBC NewsBlog
Methodology for Moisture Investigations in Traditional Buildings agreed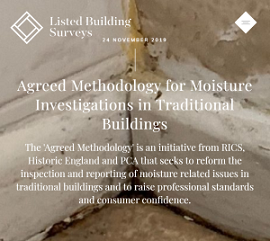 A 'Methodology for Moisture Investigations in Traditional Buildings ' has been agreed between RICS, Historic England and the service provider PCA, a trade body, which should help raise professional standards and consumer confidence.
---
Drinkers toast the future after historic Leeds pub granted GII listed heritage status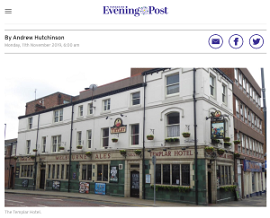 The Templar Hotel on Vicar Lane has been listed at Grade II by the Department for Digital, Culture, Media and Sport on the advice of Historic England.
---
Housing Minister announces new champion for modern 'MMC' housebuilding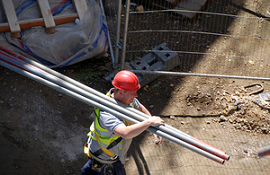 Government has announced a new Champion for Modern Methods of Construction as part of the government's drive to make the UK the global leader in housing standards.
---
RTPI on 'Why planning needs better outcome measurement'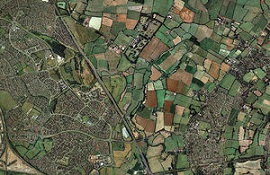 Planning is about so much more than the number of applications approved and the speed of processing them so the RTPI is commissioning research aimed at producing a toolkit that can demonstrate a wider range of outcomes.
---
The rise of 'facadism' in London, from the BBC and 'The Gentle Author'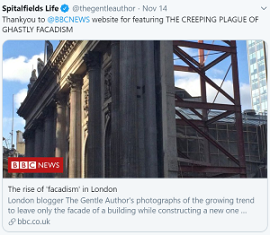 London blogger The Gentle Author has been photographing the changing face of London, focusing on what is known as 'facadism', the practice of destroying everything apart from the front wall and constructing a new building behind it.
---
Great Yarmouth Winter Gardens Facing Off Dilapidation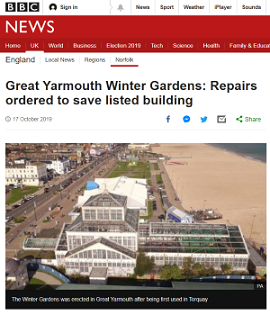 Urgent repairs have been ordered to save one of the country's most endangered buildings from dilapidation while Great Yarmouth Borough Council seeks an investor.
---
Construction urged to do more for butterflies and bees, via SNH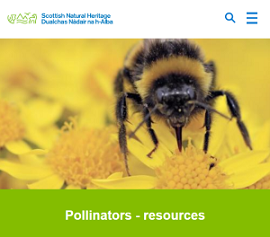 SNH has published new guidance on how best to fit pollinators into urban design and construction with a series of easy steps to suit all project budgets and sizes.
---
Applications now open for the Sustainability Scholarship for 2020: Closing 29/11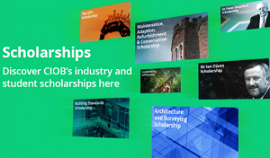 Applications are invited for the Sustainability Scholarship 2020, with successful applicants to receive £3000, support and mentoring from experts, and closing 29 November.
---
Government asked to save plans for Queensbury tunnel cycle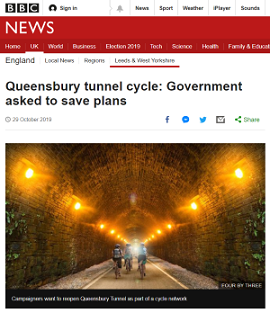 It was hoped the 1.4 mile (2.3km) Victorian Queensbury Tunnel could be used by cyclists travelling between Bradford and Halifax, but plans have been threatened.
---
Case Study in Durham Cathedral: Project Managment and Building Services Challenges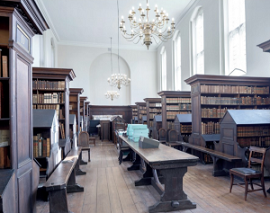 Completing works that widened public access to the hidden architectural spaces and collections of Durham Cathedral showcases exceptional project management.
---
Autumn clamp down on dust by HSE – site visits planned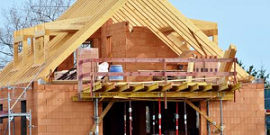 This month HSE is carrying out its latest construction inspection initiative with a focus in particular on measures in place to protect workers from occupational lung disease caused by asbestos, silica, wood and other dusts when carrying out common construction tasks.
---