Is Wandsworth the most pub friendly council
In August 2016, it was suggested that Wandsworth Council in London was potentially the most 'pub friendly' Local Authority, as it has introduced Article 4 Directions to restrict changes of use to public houses.
Wandsworth Council wrote:
Wandsworth has cemented its reputation as the 'most pub-friendly council' in the country by removing permitted development rights from 120 of the boroughs best loved bars and taverns. It means these valued local venues can no longer be converted into mini-supermarkets, estate agents, homes or shops without the need for planning permission.
Wandsworth is the first local authority in the country to publish 'Article 4 Directions' on this scale and the pioneering move could be copied up and down the country to help defend the nation's vulnerable pub trade.
In recent years an alarming number of local inns and taverns, including many viable and thriving businesses, have been quietly converted into other uses. Councils have been powerless to stop them, as owners have 'permitted development rights' allowing them to make the change without the need for planning permission.
The fast spread of mini-supermarkets has exacerbated the problem, with the major chains competing all over the country to find new premises and often choosing to convert pubs rather than taking over existing retail units. But following Wandsworth Council's ground breaking move all 120 pub owners affected will have to seek approval from the town hall before changing the building use or knocking it down.
In preparation for the Article 4 Directions, the council has already approved new planning guidance which specifically recognises the historic, architectural and community value of Wandsworth's pubs.
This new policy, which prompted The Publican Morning Advertiser to ask if Wandsworth is officially 'the country's most pub-friendly council', now gives councillors valid grounds to refuse applications to convert any of these 120 venues into another use.
Deputy council leader Jonathan Cook said: 'Wandsworth's pubs are now the best protected in the entire country and have a genuine defence against the relentless spread of mini-supermarkets and estate agents. We know how much our residents love their locals and in many cases they really are the epicenter of community life. I'm proud and delighted we've found a way to protect them. I very much hope that other councils will follow our lead by adopting pub-friendly planning policies and then stripping away permitted development rights from their local inns, bars and taverns. This could be a real turning point for our nation's superb but vulnerable pub trade and Wandsworth is more than ready to share its approach with other authorities.'
Geoff Strawbridge, Greater London CAMRA Regional Director, said: 'I would like to see every planning authority in the country follow Wandsworth's exemplary initiative in protecting its pubs and bars by removing permitted development rights.'
The 120 bars and pubs were chosen due to their historic or architectural value or because they make a positive contribution to their community.
They include The Alma, The Ship and The Cat's Back in Wandsworth, The Bricklayers Arms, Arab Boy and Railway in Putney, The Plough , Falcon and The Beehive in Battersea and The Selkirk, Trafalgar Arms and Wheatsheaf in Tooting and the Bedford, Regent and Prince of Wales in Balham. Some pubs that are currently closed have also been given protection, including the White Lion in Putney High Street and The Brewery Tap in Wandsworth High Street. It's hoped this will give an added incentive to the owners to bring them back into use.
The Article 4 Directions were published on 12 August 2016 and pub owners have all been notified. Following consultation the Directions will need to be confirmed by the council enabling them to come into force in August 2017.
[edit]
External references
IHBC NewsBlog
IHBC Jobs etc - latest skills review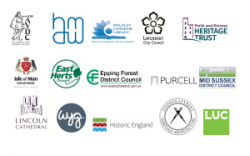 Heritage specialisms from regulation and regeneration to project management, design and more all featured in our 'Jobs etc.' service, with many posts still open!
---
Reminder - IHBC fees were due in April but remember money is not a barrier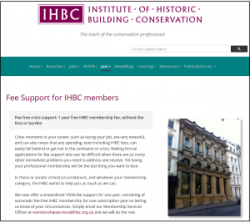 With low fees to no fees IHBC membership offers great value for the progression of your heritage career, job or trade.
---
IHBC HESPR top pick from £160K+ costed work this week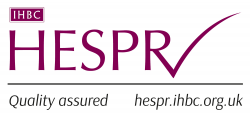 NHMF seeks suppliers for 'baseline survey' of register of support services among grantees; closing 07/09, value £15,000.
---
IHBC supports Civic Voice 2018 conference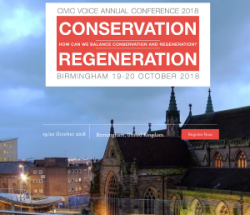 'How can we balance conservation and regeneration?' takes place in Birmingham on 19/20 Oct and the IHBC is delighted to host a stand for delegates across both days.
---
IHBC - Heritage from the doorstep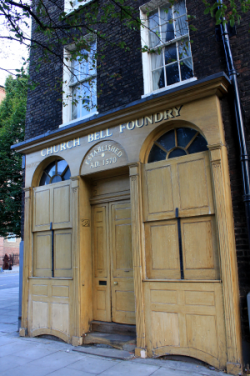 Charity hopes to buy back historic Whitechapel Bell Foundry from developers.
image: By Mramoeba – Own work, CC BY-SA 4.0, https://commons.wikimedia.org/w/index.php?curid=53705569
---
IHBC CPD Boost 1 - DBW on Prefabrication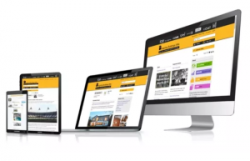 IHBC's Conservation Wiki re-posts from our membership journal on post-war mass housing with DBW offering a briefing on prefabrication.
---
IHBC CPD Boost 2 - EMPs for building design and construction
DBW offers a new briefing on environmental management plans which are an essential tool for setting and managing environmental objectives for a project.
---
Court of Appeal on principles in considering the setting of listed building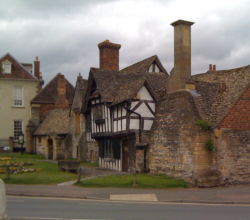 Local Government Lawyer reports on the Court of Appeal's judgement on the general principles of considering the setting of listed buildings and the effect of developments.
---
BEFS calls for case studies for next Historic Environment Audit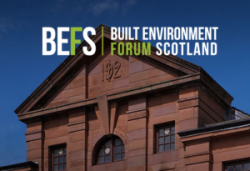 Built Environment Forum Scotland (BEFS) is seeking data and case studies for the next Scottish Historic Environment Audit.
---
House of Lords Select Committee Inquiry seeks views on regenerating seaside towns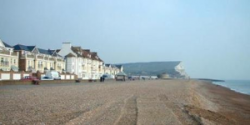 Written submissions are invited, with a deadline of 1pm on Tuesday 9 October 2018.
image: Parliamentary copyright images are reproduced with the permission of Parliament
---
HES Consultation: Conservation of historic plasterwork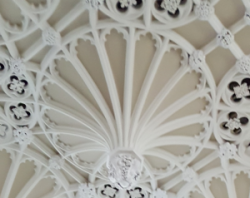 Historic Environment Scotland is seeking assistance with views on conserving historic plasterwork in Scotland, in a survey commissioned from Adams Napier Partnership.
---
Government strategy for Civil Society in England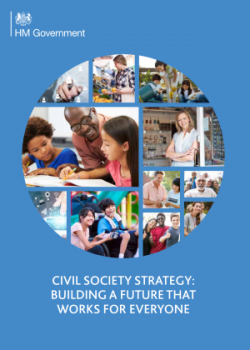 England's DCMS and Office for Civil Society have issued a strategy setting out long term plans to create a country that works for everyone', the first such strategy in 15 years.
---
LI new president launches #ChooseLandscape careers campaign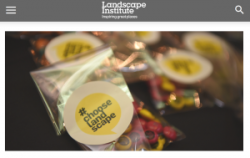 A careers campaign launched by the new president of the Landscape Institute(LI), Adam White, aims to address urgent skills shortages in the landscape profession.
---
Alan Jones elected RIBA President 2019-21
Alan Jones will take over the two-year presidential term from Ben Derbyshire next year (1/09/2019) while from 1/09/2018 he will officially become RIBA President Elect.
image: RIBA website
---
Architecture Apprenticeships in England: update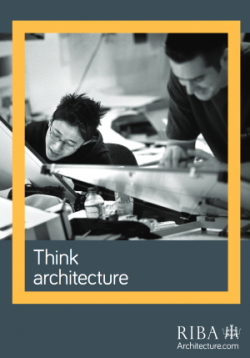 The RIBA has announced that the first standards for architecture apprenticeships have been approved, for both architectural assistant and architect roles.
---
SAVE on local legal challenge to 40 storey tower block in Manchester launched
Manchester Civic Society, through Steve Speakman, chairman, is issuing a legal challenge to planning permission for the tower block within a conservation area, supported by SAVE.
---
ICE on making cities more gender inclusive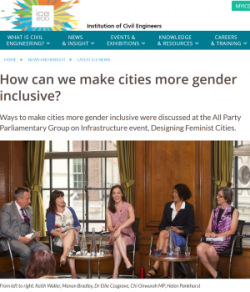 Ways to make cities more gender inclusive were discussed at the APPG event, 'Designing Feminist Cities', on 19 July at ICE's London headquarters.