IHBC London Branch Annual Conference
This article originally appeared in the IHBC NewsBlogs
---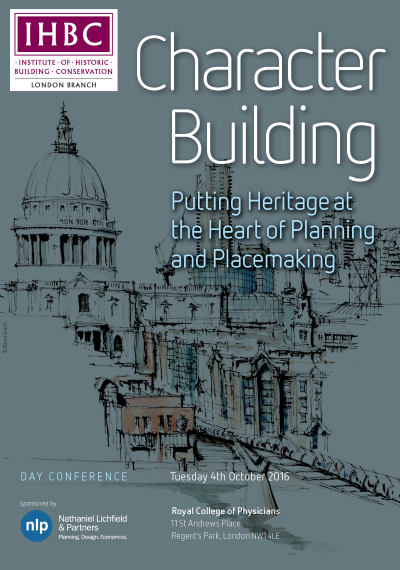 The renowned IHBC London Branch Annual Conference this year (2016) explores 'character building' in place management, reaching across place-related practices to look at how we might set heritage more productively within planning and placemaking.
Heritage at the heart of planning and placemaking takes place in London on 4th October 2016.
IHBC Director Sean O'Reilly said: 'The IHBC is once again delighted to be able to offer to members and colleagues a remarkable opportunity to explore the outer boundaries of conservation in 'character building', both good and bad, as our London Branch promises a special day of learning, challenge and cross-disciplinary networking. This event is not to be missed by anyone serious about looking beyond their comfort zones in conservation: and as ever that should mean anyone in, or interested in, the IHBC'
'And of course we are also delighted to welcome as sponsors a private practice with particular relevance to the title, Nathaniel Lichfield & Partners, and as Chair, IHBC President David McDonald.'
IHBC London Branch wrote:
Our historic environment provides not only a rich architectural and cultural resource, but also a wealth of models of sustainable and healthy living. However, within the planning system, heritage appears to be increasingly confined to an assessment of significance rather than a catalyst for positive change. In this, the eleventh of our London conferences, we intend to redress the balance. We will look at ways in which heritage, urban design and planning professionals can work together to make successful places.
The conference will cover a wide range of issues, from estate management to public realm improvements and will include advice on the contribution that archaeology can make to placemaking.
This conference will be of relevance to conservation officers and other heritage professionals, town planners, urban designers, engineers, surveyors, architects, and archaeologists and as usual, we intend the presentations to be of nationwide interest, not solely London-focused.
To find out more and to book see characterbuilding.ihbc.org.uk
External references
IHBC NewsBlog
IHBC update on MATE - Membership Application Training Events
Kate Kendall, lead on our Membership Application Training Events, offers her update on progress in supporting applications for conservation accreditation.
---
IHBC welcomes HE Conservation Principles update consultation - closes 2 Feb 2018
Historic England's Conservation Principles, offers guidance on its approach to its own research and advice on designation, planning and conservation.
---
IHBC welcomes update of environment website for Scotland
Scotland's environment newly launched website reflects how technology, design and user needs are constantly evolving as has their website since its creation in 2009.
---
Icon launches next five-year strategy - 2017-21
Institute of Conservation's (Icon's) next five-year strategy 2017-21 has been launched.
---
£1Million restoration boost from Europe for Rothesay Pavilion
More than £1 Million of European funding for the restoration of Rothesay Pavilion will help create new jobs, according to Economy Secretary Keith Brown.
---
London landmark Admiralty Arch to become luxury Waldorf Astoria hotel
Admiralty Arch, designed by Sir Aston Webb (completed in 1912) as part of the Queen Victoria memorial scheme, is being transformed into a luxury hotel, apartments and club.
---
Radical plans unveiled to pedestrianise Oxford Street
Radical plans to pedestrianise London's Oxford Street have been unveiled in a move intended to address air quality concerns and lessen problems of overcrowding in London.
---
Post Trauma Recovery and Reconstruction for World Heritage Cultural Properties
ICOMOS is pleased to share the 'ICOMOS Guidance on Post Trauma Recovery and Reconstruction for World Heritage Cultural Properties document.'
---
2017 Senior Managers' Risk Report from Zurich Municipal – the role of the public sector
The Report examines changing attitudes about the role of the public sector in an era of austerity with commentator noting: 'The danger is if councils lose their moral purpose'.
---
£450m development at Ayrshire leisure and tourism complex at Loudoun Castle
Developer behind Belfast's Titanic Quarter is in talks re a major role in the leisure, tourism and residential development planned for SW Scotland creating a possible 1,000 jobs.