IHBC London Branch Annual Conference
This article originally appeared in the IHBC NewsBlogs
---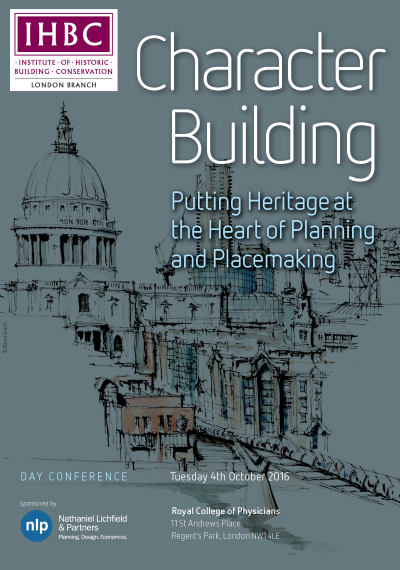 The renowned IHBC London Branch Annual Conference this year (2016) explores 'character building' in place management, reaching across place-related practices to look at how we might set heritage more productively within planning and placemaking.
Heritage at the heart of planning and placemaking takes place in London on 4th October 2016.
IHBC Director Sean O'Reilly said: 'The IHBC is once again delighted to be able to offer to members and colleagues a remarkable opportunity to explore the outer boundaries of conservation in 'character building', both good and bad, as our London Branch promises a special day of learning, challenge and cross-disciplinary networking. This event is not to be missed by anyone serious about looking beyond their comfort zones in conservation: and as ever that should mean anyone in, or interested in, the IHBC'
'And of course we are also delighted to welcome as sponsors a private practice with particular relevance to the title, Nathaniel Lichfield & Partners, and as Chair, IHBC President David McDonald.'
IHBC London Branch wrote:
Our historic environment provides not only a rich architectural and cultural resource, but also a wealth of models of sustainable and healthy living. However, within the planning system, heritage appears to be increasingly confined to an assessment of significance rather than a catalyst for positive change. In this, the eleventh of our London conferences, we intend to redress the balance. We will look at ways in which heritage, urban design and planning professionals can work together to make successful places.
The conference will cover a wide range of issues, from estate management to public realm improvements and will include advice on the contribution that archaeology can make to placemaking.
This conference will be of relevance to conservation officers and other heritage professionals, town planners, urban designers, engineers, surveyors, architects, and archaeologists and as usual, we intend the presentations to be of nationwide interest, not solely London-focused.
To find out more and to book see characterbuilding.ihbc.org.uk
External references
IHBC NewsBlog
IHBC President contributes to RIBA publication - Design Companion for Planning and Placemaking
Described as 'invaluable for anyone involved in planning, creating or changing places', it includes a contribution from IHBC President David McDonald on the historic environment.
---
£10 off for IHBC members at RTPI NE on 'Heritage Matters', in Newcastle, 5 July at which IHBC North Branch Chair Jules Brown will speak on 'Conservation Areas: 50 and beyond'.
---
Innovate UK seeks applications for £5m for innovation in 'infrastructure systems for a better world' – opens 10 July 2017.
---
Nominations open for third Scottish Heritage Angels Awards 2017
The Awards aim to find those groups and individuals who have played a special part in caring for, recording and celebrating the nation's historic environment.
---
Lichfields publishes latest research into rural tourism
Lichfields' most recent insight 'Rural estates: economic benefits of rural tourism', details findings underpinning the case that 'Planning is key to unlock the value in rural estates'.
---
National Trust scoops a special recognition award
On 17 May the National Trust (NT) was awarded a one-off Special Recognition Award at the prestigious Museums Heritage Awards for Excellence.
---
Campaigners win right to appeal Lancashire fracking decision
Campaigners have been granted permission to appeal against the decision to allow fracking in Lancashire.
---
Grosvenor unveils £500m plans for 12 acres in Bermondsey
Building reports that Grosvenor Britain & Ireland has unveiled its £500m masterplan for 1,500 new rental homes in Bermondsey in South East London.
---
Titanic Belfast and Odyssey expansion plans
Titanic Belfast and the Odyssey Pavilion are both set to undergo fresh expansion according to new plans reported on by the Belfast Telegraph.