Biosolids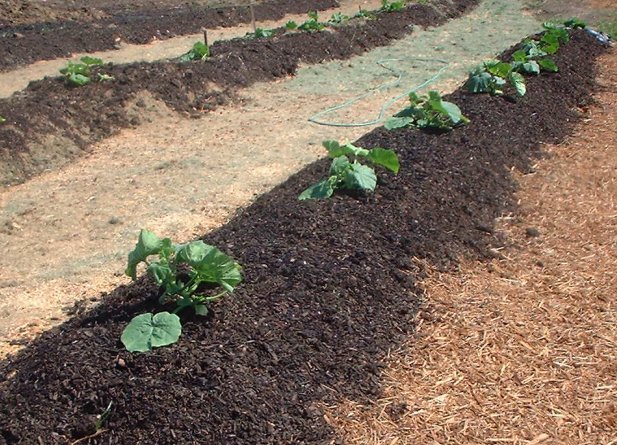 These pumpkin seedlings have been planted on rows of composted biosolids at community compost education garden.
[edit]
Introduction
The term biosolids refers to solid organic matter that can be extracted from industrial and domestic sludge through the process of treating sewage with wastewater. The term sludge (or slurry) refers to a range of semi-solid/semi-liquid substances or deposits.
As a form of waste disposal, the production of biosolids may be considered an environmentally preferred option compared to incineration and landfilling of municipal sludge. Some of the companies actively involved in the UK biosolids market include Veolia and Thames Water.
[edit] What biosolids can do
Biosolids can be a component of the circular economy. Depending on their level of treatment, biosolids can be used to feed nutrients back into agricultural lands and other depleted environments. As a source of organic matter, biosolids can be used to establish sustainable vegetation and help to replace some toxic substances.
Biosolids have also been used to control soil erosion through a soil regeneration process. They can also play a role in the reclamation of unused mining sites as they assist in the establishment of vegetation and upgrade the mined land.
[edit] Types of biosolids
Under the U.S. Environmental Protection Agency, the three main types of biosolids are Class A, Class A (EQ) and Class B.
Class A biosolids are pathogen-free and can be safely used in applications requiring public contact. Class A biosolids are often produced through anaerobic digestion and additional treatment, such as heating, pasteurisation, composting or newer complementary technologies.
Class A (EQ) biosolids are Class A biosolids that have been given an "exceptional quality" or EQ rating. These represent the cleanest and safest form of biosolids.
Class B biosolids have undergone treatment that retains detectable levels of pathogens and may have an unpleasant odour. Their use is restricted, making them better suited to land reclamation or agricultural activity that requires little or no regular human exposure.
[edit]
Related articles
About the wiki
Anyone is welcome to use and contribute to the wiki in different ways.
---
[edit] Engaging with the wiki
You can:
Contribute to existing articles
Create articles
Share articles through social media and other channels
Contact the CIRCuIT project to let us know what you think and how we can improve
---
[edit] Add your own content
To contribute to or create an article, you can follow these steps:
Register as a user
Read through the editorial policy and guidance on writing and contributing to articles
See the detailed help page on tips on writing wiki articles
Try editing a test article
If editing an article, select 'Edit this article' underneath the article title
If creating a new article, select 'Create an article'. In the 'Select categories' area, expand the 'Industry context' list and tag 'Circular economy' to add your article to this wiki
---
[edit] Who is this wiki for?
The articles contain information on implementing circular economy approaches in construction that could be relevant to:
Architects
Construction contractors
Designers
Developers, owners, investors
Engineers
Landowners
Manufacturers and supplier
Universities and research
Urban planners
---
[edit] About CIRCuIT
The Circular Economy wiki is supported by the Circular Construction in Regenerative Cities (CIRCuIT) project, which is funded by the European Union's Horizon 2020 research and innovation programme. CIRCuIT is a collaborative project involving 31 ambitious partners across the entire built environment chain in Copenhagen, Hamburg, Helsinki Region and Greater London. Through a series of demonstrations, case studies, events and dissemination activities, the project will showcase how circular construction practices can be scaled and replicated across Europe to enable sustainable building in cities and the transition to a circular economy on a wider scale.