UK's National Holocaust Memorial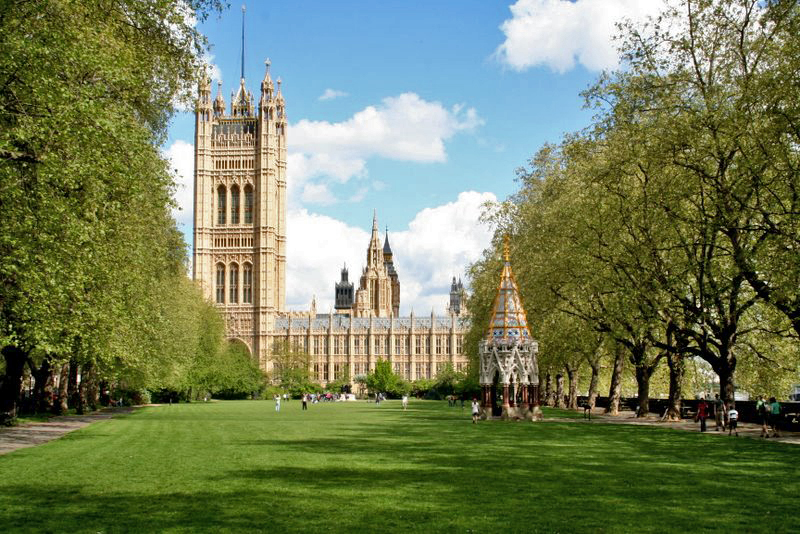 In October 2017, the winning design was announced for a National Holocaust Memorial to be located in London's Victoria Tower Gardens, next to the Houses of Parliament. The memorial will serve as a landmark, honouring the victims and survivors of the Holocaust and providing a place for commemorations and quiet reflection.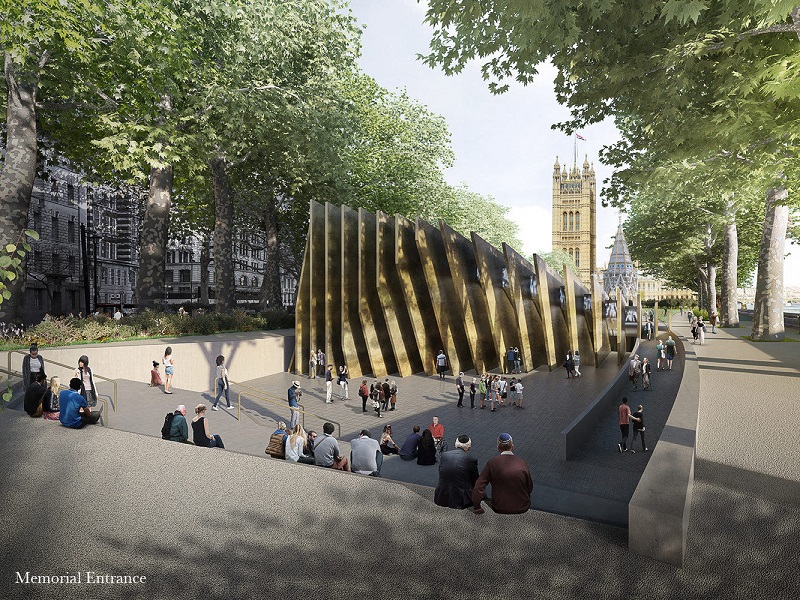 Winners, British architect David Adjaye and Israeli architect Ron Arad, propose a ground-level memorial with a subterranean learning centre. Their design incorporates 23 bronze fins with spaces to represent the 22 countries where Jewish communities were affected by the Nazis. Visitors will enter through paths between the fins and will be able to move through a Hall of Testimonies to hear stories recounted by survivors.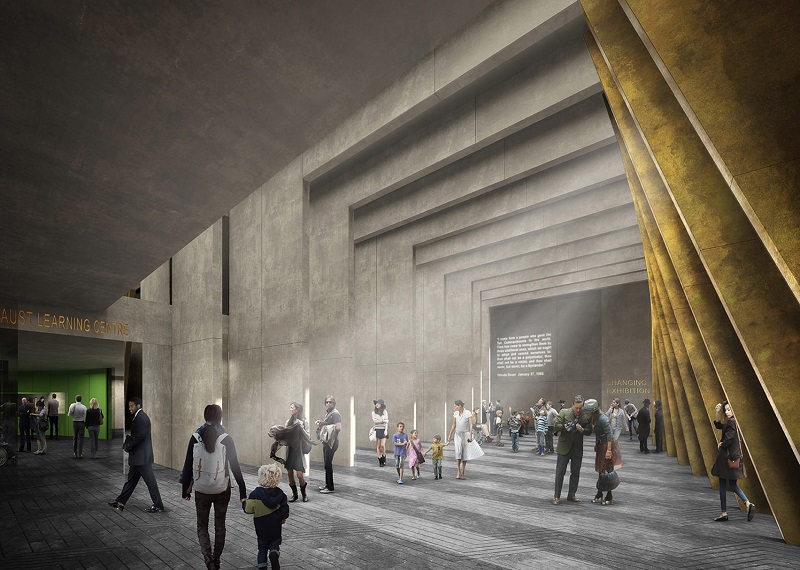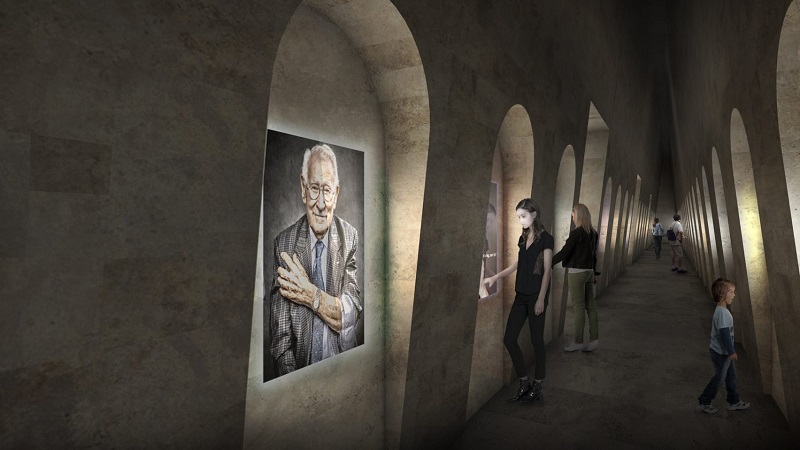 [Image © Adjaye Associates & Malcolm Reading Consultants]
The shortlist of 10 featured some of the most internationally-renowned architects and artists:
---
Allied Works with artist Robert Montgomery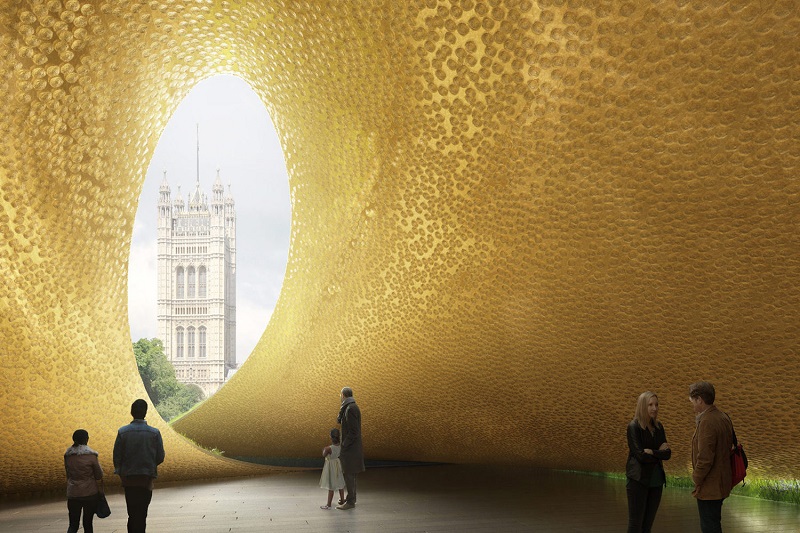 [Image © Allied Works Architecture & Malcolm Reading Consultants]
---
Caruso St John with artist Rachel Whiteread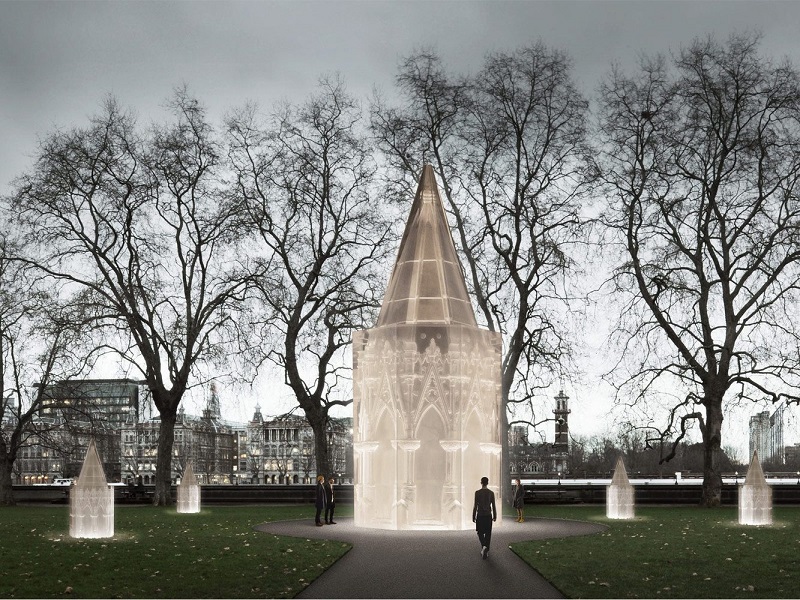 [Image © Caruso St John Architects, Marcus Taylor and Rachel Whiteread & Malcolm Reading Consultants]
---
Diamond Schmitt Architects with landscape architect Martha Schwartz Partners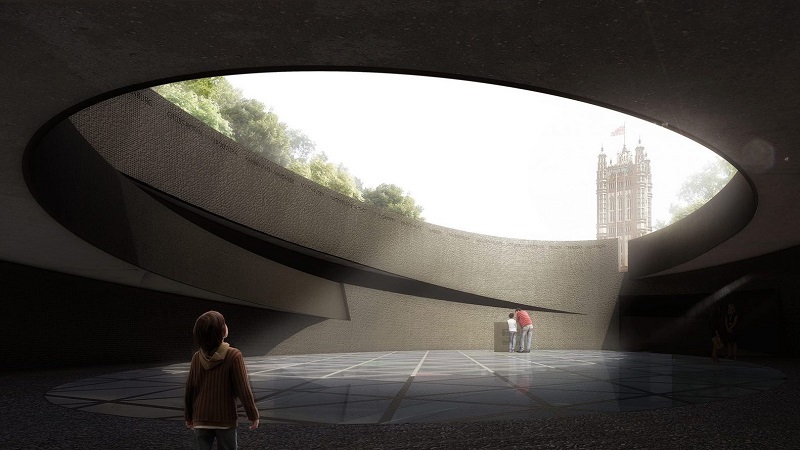 [Image © Diamond Schmitt Architects & Malcolm Reading Consultants]
---
Foster + Partners with artist Michal Rovner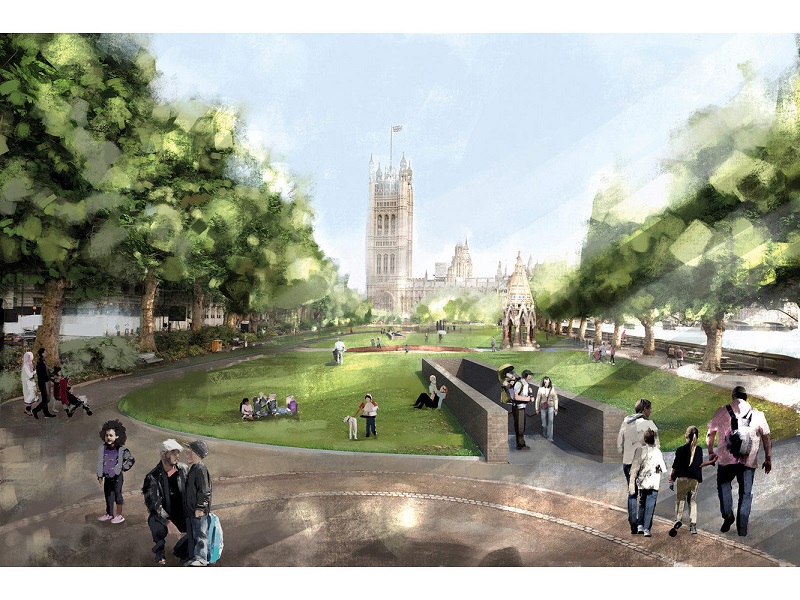 [Image © Foster + Partners and Michal Rovner & Malcolm Reading Consultants]
---
Heneghan Peng Architects with Bruce Mau Design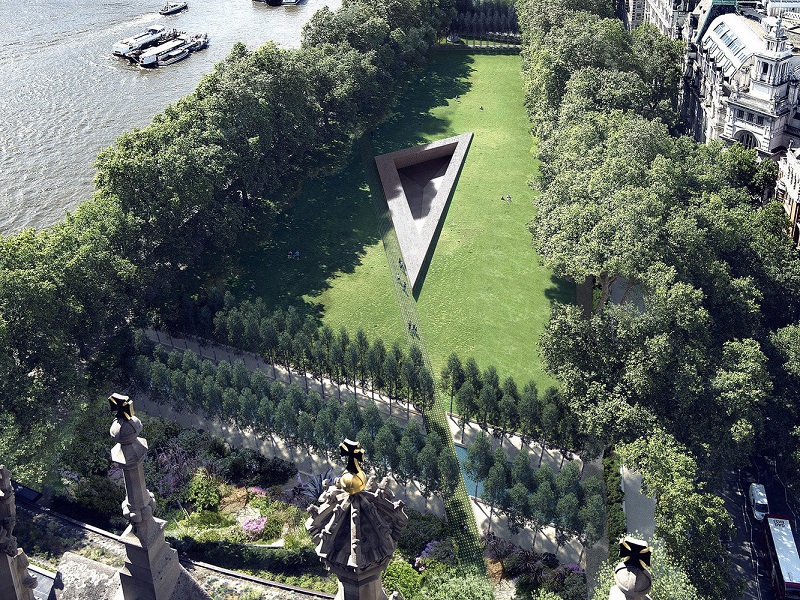 [Image © heneghan peng architects & Malcolm Reading Consultants]
---
John McAslan + Partners with MASS Design Group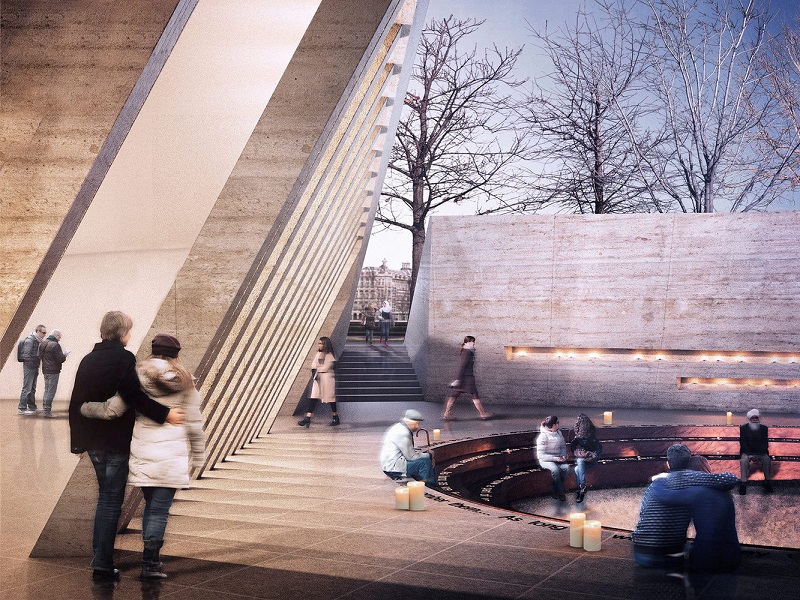 [Image © John McAslan + Partners and MASS Design Group & Malcolm Reading Consultants]
---
Lahdelma & Mahlamäki Architects with David Morley Architects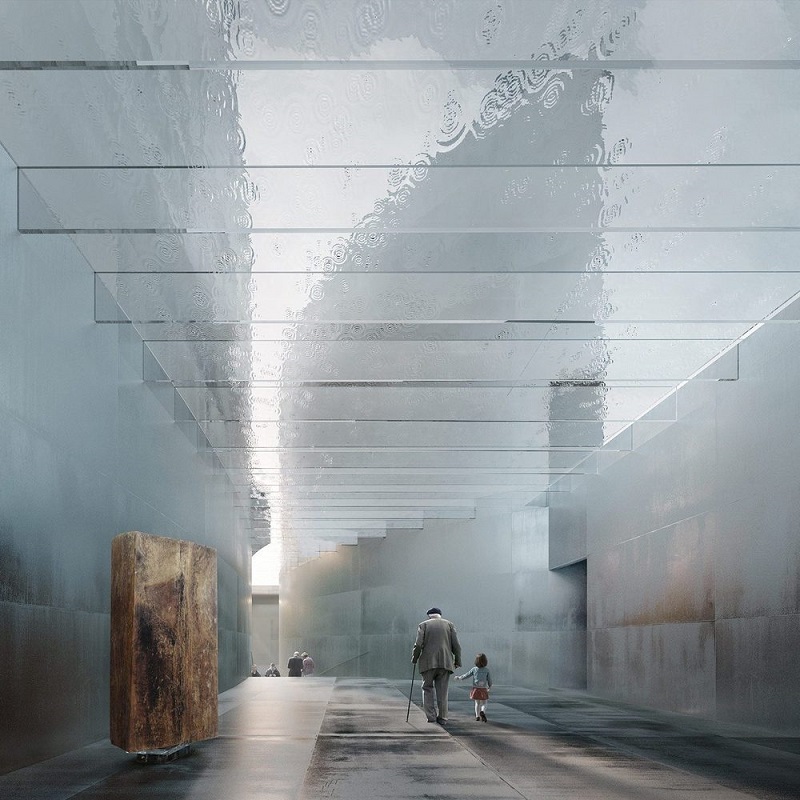 [Image © Lahdelma & Mahlamäki Architects and David Morley Architects & Malcolm Reading Consultants]
---
Studio Libeskind with Haptic Architects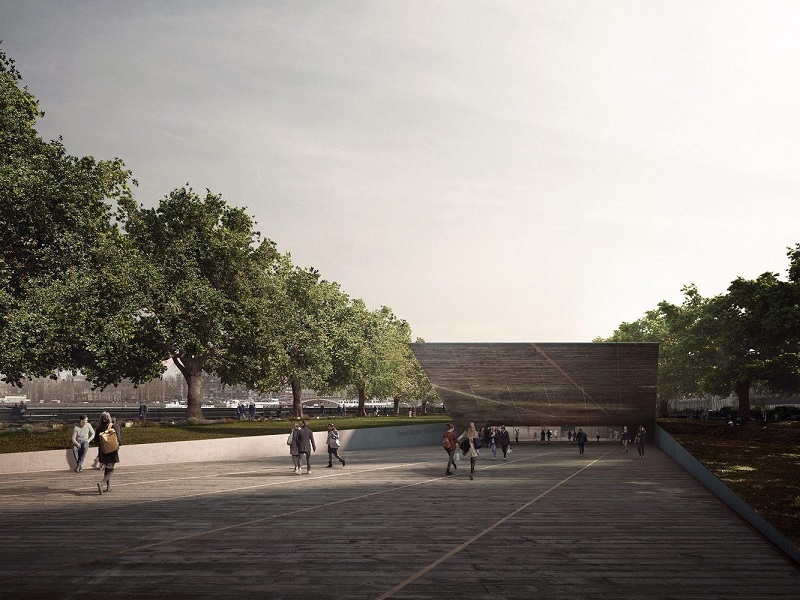 [Image © Studio Libeskind and Haptic Architects & Malcolm Reading Consultants]
---
Zaha Hadid Architects with artist Anish Kapoor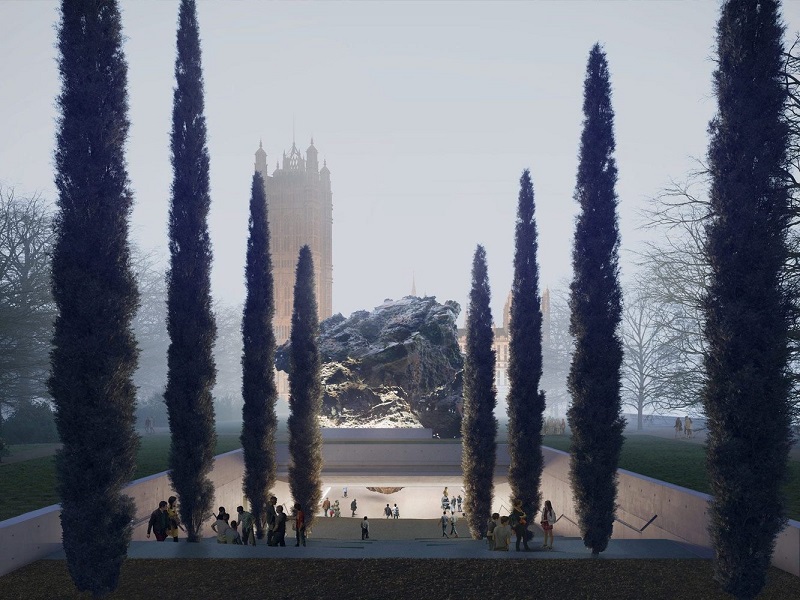 [Image © Anish Kapoor and Zaha Hadid Architects & Malcolm Reading Consultants]
---
After a period of public consultation, the proposed designs were judged by a high-profile independent jury, including:
Sir Peter Bazalgette (Jury Chair), Chair, United Kingdom Holocaust Memorial Foundation and Chair, ITV Board.
Chief Rabbi Ephraim Mirvis, Chief Rabbi of the United Kingdom.
Sajid Javid MP, Secretary of State for Communities and Local Government.
Sadiq Khan, Mayor of London.
Ben Helfgott MBE, Holocaust Survivor, Honorary President, '45 Aid Society and President, Holocaust Memorial Day Trust.
Sally Osman, Director of Royal Communications.
Loyd Grossman CBE, Chair of Royal Parks.
Natasha Kaplinsky, Broadcaster who recently recorded the testimony of over 100 Holocaust survivors and camp liberators.
The competition organiser, Malcolm Reading advised the jury.
In response to the competition win, Adjaye said:
"We are deeply honoured to have been given the opportunity to tell these stories to the nation through a National Memorial and Learning Centre. It is critical these highly important and emotive historical touchpoints are explored, so that future generations are able to experience, learn, reflect and act."
To follow the project, visit the competition website.
IHBC NewsBlog
IHBC's HESPR Pick this week: Scottish THI seeks 'creative(s)' in community engagement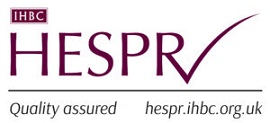 The IHBC's heritage business register HESPR emails members weekly 'News and Tender Alerts', and the IHBC Director's top pick this week features a call from a Scottish authority for 'creative(s)' to deliver 'community engagement projects', closing 28 October.
---
Banksy graffiti taken off Grade II listed Yorkshire bridge facing dismantling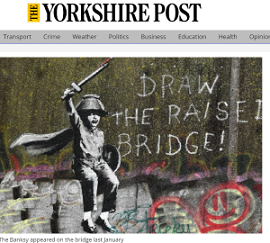 Graffiti by Banksy has been taken off a bridge in Hull as the Grade II (GII) listed Scott Street bridge itself faces dismantling.
---
The Liverpool Grade II 'jewel' that lies empty, derelict and vandalised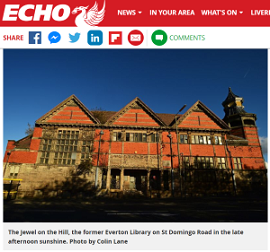 Liverpool landmark the Everton Library, a Grade II (GII) listed building that has been the focus of calls to restore it to its former glory continues to lie leaking, vandalised and derelict, when £5m could renovate the building, reports The Liverpool Echo.
---
Flintshire: Shotton steelworks' John Summers building to be restored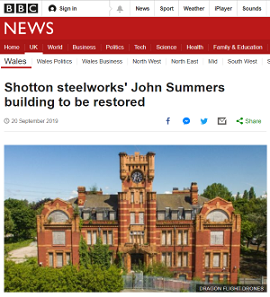 A landmark on a list of the UK's most endangered buildings, Shotton steelworks' Grade II-listed general office and clock tower, is to be brought back to life in Flintshire.
---
Rochdale Market, Manchester, to close as trader numbers and revenue continue to fall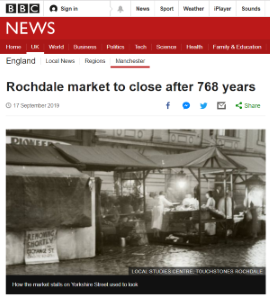 Rochdale Borough Council writes: Over the past year the number of traders regularly attending the market has halved and it is not financially viable.
---
IHBC supports Climate Heritage Network Global Launch: Edinburgh 24-25 Oct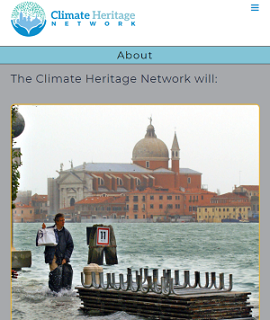 The Climate Heritage Network (CHN) Global Launch is a two-day program devoted to urgently mobilizing the cultural heritage sector for climate action across the globe.
---
Brunel's 'other bridge' in Bristol to be 'saved with £62k grant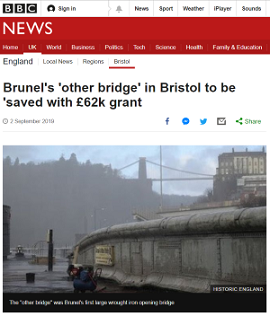 A swing bridge that was designed by Brunel is to be 'saved' with a £62,000 grant from Historic England.
---
Victorian Society announce Top 10 Most Endangered Buildings 2019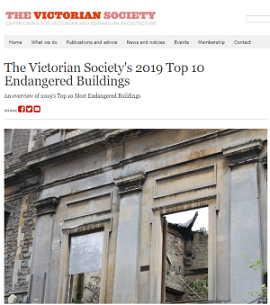 On September 13th the Victorian Society announced its Top 10 Endangered buildings list.
---
American Cities Then & Now: See How New York, Los Angeles & Detroit Look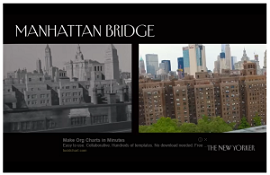 An Open Culture article takes a look at the American Cities of New York, Los Angeles and Detroit comparing how they look now compared to the 1930s and 1940s.
---
Great Yarmouth's Venetian Waterways to recapture former glories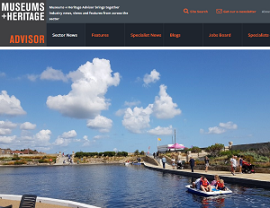 Great Yarmouth's 91 year old Venetian Waterways has been re-opened to the public following a £2.7 million regeneration project.
---