Tempering heating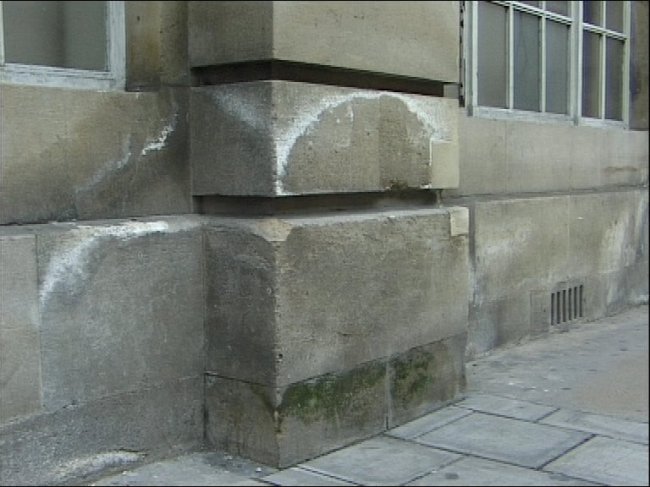 [edit]
Introduction
Tempering heating is a form of convection heating that is installed either into - or adjacent to - walls to moderate the temperature and moisture levels inside. This type of radiant heat distribution was introduced in 1982 by the Bavarian State conservation office.
As a form of climate control, tempering heating developed as a method for managing rising damp problems in museums where the moisture and its related consequences (such as mould, salt, bacteria and so on) could damage artwork and other vulnerable items in museum collections.
Tempered heating can also be an effective method for heating places of worship, fortresses and other historic buildings constructed from stone.
A tempered heating system generates a steady flow of warm air that travels through a collection of looping tubes in the shell of the building. This approach reduces the capillary distribution of all forms of dampness while heating the room at the same time.
This type of radiant heating system warms surfaces that then in turn re-radiate heat and warm air adjacent to them by convection. This allows heat from a radiant source to distribute through a space. Because it is mainly directly heating through radiation, rather than heating the air (as in convective heating), it can be more efficient, particularly in large spaces, in spaces with poor insulation or in unenclosed or semi-enclosed spaces.
A tempered wall radiant heating system tends to be a low-temperature system spread over large surface areas. It heats certain walls continuously throughout the year, while others are only heated when colder temperatures are expected.
[edit]
Benefits and drawbacks
Compared to other forms of heating, radiant heating (depending on the system used) can be:
Radiant heating also has less impact on air moisture content than other heating methods. However, depending on the system adopted:
[edit]
External references
IHBC NewsBlog
APPG on 'Conservation, Places and People' Opens first Parliamentary Inquiry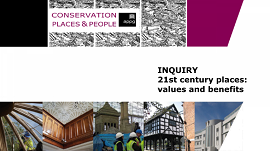 The Inquiry is into '21st Century Places – Values & Benefits'
---
Historic Photographer of the Year 2020 Winners Announced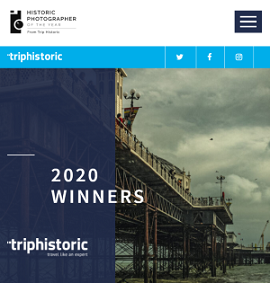 The awards showcase the very best historic places and cultural sites from across the globe.
---
IHBC Launches new 'Guidance Note' on Alterations to Listed Buildings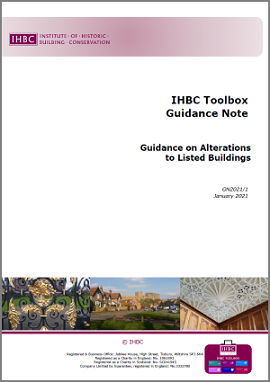 The IHBC's latest Toolbox Guidance Note, on 'Alterations to Listed Buildings' has been issued following UK-wide consultation.
---
Caithness Iron Age Stone Tower Conserved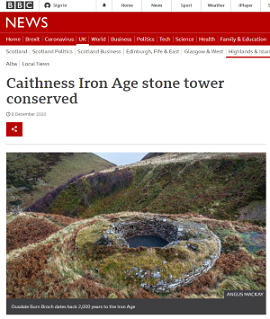 The ruins of Ousdale Burn Broch, north of Helmsdale in Caithness, had fallen into further disrepair over the past 130 years.
---
The American Air Museum at Duxford has been listed Grade II*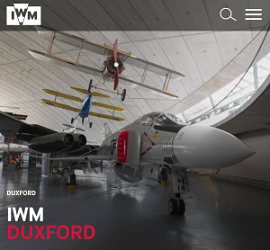 Europe's largest air museum and Britain's best-preserved Second World War airfield – has been included in Grade II* listing, even though technically too recent.
---
West Dean College wins Sussex Heritage Trust Award 2020 for Roof Restoration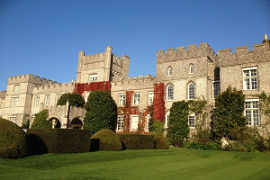 The College of Arts and Conservation has won the award for a for a project which provides or improves facilities for the community, including a £5.8M restoration of the College's 126-year-old roof.
---
Stowe North Hall & WMF: A Step Closer to Completion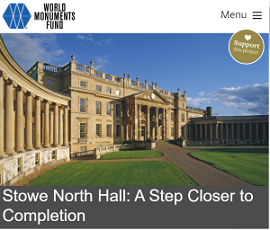 Completion of the restoration of Stowe House's North Hall, largely funded by World Monuments Fund (WMF), came a step closer this summer with the installation of a statue of Mercury opposite the imposing Laocoön group installed last year.
---
IHBC CREATIVE Conservation Fund launched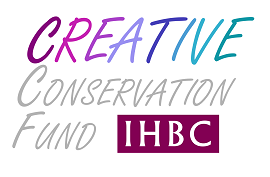 The CREATIVE Conservation Fund helps the IHBC generate and distribute funds exclusively to deserving causes in built and historic environment conservation.
---
The tunnel near Plymouth with a nuclear secret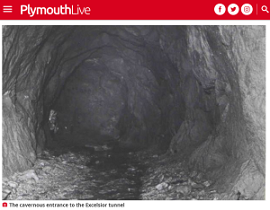 For years, there have been rumours whispered around Plymouth and Cornwall about so-called 'nuclear tunnels' that exist beneath the Tamar Valley.
---
141 bridges with 'very poor' rating remain open to avoid disruption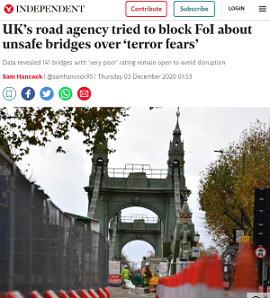 Just under half of England's busiest bridges are severely defected or damaged, but have remained open due to concerns about an influx of traffic should repairs be ordered, it has been revealed.