Skills to build
In November 2014, The London Chamber of Commerce and Industry and KPMG published Skills to build, LCCI / KPMG Construction Skills Index (London and the South East) 2014.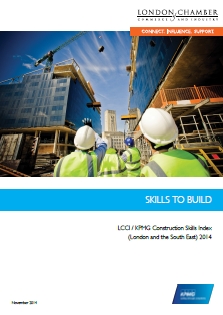 The report was prepared against a background of rapid growth in the construction industry, in particular in the South East, following a long period of decline resulting from the 2007 credit crunch which led to 400,000 job losses and the downsizing of training provisions.
The report found that, 'Construction skills shortages are significantly affecting the delivery of projects across the industry … a surge in activity over the last year has seen firms struggling to find skilled labour to cope with increased demand.'
It attempts to quantify the skills shortage in London and the South East by estimating the labour that will be required to deliver planned construction between 2014 and 2017, which it suggests will amount to £95.7 billion of construction output.
The findings suggest that 20% more workers will be required to deliver this output that in 2010 – 2013.
The report identifies a particular demand for managers, roofers, bricklayers, scaffolders, electricians, labourers and non-construction operatives and suggests that training providers are not offering the necessary qualifications. It suggests the industry needs a 51% increase in training provision if housing targets are to be met and infrastructure projects delivered.
The report proposes a number of measures that could be adopted to address this issue:
This report came a year after Professor John Perkins' Review of engineering skills, published in November 2013 which identified a shortage of Science, Technology, Engineering and Mathematics (STEM) professionals and graduates and argued that increasing the number of engineers would help the UK economy.