Museum of London redevelopment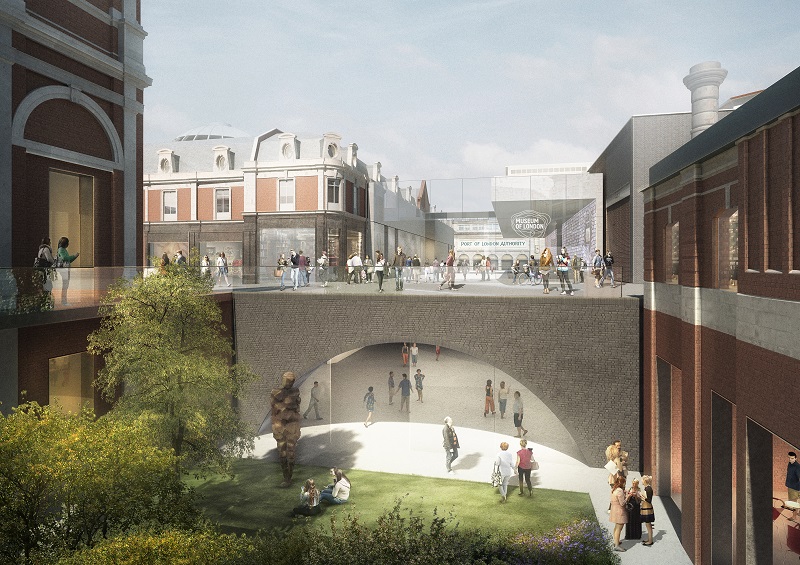 On 12 August 2016, Designing Buildings Wiki attended an event, hosted by New London Architecture at The Building Centre, entitled 'The future of Smithfield Market'.
The event began with Sharon Ament, director of the Museum of London, introducing the competitive process that was held to design the museum's new home at West Smithfield, and the winning team - Stanton Williams and Asif Khan, together with conservation architect Julian Harrap and landscape design consultants J&L Gibbons.
Ament said that despite welcoming 1.25 million visitors in 2015, and even though a central-business district (CBD) of-sorts has built up around the museum since it first opened in 1976, it could not be said to be in the most convenient or obvious location for attracting tourists, especially on weekends.
By relocating the museum in West Smithfield, building it around and beneath the legendary produce market, it is hoped that this issue will be solved.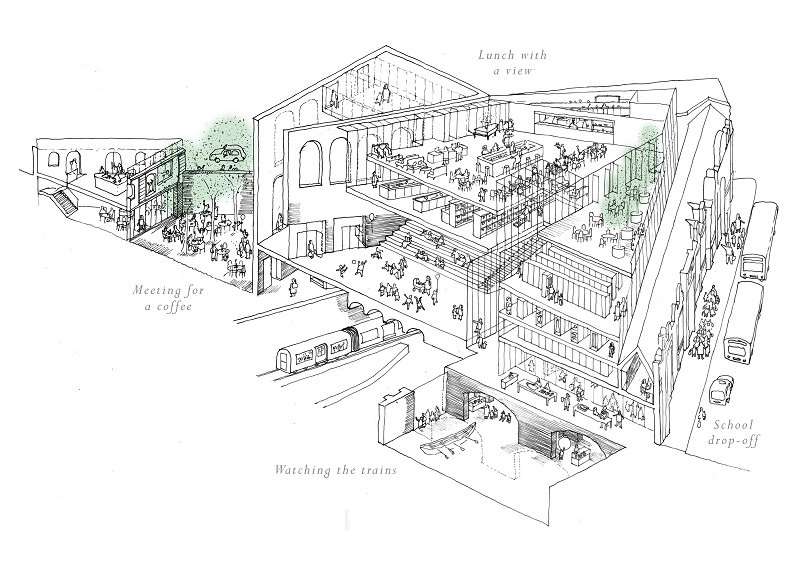 Paul Williams, director at Stanton Williams, explained in more detail the concepts behind the winning designs and the potential of the site, which involves balancing contemporary design with the physicality of the existing market architecture, to create an exciting and dynamic museum.
He drew particular attention to the idea of lifting the existing, rather flat, market dome on a collar, allowing natural light into the museum entrance below. He emphasised that the entrance hall, with its 16m wide dome, would be nearly twice the size of the Natural History Museum hall.
Drawing on the excellent preservative qualities of the location's clay soil, with amazing archaeological discoveries continuing to be made, Williams explained the idea behind visitors descending on spiral escalators down to the exhibition galleries, as being a 'portal to the past', creating a physical experience of moving down through history.
He explained how the museum galleries would be built inside the enormous underground chambers beneath the market that have been left unused for many years. A gallery of permanent exhibitions will be located beneath the general market, while a gallery of temporary exhibitions will be beneath the adjacent poultry market.
The design also includes flexible spaces to serve as a new meeting place for London and a centre for events and debate; as well as a new sunken garden and green spaces.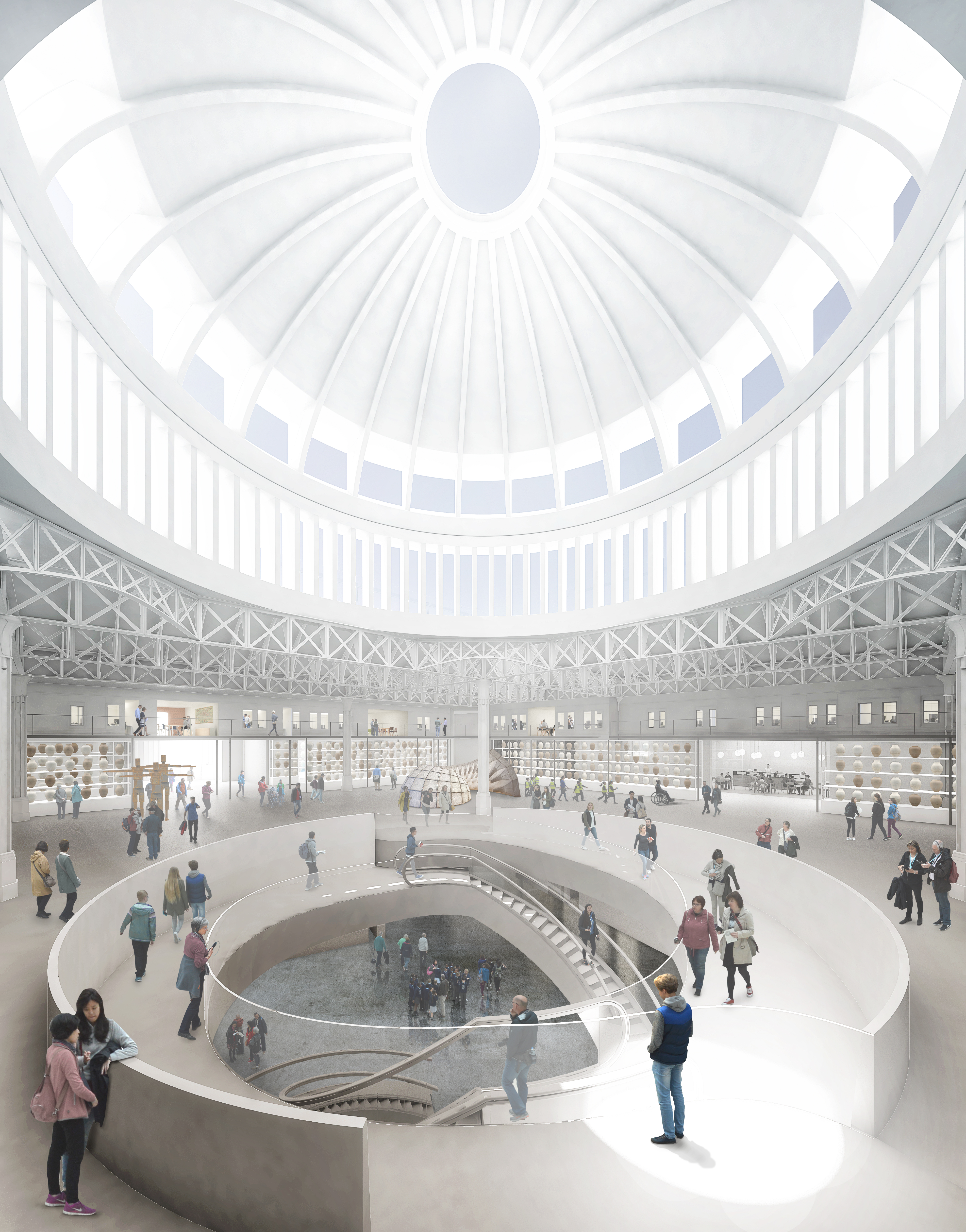 The winning proposal was selected from a shortlist of six architectural teams by a panel of well-known figures from the world of the arts, media, property, architecture and business, chaired by broadcaster and economist, Evan Davis.
The winners will now work closely with the team at the museum and the museum's stakeholders including the GLA, City of London Corporation and the local Smithfield community to develop the initial concepts into a fully-formed design.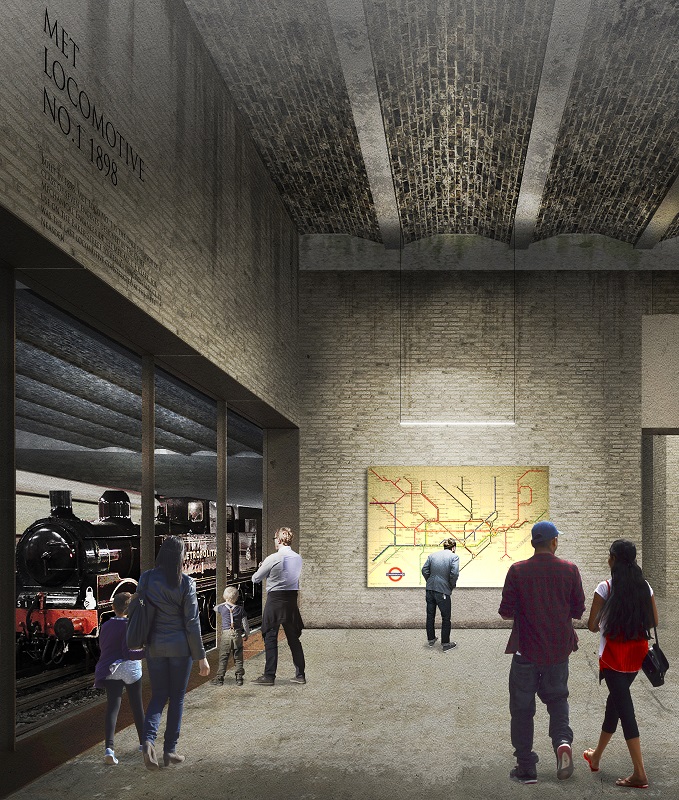 The museum intends to submit a planning application to the City of London Corporation in 2018 and to deliver the new museum by 2022.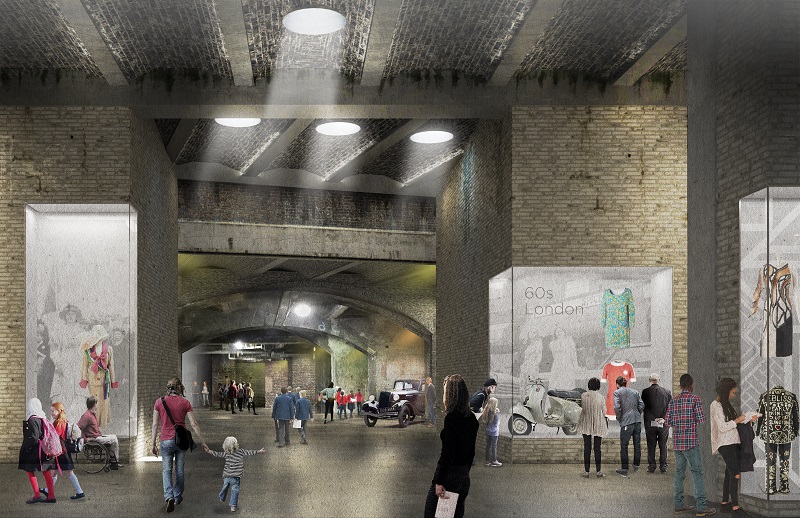 Content and images courtesy of Stanton Williams.
Featured articles and news
IHBC NewsBlogs now open for comments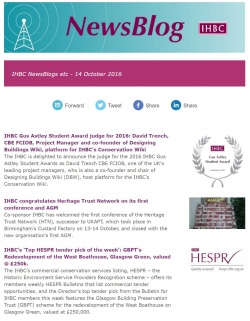 The IHBC has now opened its celebrated NewsBlog service to user comments, so members and users can open, join and extend the discussions around our news items.
---
IHBC HESPR tender pick of the week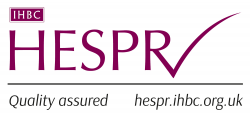 This week's Director's top pick for IHBC members features a call from Fenland District Council for archaeology, building investigation and community engagement.
---
IHBC Context CPD tale of two traumas - The importance of conservation expertise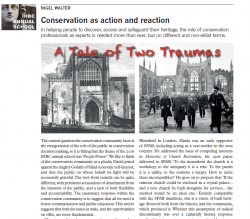 In helping people to discover, access and safeguard their heritage, the role of conservation professionals as experts is needed more than ever, says Nigel Walter.
---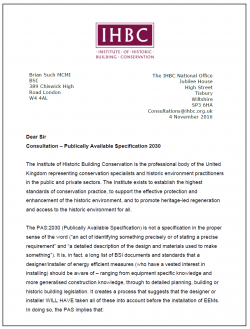 The BSI consulted on two Publically Available Specifications on energy efficiency measure (EEM) installation.
---
Churchill Barriers to be listed

Second World War structures at Scapa Flow have been recognised as being of national importance by Historic Environment Scotland.
---
Neighbourhood Planning Bill 2016 - 2017 – Committee Stage amendments
The Bill was amended during its Committee stage in the House of Commons, and a number of Government new clauses were added in relation to local plan making.
---
Complete Historic Environment Scotland survey
Historic Environment Scotland (HES) has announced a national campaign to find out what heritage means to the people of Scotland as part of the 2017 Year of History, Heritage and Archaeology.
---
Heating and energy-related reports for retro-fit projects
The UK government has published several reports on retro-fit issues for historic buildings.
---
US Embassy scheme receives conditional planning permission
Qatari-backed hotel scheme for the Grade II listed building in Mayfair will include 137 bedrooms, additional restaurants, retail and events space.
---
The pros and cons of crowdfunding architectural projects
A CLAD magazine feature discusses how crowdfunding can help get projects started and allow architects to be proactive.
---
Hidden paintings found at the Guild Chapel in Stratford upon Avon
Conservators have conclude it is one of the few places in Europe to have an almost complete medieval decorative scheme still in situ.
---
ebulletin&utm_campaign=c19f6a8b87-EMAIL_CAMPAIGN_2016_11_16&utm_medium=email&utm_term=0_56a3992b07-c19f6a8b87-129752081 Scottish Civic Trust calls for entries to My Place Awards
Community groups have been asked to nominate favourite new buildings, conservation projects and people in its annual awards (closing date 31 January 2017).
---
The Design Museum - regenerating a 1960s architectural icon
Museums Heritage says that after almost five years of restoration and refurbishment, the Grade II* Design Museum has been transformed into a modern multi-purpose space.
---
Property Flood Resilience Action Plan out
An independent report has been issued relating to flood protection, aiming to help with flood resilience.