Energy Efficiency and Comfort of Historic Buildings
Energy Efficiency and Comfort of Historic Buildings, edited by Michael de Bouw, Samuel Dubois, Liesbeth Dekeyser and Yves Vannellemont, Belgian Building Research Institute, Flanders Heritage Agency, 2016, 342 pages, free access online.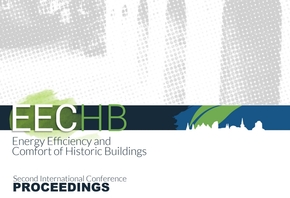 ---
In October 2016 the Belgian Building Research Institute organised the second International Conference on Energy Efficiency and Comfort of Historic Buildings (EECHB 2016), which took place in Brussels.
The conference was aimed at bringing together a group of international experts to facilitate knowledge exchange between the practitioners, governmental representatives and researchers. The conference was designed to consolidate research related to the following themes: boundaries and obstacles; using and improving energy models; training and education; interventions related to (a) systems and indoor climate, and (b) materials; monitoring and feedback; and governance issues. It discussed state-of-the-art energy efficiency developments and provided an opportunity to reflect on research results and practical issues. To disseminate conference findings, the peer-reviewed papers of the conference's proceedings have been made available online to the public.
The lengthy publication presents a compendium of knowledge for anyone seeking information about methods for improving energy efficiency of historic properties. It presents views, ideas and solutions for climate-sensitive heritage building adaptation that meets modern standards of energy efficiency while accommodating the needs of the building users. It highlights best practice methodologies for application and knowledge transfer. It features industry experts from across the globe, and presents case studies that we can all learn something from.
Among its range of case studies, it discusses post-war buildings in Edinburgh, traditional English terraced houses, private residencies, public buildings and Unesco protected sites, and it looks at wider city systems. Some papers present technical solutions, while others consider how to incorporate these solutions through well-informed and appropriate governance and planning.
Retrofitting buildings will continue to be at the forefront of government efforts to reduce emissions. This publication presents a rare opportunity to look at a variety of options available to buildings that respect and account for the historic value and unique characteristics of the traditional built environment. Regardless of the profession, anyone interested in improving energy efficiency of historic properties should be encouraged to read through these proceedings for a comprehensive selection of high-quality research
---
This article originally appeared in IHBC's Context 150, published in July 2017. It was written by Pat Graczyk, sustainability officer, Edinburgh World Heritage.
--Institute of Historic Building Conservation
[edit]
Find out more
IHBC NewsBlog
IHBC 2019 Nottingham School - Heritage, Risk & Resilience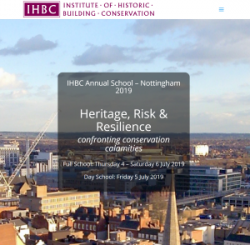 Homepage, venue and promotional pages launched – Sponsor opportunities open now; Delegate booking from February 2019!
---
IHBC welcomes Hampshire South Pevsner launched by Yale University Press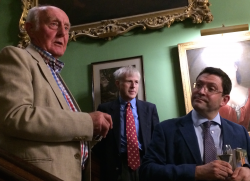 IHBC will be extending its CPD partnership with the Yale as the Pevsner publisher for the IHBC's Nottingham School, in July 2019, on 'Heritage, Risk and Resilience'.
---
IHBC welcomes Gus Astley Student Award judge for 2018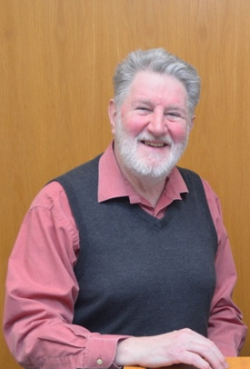 Ingval Maxwell OBE, Chair of COTAC, past Technical Director at Historic Scotland, now Historic Environment Scotland, will judge the 2018 Awards and present them at AS2019.
---
IHBC President launches next Marsh Awards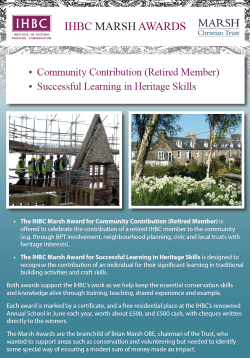 'Your next chance to nominate retired IHBC members and successful learners for Marsh Awards'.
---
IHBC HE & ALGAO LA conservation stats out now - 2018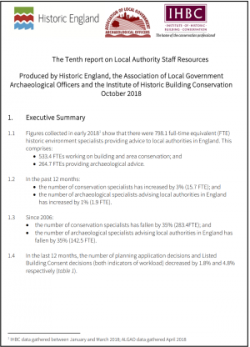 LA conservation capacity in England: small annual increase follows years of conservation cuts. But still aggregates at 35% cuts over the last 12 years.
---
IHBC CPD boost: Build your skills and profile


By contributing to Conservation Wiki (and DBW) following the handy guide on writing articles you can help your CPD and public and professional profile.
---
IHBC Local Authority Skills - website now mobile friendly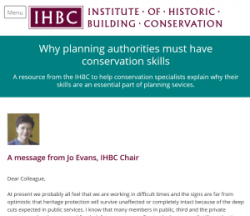 The IHBC upgrades specialist website on 'Local Authority Skills' so it's more accessible for mobile technology such as smart phones and iPads etc - content updates anticipated.
---
Scottish communities feel excluded from landscape policy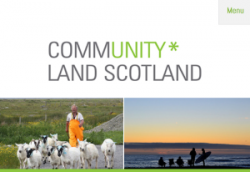 Major new research entitled Community Empowerment and Landscape show communities feel excluded from development decisions that affect the areas they live in.
---
CITB - iconic buildings set to benefit from sought-after stonemasonry skills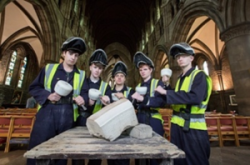 A new Construction Industry Training Board (CITB) partnership launched in Edinburgh will help meet the demand for stonemasonry skills.
---
SPAB Scholarship and Fellowship applications for 2019 open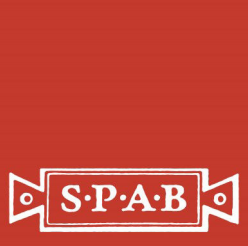 Architects, surveyors, engineers, craftspeople looking for hands-on-learning experience may apply for the 2019 Scholarships or Fellowships prior to December 1.
---
Dame Judith Hackitt - shocked by construction industry standards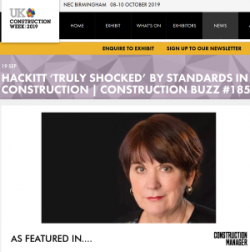 Her report, the 'Independent Review of Building Regulations and Fire Safety' also calls for 'stronger powers of enforcement, to provide more deterrent to cost-cutting'.
---
Making use of empty spaces in London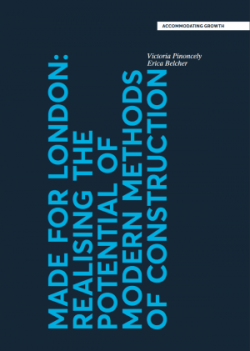 A report by Nicolas Bosetti and Tom Colthorpe 'Meanwhile, in London: Making use of London's empty spaces' looks at planning in the public realm.
---
Local authority green belt statistics for England 2017 to 2018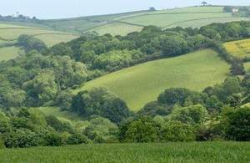 Statistics on designated green belt land in England by local authority for 2017 to 2018 have been published, indicating an incremental decrease of green belt each year.
---
England - Swindon Railway Village voted as Favourite Conservation Area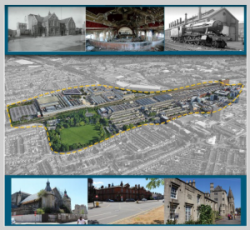 Civic Voice announces that Swindon Railway Village Conservation Area has been voted as England's 'favourite Conservation Area'.
---
UK festival of creativity and innovation to be held in 2022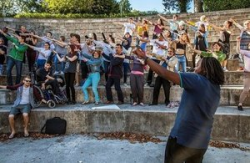 A UK-wide festival to be held in 2022 will showcase the creative and innovative strengths of the nation.
---
Government Building Safety Programme – post Grenfell Tower fire
MHCLG is supporting building owners in taking immediate steps to ensure their residents' safety and in making decisions on any remedial work that is necessary to do.