IHBC welcomes Heritage Protection Reform Proposals
This article was created by The Institute of Historic Building Conservation (IHBC). It was originally appeared in the IHBC NewsBlogs
---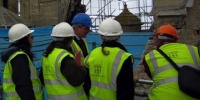 The IHBC has welcomed the Historic Environment Forum (HEF) consultation on 'Heritage Protection Reform Proposals' for England, which the institute has been contributing to for some time 'without prejudice', and with the consultation to close on 19 September [2016].
Mike Brown, immediate past chair of the IHBC comments, 'I have been closely involved in developing these proposals over the last two years on behalf of HEF, working with a wide range of sector interests and Historic England. We have kept close contact with DCLG and DCMS so that the ideas developed are the ones with most potential within government.'
'From the start our concern has been, 'how can we address the resourcing shortfall in conservation capacity within Local Planning Authorities given that no new money is likely to be made available' and 'How can we best protect heritage in these straightened times?'.
'I can't say I agree 100% with every idea put forward, but much of it is common-sense. The more radical ideas, perhaps reflect our times and the urgent need for a more imaginative approach. Of course, those ideas will need detailing and careful monitoring to ensure they work and do not lead to unexpected outcomes.'
'HEF ran two workshops on the outline ideas last October, one in London and one in Birmingham were they were well-received. We have now developed them in more detail and want to test the water, this time with a broader base of heritage interests and individuals. Given there is a new government there is, perhaps, a new opportunity to influence Ministers. I encourage members to look at the proposals with an open mind and feed into the IHBC's response your thoughts and any alternatives.'
The HEF writes:
The Historic Environment Forum (HEF), the high-level sectoral committee, has been concerned for many years by the continuing reduction in heritage and planning resourcing in local authorities. In 2014 HEF set up a working group, the Historic Environment Protection Reform Group, to address these problems and devise solutions. HEF consulted key heritage stakeholders on 15 proposed reforms in October 2015. These proposals have now been worked up in more detail, and HEF is seeking further input from stakeholders in this summer 2016 consultation.
The Historic Environment Forum welcomes all responses to this consultation. Everyone is encouraged to answer the general question (Question 12), but HEF would particularly welcome responses on the more specific questions which precede it.
Responses should be sent to The Heritage Alliance acting as the Secretariat for HEF to [email protected]
For further information see the Heritage Alliance -http://www.theheritagealliance.org.uk/historic-environment-forum/
Find out more
---
External references
IHBC Jobs etc – see: http://ihbconline.co.uk/jobsetc/
IHBC NewsBlogs see: http://ihbconline.co.uk/newsachive
IHBC NewsBlog
IHBC offers a a huge thanks to our volunteers and leads at LPOC Show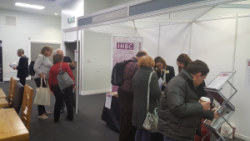 The IHBC CPD partnership with the Listed Property Owners Club has again secured free places for members and an IHBC stand at the show in Olympia on 9-10 February.
---
IHBC welcomes 2019 School speakers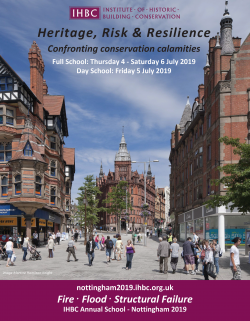 James Innerdale, on sensitive intervention for flood resilience, & Helen Brownlie, on dealing with the after effects of flood particularly in Cockermouth.
---
IHBC members services – checkup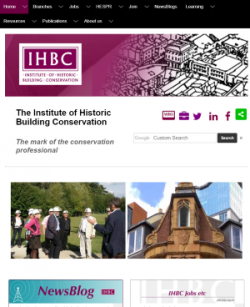 Simple ways to be sure your IHBC NewsBlog email alerts read correctly, and keep up with our latest news, jobs and more!
---
Serious about Heritage careers as an employer or job seeker?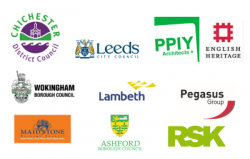 Stay 'in the know' with IHBC's latest 'Jobs etc.' updates for all your conservation needs.
---
RTPI renews call for more resources for planning in light of NAO report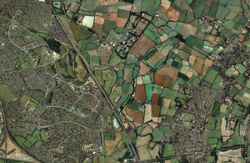 RTPI welcomes the findings of the report, 'Planning for New Homes', which flagged up issues, including the fall in spending and skills shortages in LA's planning departments.
---
IHBC HESPR top pick from £250K+ costed work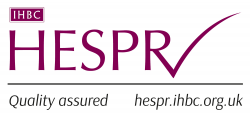 Chartered landscape architect sought for Sydney Gardens, Bath, closing 01/03, value £47k.
---
Historic England Online Debate No 8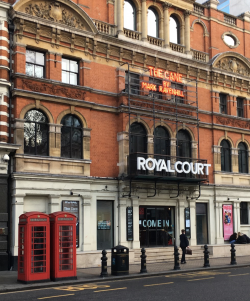 Interim protection for historic buildings before they can be listed with posts including the IHBC's President's 'Confessions of a Conservation Officer'.
---
GII farm demolition results in £20k fine
In a successful prosecution by Chorley Council the judge highlighted the 'public duty to ensure people don't just ignore the listing of buildings'.
---
BPT launches crowdfund call to support challenges poor planning decisions in Bath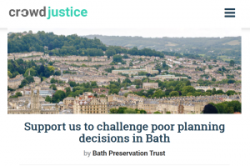 Bath Preservation Trust launches crowdfunding campaign to establish a 'legal fighting fund' to enable it challenge poor or irrational planning decisions in Bath...
---
Planning bodies response to MHCLG PDR consultation
The Consultation Institute has updated on how planning bodies have submitted strong objections to government proposals to further relax permitted development (PD) rights.
---
England - Spending on cultural resources slashed by £400m over 8 years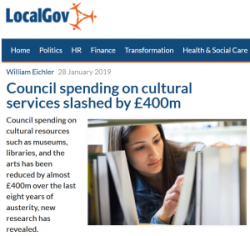 Spending on cultural resources such as museums, libraries, and the arts has been reduced by almost £400m over the last eight years of austerity CCN reveals.
---
UK confirms it will adopt EU standards for construction products post no-deal Brexit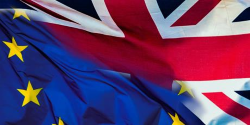 Contractors, architects and product manufacturers can breathe a sigh of relief, apparently, with confirmation that products ok'd in Europe will be ok'd for UK.
---
Strategic framework for heritage science in the UK 2018-2023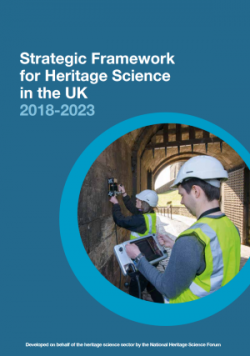 Following a year of consultation and development by the National Heritage Science Forum (NHSF), a new strategic framework was launched at the Tower of London in 2018.
---
BBC on Bauhaus & its centenary year in pictures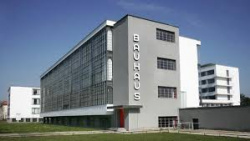 Established in 1919, Germany's Bauhaus art school brought a radical new approach to design and aesthetics helping inform modernist architecture worldwide.
---
Photographic record of the concrete blocks that once protected Britain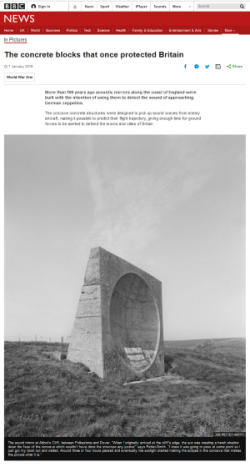 The BBC reports on how more than 100 years ago acoustic mirrors along the coast of England were built to detect the sound of approaching German zeppelins.