IHBC welcomes Heritage Protection Reform Proposals
This article was created by The Institute of Historic Building Conservation (IHBC). It was originally appeared in the IHBC NewsBlogs
---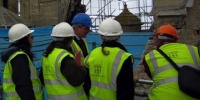 The IHBC has welcomed the Historic Environment Forum (HEF) consultation on 'Heritage Protection Reform Proposals' for England, which the institute has been contributing to for some time 'without prejudice', and with the consultation to close on 19 September [2016].
Mike Brown, immediate past chair of the IHBC comments, 'I have been closely involved in developing these proposals over the last two years on behalf of HEF, working with a wide range of sector interests and Historic England. We have kept close contact with DCLG and DCMS so that the ideas developed are the ones with most potential within government.'
'From the start our concern has been, 'how can we address the resourcing shortfall in conservation capacity within Local Planning Authorities given that no new money is likely to be made available' and 'How can we best protect heritage in these straightened times?'.
'I can't say I agree 100% with every idea put forward, but much of it is common-sense. The more radical ideas, perhaps reflect our times and the urgent need for a more imaginative approach. Of course, those ideas will need detailing and careful monitoring to ensure they work and do not lead to unexpected outcomes.'
'HEF ran two workshops on the outline ideas last October, one in London and one in Birmingham were they were well-received. We have now developed them in more detail and want to test the water, this time with a broader base of heritage interests and individuals. Given there is a new government there is, perhaps, a new opportunity to influence Ministers. I encourage members to look at the proposals with an open mind and feed into the IHBC's response your thoughts and any alternatives.'
The HEF writes:
The Historic Environment Forum (HEF), the high-level sectoral committee, has been concerned for many years by the continuing reduction in heritage and planning resourcing in local authorities. In 2014 HEF set up a working group, the Historic Environment Protection Reform Group, to address these problems and devise solutions. HEF consulted key heritage stakeholders on 15 proposed reforms in October 2015. These proposals have now been worked up in more detail, and HEF is seeking further input from stakeholders in this summer 2016 consultation.
The Historic Environment Forum welcomes all responses to this consultation. Everyone is encouraged to answer the general question (Question 12), but HEF would particularly welcome responses on the more specific questions which precede it.
Responses should be sent to The Heritage Alliance acting as the Secretariat for HEF to [email protected]
For further information see the Heritage Alliance -http://www.theheritagealliance.org.uk/historic-environment-forum/
Find out more
---
External references
IHBC Jobs etc – see: http://ihbconline.co.uk/jobsetc/
IHBC NewsBlogs see: http://ihbconline.co.uk/newsachive
IHBC NewsBlog
Historic England's '21 Fascinating Places Listed in 2019'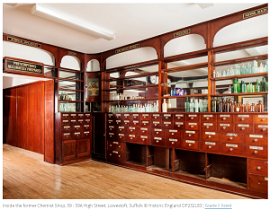 Over 500 historic places have been added to the National Heritage List for England (NHLE) in 2019 and Historic England (HE) has showcased 21 highlights.
---
UK's iconic first red public telephone box upgraded to GII*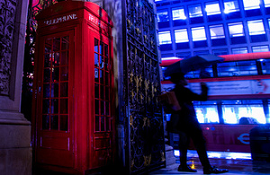 The K2 prototype telephone box situated outside the Royal Academy in London – built as part of the 1924 competition that gave rise to the iconic design and first listed at Grade II in 1986 – has had its listing upgraded to Grade II*.
---
Historic England publishes guidance on BIM for Heritage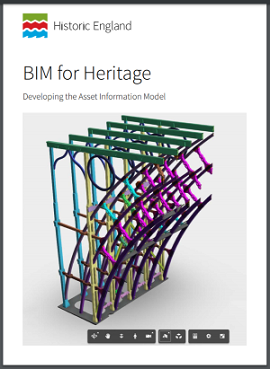 The second in a series focusses on developing the Asset Information Model (AIM).
---
High Streets Face a Bleak Future Without Rethinking Regeneration Strategies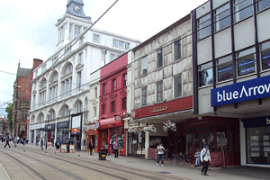 Reflecting issues that will be encountered across the IHBC's June 2020 Brighton School, think tank Centre for Cities argues for High Street success.
---
Take a look inside the first flat in the iconic Battersea Power Station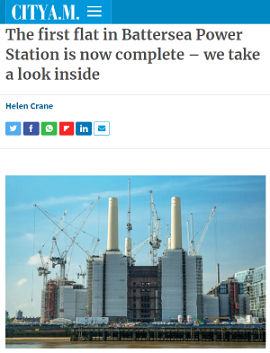 City A.M took a tour of the first apartment to be completed within the original grade II*-listed power station with designer Tim Boyd of Michaelis Boyd – which also designed the interiors for Soho House and the Groucho Club – and Battersea Power Station's UK sales director Georgia Siri.
---
Retrofit scheme named World Building of the Year at WAF 2019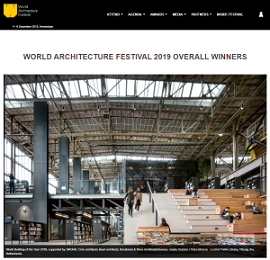 A conversion of a locomotive hangar into a public library is the first retrofit to win the top prize at the World Architecture Festival (WAF).
---
Historic England Updates Technical Conservation Guidance and Research Doc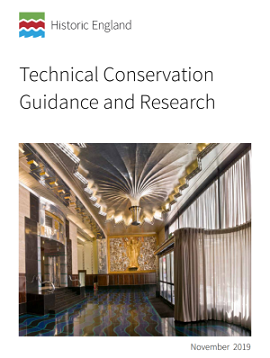 New guidance and research includes: Lightning Protection, Church Roof Replacement using Terne-coated SS, the conservation of Fibrous Plaster, and more.
---
Heritage Declares launched to urge more quick and effective response to climate change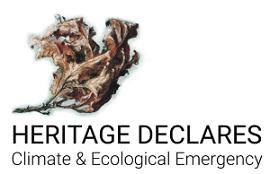 The non-affiliated group aims to galvanise climate action in the heritage sector.
---
Methodology for Moisture Investigations in Traditional Buildings agreed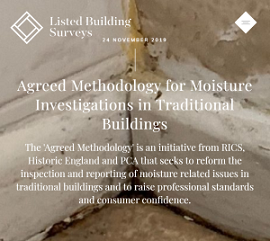 A 'Methodology for Moisture Investigations in Traditional Buildings ' has been agreed between RICS, Historic England and the service provider PCA, a trade body, which should help raise professional standards and consumer confidence.
---
Drinkers toast the future after historic Leeds pub granted GII listed heritage status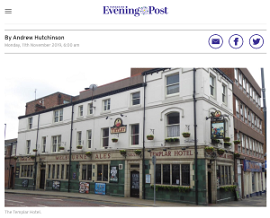 The Templar Hotel on Vicar Lane has been listed at Grade II by the Department for Digital, Culture, Media and Sport on the advice of Historic England.
---
Housing Minister announces new champion for modern 'MMC' housebuilding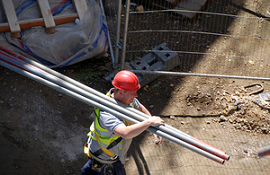 Government has announced a new Champion for Modern Methods of Construction as part of the government's drive to make the UK the global leader in housing standards.
---
RTPI on 'Why planning needs better outcome measurement'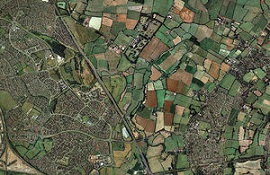 Planning is about so much more than the number of applications approved and the speed of processing them so the RTPI is commissioning research aimed at producing a toolkit that can demonstrate a wider range of outcomes.
---