The Angel Roofs of East Anglia
The Angel Roofs of East Anglia, Michael Rimmer, Lutterworth Press, 2015, in collaboration with the Churches Conservation Trust, 127 pages, numerous colour and black and white illustrations, paperback and as e book.
---
While masterpieces of stone vaults or decorated west fronts were being created in places such as Exeter Cathedral, and stained glass was reaching elaborate displays set in perpendicular tracery at Gloucester Cathedral, builders and craftsmen were busy using wood and paint in East Anglia for the adornment of great churches.
These arts flourished in our churches in the 1400s and, in at least one case, did not cease until several years after Henry VIII's break with Rome, 1529–34. The reformation period that soon followed brought attacks on this fabric. It was not until several hundred years later, with consequent decay and accidental loss, that this heritage would once more be fully appreciated (viz EH Crossley's pioneering English Church Woodwork, 1912.)
Now another scholar has devoted an entire, if concise, book to the largely neglected topic of angel roofs. These are the generally hammerbeam constructions in which a carved and winged angel projects forward horizontally and thus appears to hover in space over the church nave.
With modern aids, not least among them advanced techniques of digital photography, Michael Rimmer has devoted his travel and studies to this rich heritage, mercifully now more adequately cared for. It is worth beginning on page 25, where the author sets out briefly his own photographic techniques for the capture of images of the angel carvings and the oak or sometimes chestnut roofs that support them. The roofs look down from high above the ground with the light of clerestory windows often blinding us (and our cameras) to the beautiful and intricate carving stretched across the length and width of the church. Rimmer has conquered this basic problem. He supplies numerous images of the angels in close-up and of the entire roofs that house them.
Yet this is not just a book of pictures, for Rimmer's pioneering study addresses all questions regarding the purpose, design and construction of these richly decorated roofs. Regarding the distribution of angel roofs, for example, he shows how Suffolk has the greatest number of any single county, with 49 out of a national total of almost 170 survivors. The so-called 'greater East Anglia' in turn accounts for 84 per cent of the national total.
The region had wealthy individuals who were willing to pay for such elaborate craftsmanship. One was John Baret of Bury St Edmunds, who left in his will of 1467 funds for the angel roof of St Mary's in Bury, one of England's largest parish churches. Illustrating the same roof's details, Rimmer's photo of an angel with a large candlestick has a few strands of cobweb stretching down from the head to the shoulders of the figure. Such is the marvellous detail of these long-range shots.
The book will be appreciated by all whose work touches on the region's architecture and ecclesiastical history, or on the conservation of churches and by those who wish to increase their knowledge of late-medieval art generally. Its true value, however, lies in the original and thorough survey work and scholarship contained within its pages. With its unique illustrations and well-focused text, Angel Roofs will also make a splendid gift.
---
This article originally appeared as 'Angels of the East' in Context 142, published by the Institute of Historic Building Conservation (IHBC) in November 2015. It was written by Graham Tite, a conservation officer working under contract.
--Institute of Historic Building Conservation
IHBC NewsBlog
HEF's Heritage Sector Resilience Plan launched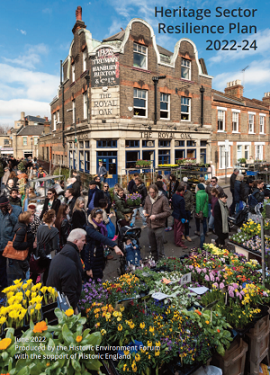 The Heritage Sector Resilience Plan, developed by the Historic Environment Forum (HEF) with the support of Historic England, has been launched.
---
Common Commitment to all Ireland's heritage – North South Agreement on Vernacular Heritage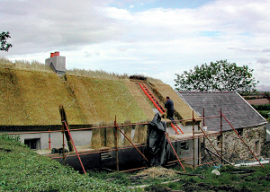 An 'All-Island' commitment to Ireland's vernacular heritage has been established with the signing of the North South Agreement on Vernacular Heritage, supporting traditional buildings etc.
---
Bristol Harbourside landmark Canons House gets GII listing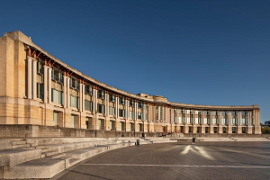 Canons House, a landmark building on Bristol Harbourside, has been awarded Grade II (GII) listed status having been built as a regional headquarters for Lloyds Bank between 1988 and 1991 (Arup)
---
BRE/BEIS project to modernise home energy rating scheme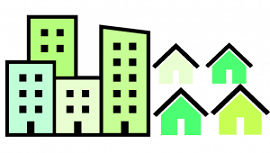 The Building Research Establishment (BRE) has announced a new project with the Department for Business, Energy and Industrial Strategy (BEIS) to improve and modernise the home energy rating scheme used to measure the energy and environmental performance of UK homes.
---
Interdisciplinary IHBC accreditation recognised by CSCS for PQP Cards

Sector lead the Construction Skills Certification Scheme (CSCS) has recognised the IHBC's professional accreditation and support (CPD etc.) in awarding its PQP (Professionally Qualified Person) cards.
---
IHBC Heritage Marketplace provides learning-led virtual engagement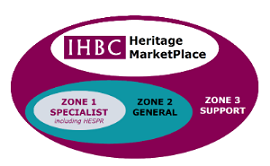 The IHBC's 2022 Aberdeen School Heritage MarketPlace (4.30-7.30PM, 15 June) is designed to extend the scope of a traditional IHBC School exhibition floor.
---
Unearthing the history of Gloucester's 'the Fleece' Hotel starts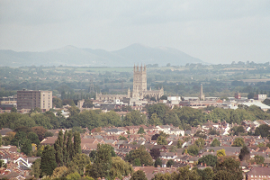 Work to repair a fire-hit medieval hotel in Gloucester is underway as crews have started work to strip back some of the modern trappings and reveal the historic framework.
---
Booking Open for IHBC Annual School: Aberdeen, 16-18 June 2022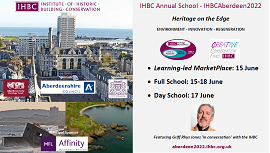 Options for in-person and virtual delegates to explore 'heritage on the edge' across up to 4 days of IHBC engagement & learning.
---
European Heritage Heads Forum statement on Ukraine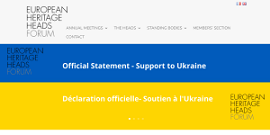 The Secretariat to the European Heritage Heads Forum has has coordinated its declaration of solidarity and support for Ukraine's cultural heritage institutions.
---
Welcome to #IHBC25 – 25 years since we turned professional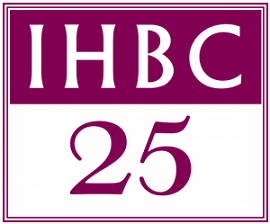 2022 will see the IHBC mark a quarter of a century since our incorporation as a professional body supporting and accrediting built and historic environment conservation specialists. We're kick-starting it by inviting your ideas on how to mark this special year!