NBS National BIM Report 2015
The NBS National BIM Report 2015 was published by the NBS in April 2015. It was the fifth survey of the state of building information modelling (BIM) in the UK construction industry and was published just a year before the government mandates a minimum requirement for Level 2 BIM on centrally-procured public projects.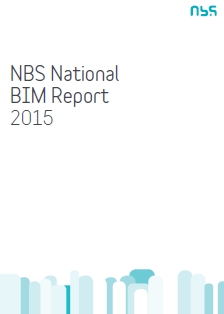 The report presents the results of a survey of nearly 900 respondents about their BIM adoption, usage and attitudes during 2014. The most significant group of respondents were architects, making up 44% of the total.
The findings are unusual, particularly given in the fast approaching BIM level 2 deadline, in that they appear to show the percentage of respondents who are 'aware and currently using BIM' decreased from 54% in 2013 to 48% in 2014. The NBS put this down to increasing workload and what they describe as a 'normal distribution' which causes uptake to slow down. However, this 'slowing down' would not account for a decrease. More likely is that it is the result of a statistically shift in those who have taken part in the survey, but it is difficult to assess whether this is reflective of a shift in the industry as a whole.
The NBS state that 'If we adjust the analysis to compensate for this, we do see an increase' although the basis of this adjustment is not explained.
It is also notable that 6% said their organisation had reach level 3 BIM. This is down from the previous year, but it is difficult to understand how anyone could claim to have achieved level 3, when level 3 has not been properly defined and the necessary tools and standards are not yet available.
Rather alarmingly, only 12% said that they had passed on a BIM model to those responsible for management of the building, and only 13% had adopted the soft landings framework. Given that soft landings may be mandated alongside BIM in 2016, and that one of the primary purposes of level 2 BIM is to provide information to building operators, this may indicate that BIM is being used more as a design and construction tool than as an information management system operated for the benefit of the employer as required by level 2. This is also reflected in a poor understanding of COBie, with usage at just 18%, again down from 2013, with one respondent saying "I know a lot of effort (and money) has been put into COBie, but the whole Excel sheet concept contradicts the fundamental principle of a common data environment."
Also of note is the relative popularity of BIM software, with Nemetschek Vectorworks taking an apparent lead in terms of the tools that respondents used for drawing:
Nemetschek Vectorworks 29%
Autodesk Revit (Architecture/Structures/MEP) 25%
Autodesk AutoCAD 15%
Autodesk AutoCAD LT 13%
Graphisoft ArchiCAD 8%
Other 7%
Bentley Microstation 3%
Bentley Building Suite (Architecture /Mechanical/Electrical/Structural) 1%
Trimble Sketchup (formerly Google Sketchup) 1%
Nemetschek Allplan 0%
NBS suggest that this is a result of user 'loyalty' translating '…into a significant increase of respondents to the BIM survey among Nemetschek Vectorworks customers.
Despite these findings, NBS suggest that '…the direction of travel remains clear – BIM will increasingly become the norm for the design and maintenance of buildings, and its widespread use is central to achieving the Government's construction strategy.'
Richard Waterhouse, CEO of NBS and RIBA Enterprises said, 'BIM adoption is moving from being led by innovators and early adopters, towards being a more mature market, where the more mainstream are investigating and assessing the benefits of doing so. Time, levels of expertise and cost remain barriers to BIM adoption. There is still a lack of clarity in the industry, and many are sceptical of the claims made for BIM, by some.'
BIM Directory
---
[edit] Information Requirements
---
[edit] Information Models
---
[edit] Collaborative Practices
---
[edit] Standards
---
[edit] Levels of BIM
---
[edit] Glossary
---
[edit] Guide to BIM Level 2