Car parking in conservation areas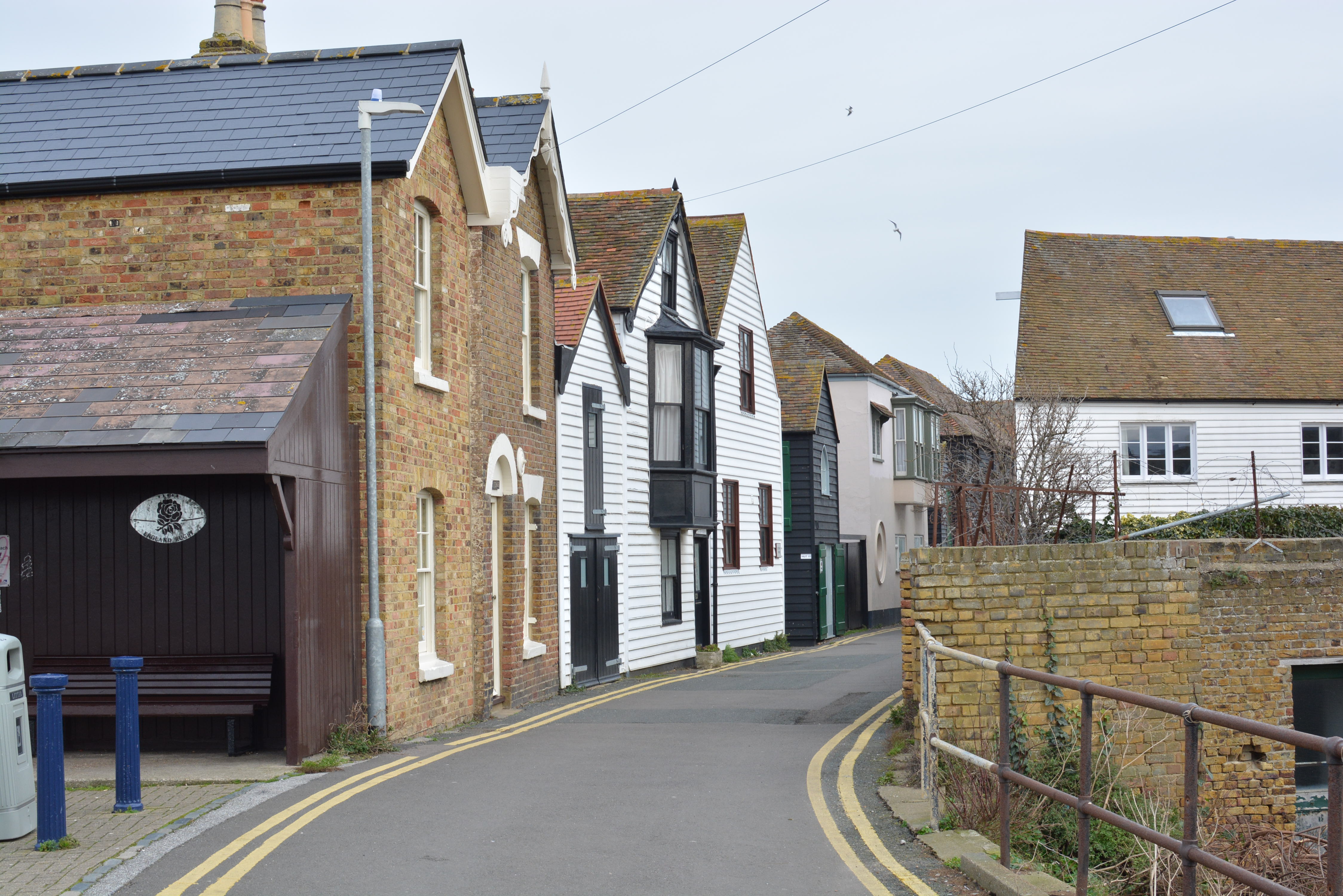 It is no longer necessary to paint lots of ugly yellow lines on a road in order to warn drivers that cars should not park. Image: a backstreet in Whitstable, Kent
Introduction
Let's get rid of all the cars. Why not? They are ugly, smelly and kill people. Look at a historic street in a conservation area and imagine it without the cars and traffic. The real quality of the place would shine through.
Sadly, there are many conservation areas where cars need to be parked, at least for the present. Here are a few ideas on how to integrate parked cars as effectively as possible into conservation areas, while conforming to current legislation and rules regarding cars parked on public land.
It is no longer necessary to paint lots of ugly yellow lines on a road in order to warn drivers that cars should not park. The government encourages councils to use an alternative method to control parking, especially in conservation areas. In a restricted parking zone, discreetly positioned, minimal information signs are all that are needed. The place on the road that should be used for car parking can be indicated by a subtle change in the texture of the road surface. If this technique is not desirable, strict enforcement may be needed.
Similarly, the length of road to be used for moving traffic should be obvious. In practice, drivers tend to respect the needs of other drivers and seldom leave a car where they think it will be damaged. The end of a parking bay on a street could be marked by a sculpture.
Car parks usually look like neglected dumps, which is a pity because they are often places where visiting drivers have their first impression of a place from the point of view of a pedestrian. In this sense, car parks are gateways. Some historic towns have traditional market places that are also used as car parks. At Devizes Market Place there are trees, seats, subtle lighting and, at its centre, a splendid historic monument where people sit and chat.
So, perhaps all car parks should be designed to be as welcoming. They could have trees and hedges for wildlife between the rows of cars. The bays for individual cars, as the National Trust has found, do not need to be marked out, because drivers tend to park quite neatly and efficiently without them. Finally, signage needs to be kept to a minimum. Most car parks have four times the number of signs they really need.
Practical implementation
How can we make all these things happen? The answer is that as they are actual examples, they are doable. The designs have been produced through a combination of car parking technology, landscape design and concern for conservation and the setting of historic buildings. They have all been designed and are being maintained with close interdisciplinary expertise and cooperation. These ideas of interdisciplinary cooperation are developed further with analysis of case studies in a book written by Colin Davis and titled Streetscapes, published by the RIBA.
---
About this article
This article originally appeared in IHBC's Context 150, published in July 2017. It was written by Colin Davis, an architect, planner and engineer – www.publicrealm.org.
--Institute of Historic Building Conservation
IHBC NewsBlog
IHBC Annual School 18 June 2021: Over 25 MarketPlace Stalls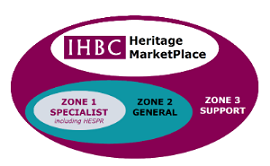 IHBC's Virtual Annual School 2021 MarketPlace stalls provide access to over 25 of the sector's most influential organisations. Book now to join!
---
IHBC Annual School: Historic Places - People Places: 18 June 2021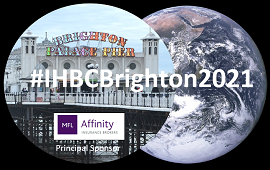 IHBC's 2021 virtual conference examines how we can best change and sustain places for the benefit of people, led by expert practitioners boasting international, national and local profiles and experiences.
---
Europe's top heritage awards honour 24 exemplary achievements from 18 countries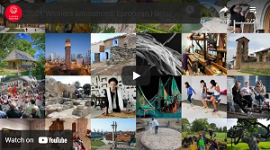 The 2021 winners of the European Heritage Awards / Europa Nostra Awards have been announced.
---
10 Local Councils in England to test the use of digital tools in planning process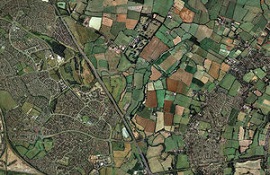 England's Housing Minister has announced a £1.1 million fund to test the use of digital tools and data standards across 10 local areas.
---
LABC launches new home improvement website: Front Door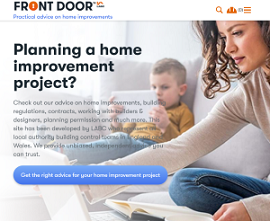 Created by the Local Authority Building Control (LABC), Front Door provides practical guidance on home improvements and renovations as well as technical advice on obtaining building control and planning approvals.
---
Oriel College decision on 'Rhodes' and Related Issues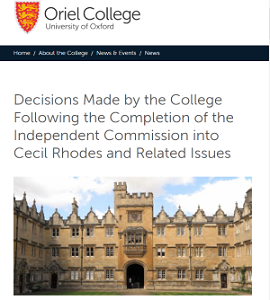 The Independent Commission established by the Governing Body of Oriel College on the memorials and legacy of Cecil Rhodes has reported.
---
Platt's Eyot fire: River Thames GII Boatyards Destroyed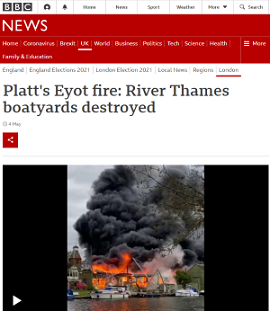 A huge blaze has destroyed two Grade-II listed boatyards on a River Thames island.
---
St Albans Cathedral restoration features a figure wearing a face-mask!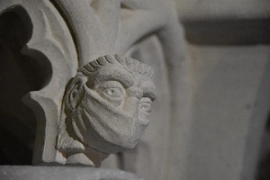 The medieval shrine of St Amphibalus has been restored to its former glory, now with 'a modern addition of a face wearing a face-mask to commemorate the shrine's restoration project' in the pandemic!
---
Ulster Canal to be Restored and Reopened in Border Region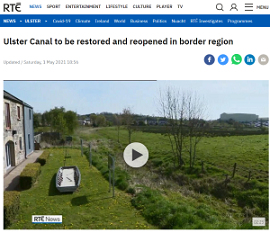 A section of the Ulster Canal, a disused canal in the border region of Monaghan and Fermanagh, will be restored and reopened as a public amenity more than 90 years after it was abandoned.
---
Remains of 'high-status' Roman villa and bath-house found in Scarborough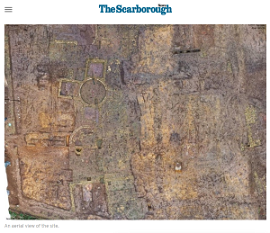 One of the most stunning Roman finds ever unearthed in Britain has been discovered on the site of a new housing development in a village near Scarborough.