Car parking in conservation areas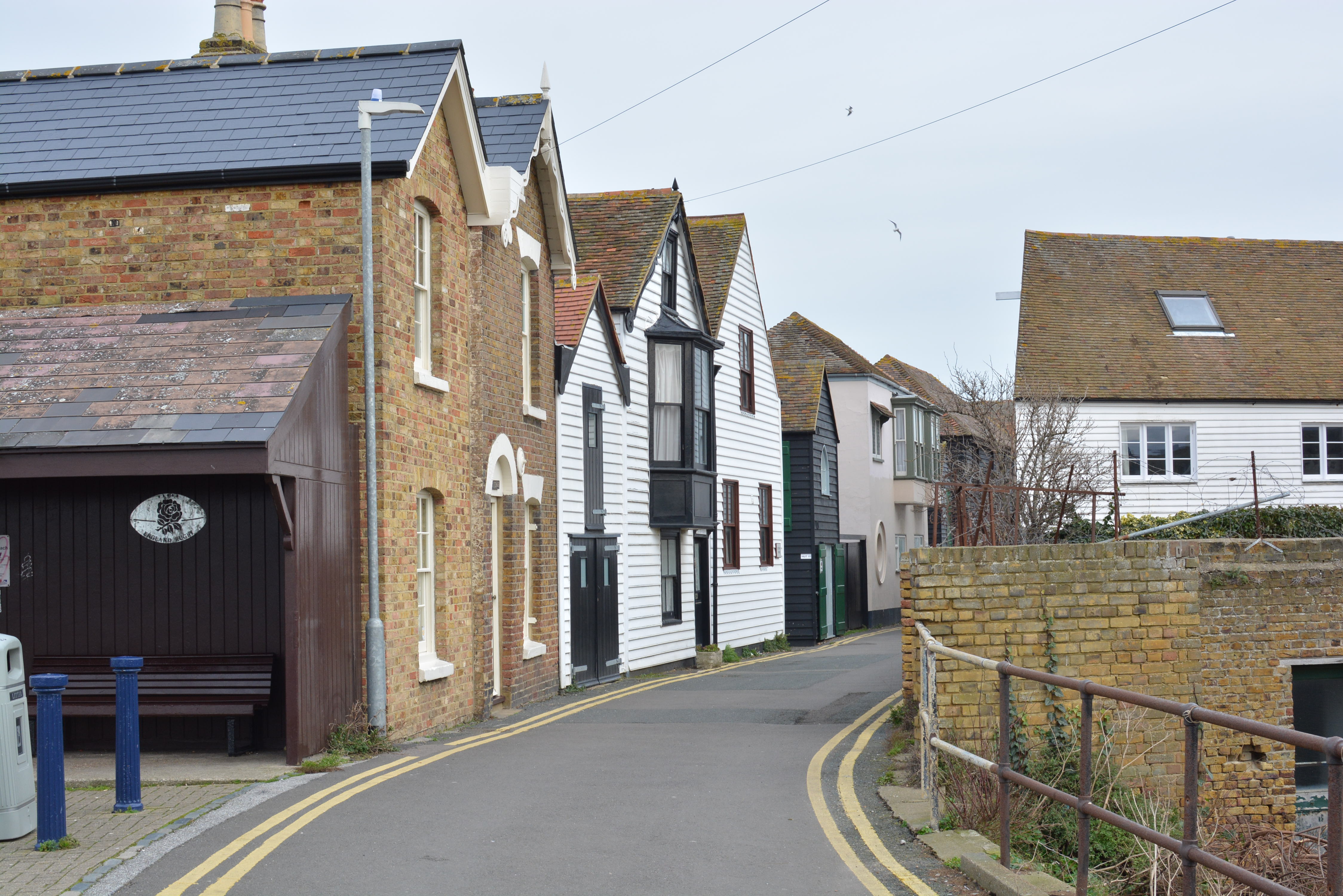 It is no longer necessary to paint lots of ugly yellow lines on a road in order to warn drivers that cars should not park. Image: a backstreet in Whitstable, Kent
Introduction
Let's get rid of all the cars. Why not? They are ugly, smelly and kill people. Look at a historic street in a conservation area and imagine it without the cars and traffic. The real quality of the place would shine through.
Sadly, there are many conservation areas where cars need to be parked, at least for the present. Here are a few ideas on how to integrate parked cars as effectively as possible into conservation areas, while conforming to current legislation and rules regarding cars parked on public land.
It is no longer necessary to paint lots of ugly yellow lines on a road in order to warn drivers that cars should not park. The government encourages councils to use an alternative method to control parking, especially in conservation areas. In a restricted parking zone, discreetly positioned, minimal information signs are all that are needed. The place on the road that should be used for car parking can be indicated by a subtle change in the texture of the road surface. If this technique is not desirable, strict enforcement may be needed.
Similarly, the length of road to be used for moving traffic should be obvious. In practice, drivers tend to respect the needs of other drivers and seldom leave a car where they think it will be damaged. The end of a parking bay on a street could be marked by a sculpture.
Car parks usually look like neglected dumps, which is a pity because they are often places where visiting drivers have their first impression of a place from the point of view of a pedestrian. In this sense, car parks are gateways. Some historic towns have traditional market places that are also used as car parks. At Devizes Market Place there are trees, seats, subtle lighting and, at its centre, a splendid historic monument where people sit and chat.
So, perhaps all car parks should be designed to be as welcoming. They could have trees and hedges for wildlife between the rows of cars. The bays for individual cars, as the National Trust has found, do not need to be marked out, because drivers tend to park quite neatly and efficiently without them. Finally, signage needs to be kept to a minimum. Most car parks have four times the number of signs they really need.
Practical implementation
How can we make all these things happen? The answer is that as they are actual examples, they are doable. The designs have been produced through a combination of car parking technology, landscape design and concern for conservation and the setting of historic buildings. They have all been designed and are being maintained with close interdisciplinary expertise and cooperation. These ideas of interdisciplinary cooperation are developed further with analysis of case studies in a book written by Colin Davis and titled Streetscapes, published by the RIBA.
---
About this article
This article originally appeared in IHBC's Context 150, published in July 2017. It was written by Colin Davis, an architect, planner and engineer – www.publicrealm.org.
--Institute of Historic Building Conservation
IHBC NewsBlog
IHBC's first Virtual School a Marked Success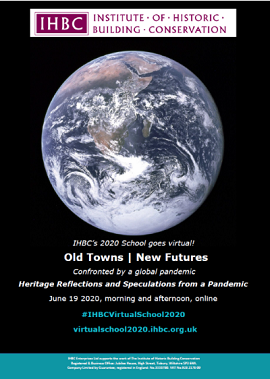 The first 'Virtual School' hosted by the IHBC was launched on 19 June with lead speakers covering pandemic-related topics shaping valued places over two sessions.
---
MPs are Asked for Views on £4bn Parliament Restoration Plan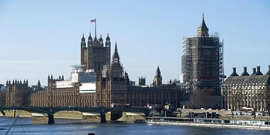 MPs and peers are being asked for their views on the planned restoration and renewal of the Houses of Parliament.
---
Ireland National Heritage Week: 15-23 August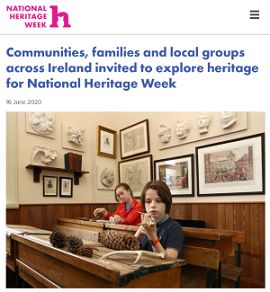 Plans are in place for a modified National Heritage Week for Ireland, which take into account ongoing restrictions on events and gatherings due to COVID-19.
---
Grimsby's historic Ice Factory thrown new survival lifeline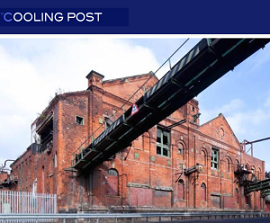 Opened in 1901, and derelict for the last 30 years, the Grimsby Ice Factory is the earliest and largest known surviving ice factory in the world. It still contains an array of historic ice making equipment including four J&E Hall ammonia compressors installed in 1931.
---
Risk Assessments and Contractual Impact from CIAT

A note on contractual obligations under the current COVID-19 pandemic has been issued by The Chartered Institute of Architectural Technologists(CIAT).
---
RTPI calls on government to issue planning guidance to prevent development delays

The Royal Town Planning Institute (RTPI) has called on the government to urgently issue planning guidance to prevent unnecessary delays to development from the pandemic.
---
How to Enjoy Heritage from Home, from the Heritage Fund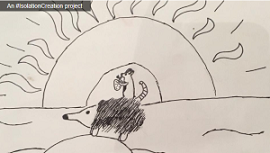 The Heritage Fund has put together a list of heritage-inspired activities to be done from home.
---
Listed Property Owners Club's Spring Checklist for Buildings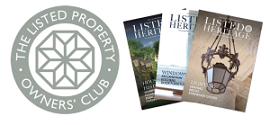 Spring is a good time to stand back and consider any building repairs that are required over the next 12 months, notes the LPOC, and regular inspection and maintenance is the key to keeping homes in good repair, as per its accessible step-by-step guidance.
---
Firefighters tackle blaze at converted Grade II listed former mill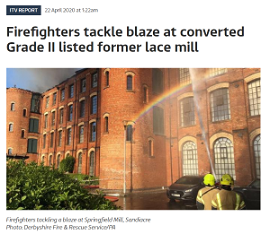 Derbyshire Fire and Rescue Service said "rapid and effective firefighting" had saved three quarters of the mill – which is now apartments.
---
Thieves take advantage of lockdown to steal lead from church roof in Halsham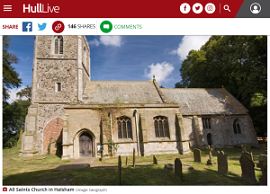 Police have appealed for witnesses after thieves stole lead from the roof of All Saints Church in Halsham near Hedon during the coronavirus lockdown.
---
IHBC's CPD Circular provides info on digital CPD opportunities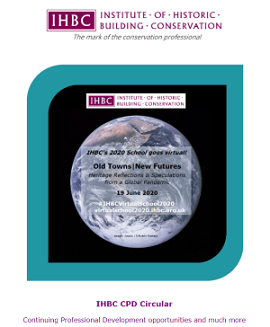 The regular newsletter showcases the IHBC's own Continuing Professional Development (CPD) content as well as online opportunities from 'IHBC Recognised CPD Providers' and other conservation related training and events.
---
Frank Lloyd Wright houses offer virtual tours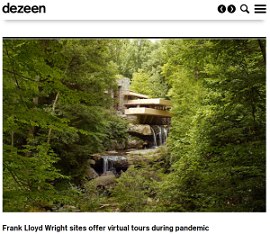 To make sure the public still has access to twelve of those famous works, #WrightVirtualVisits has been launched, which offers virtual tours of 12 iconic houses.
---