Banksman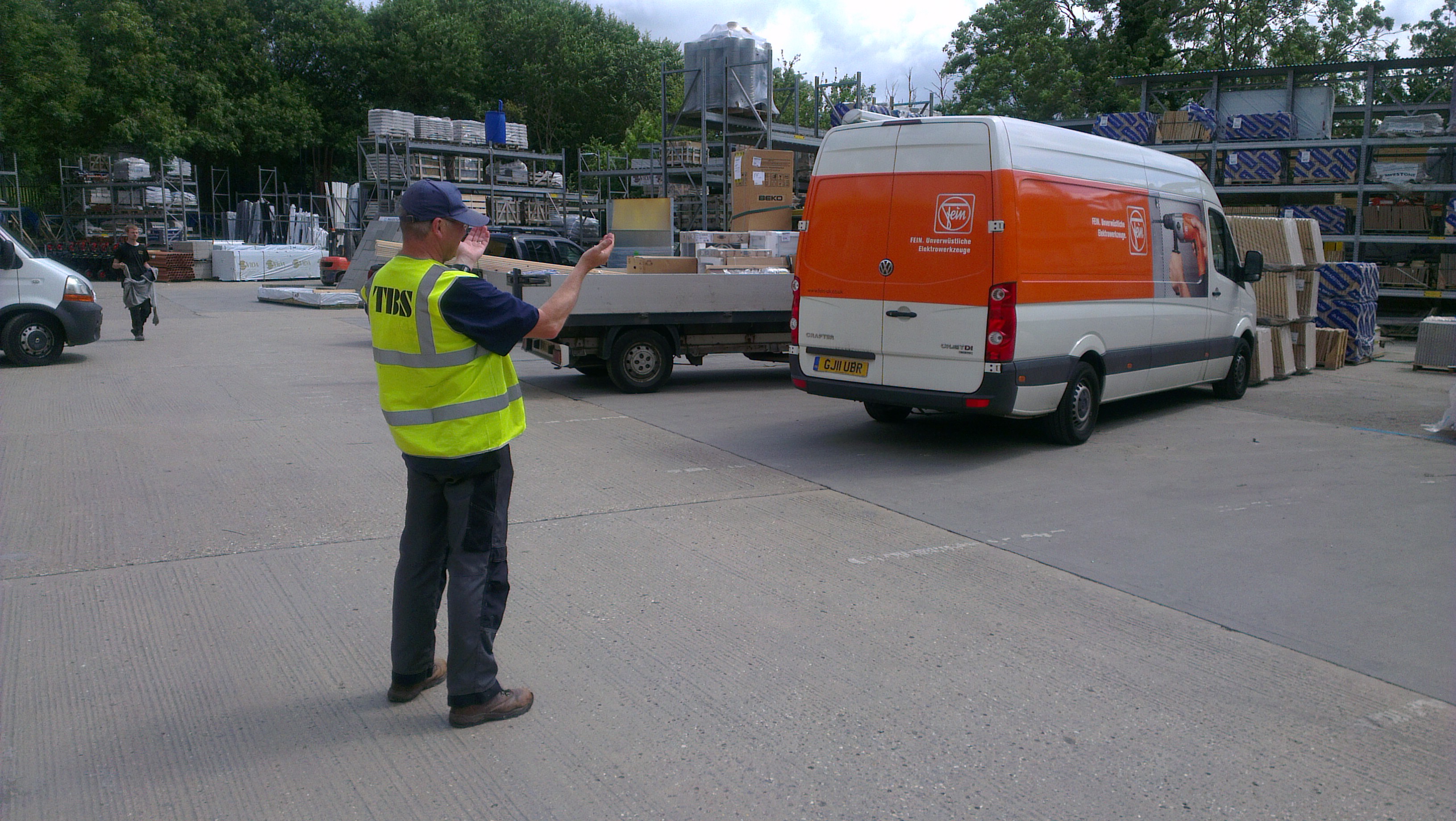 A banksman is responsible for directing vehicle movements on or around a construction site. This very often involves large vehicles delivering materials, equipment or parts to site, or large cranes during lifting operations. They are also referred to a 'traffic marshals' or 'signallers', while in Australia and New Zealand they may be called 'dogman', or in the United States 'spotter'.
Their primary role is to assist the crane or truck driver ensure their manoeuvres are safe and will not cause damage to the vehicle or other structures. They communicate with the driver by means of a radio or hand signals.
This is necessary as the driver will very likely not have a complete view or clear visibility. According to HSE, nearly a quarter of all deaths involving vehicles at work occur during reversing. Many other reversing accidents do not result in injury but cause costly damage to vehicles, equipment and premises.
When a banksman is assisting a vehicle or crane driver, they must observe the following general guidelines:
Banksmen must identify areas of danger around the site where manoeuvrability will be difficult or risky, such as confined spaces. They may also direct traffic in and around the site, and assist with keeping the public safe if site vehicles are to be guided in areas that pose a risk. They may also be responsible for controlling the movements of other plant, such as excavators, and ensuring there are no obstructions or hazards at dig sites.
Banksmen should undergo comprehensive training before being assigned on-site responsibilities. They should have an understanding of how to prevent common accidents, different types of equipment and vehicles, and the correct procedures for manoeuvring equipment.
The Health and Safety (Safety Signs and Signals) Regulations provides a guide to the standard signals:
| | |
| --- | --- |
| INSTRUCTION | SIGNAL |
| Start: Start of command | Both arms are extended horizontally with the palms facing forwards. |
| Stop: Interruption, end of movement | The right arm points upwards with the palm facing forwards. |
| End of the operation | Both hands are clasped at chest height. |
| Vertical movements: Raise | The right arm points upwards with the palm facing forward and slowly makes a circle. |
| Vertical movements: Lower | The right arm points downwards with the palm facing inwards and slowly makes a circle. |
| Vertical movements: Vertical distance | The hands indicate the relevant distance. |
| Horizontal movements: Move forwards | Both arms are bent with the palms facing upwards, and the forearms make slow movements towards the body. |
| Horizontal movements: Move backwards | Both arms are bent with the palms facing downwards, and the forearms make slow movements away from the body. |
| Right (to the banksman) | The right arm is extended more or less horizontally with palm facing downwards and slowly makes small movements to the right. |
| Left (to the banksman) | The left arm is extended more or less horizontally with palm facing downwards and slowly makes small movements to the left. |
| Horizontal distance | The hands indicate the relevant distance. |
| Danger: Emergency stop | Both arms points upwards with the palms facing forwards. |
| Quick | All movements faster. |
| Slow | All movements slower. |
[edit]
Find out more