Restoring Singapore shophouses
This article originally appeared in Context 145, published by The Institute of Historic Building Conservation in July 2016. It was written by Brian Morton MBE.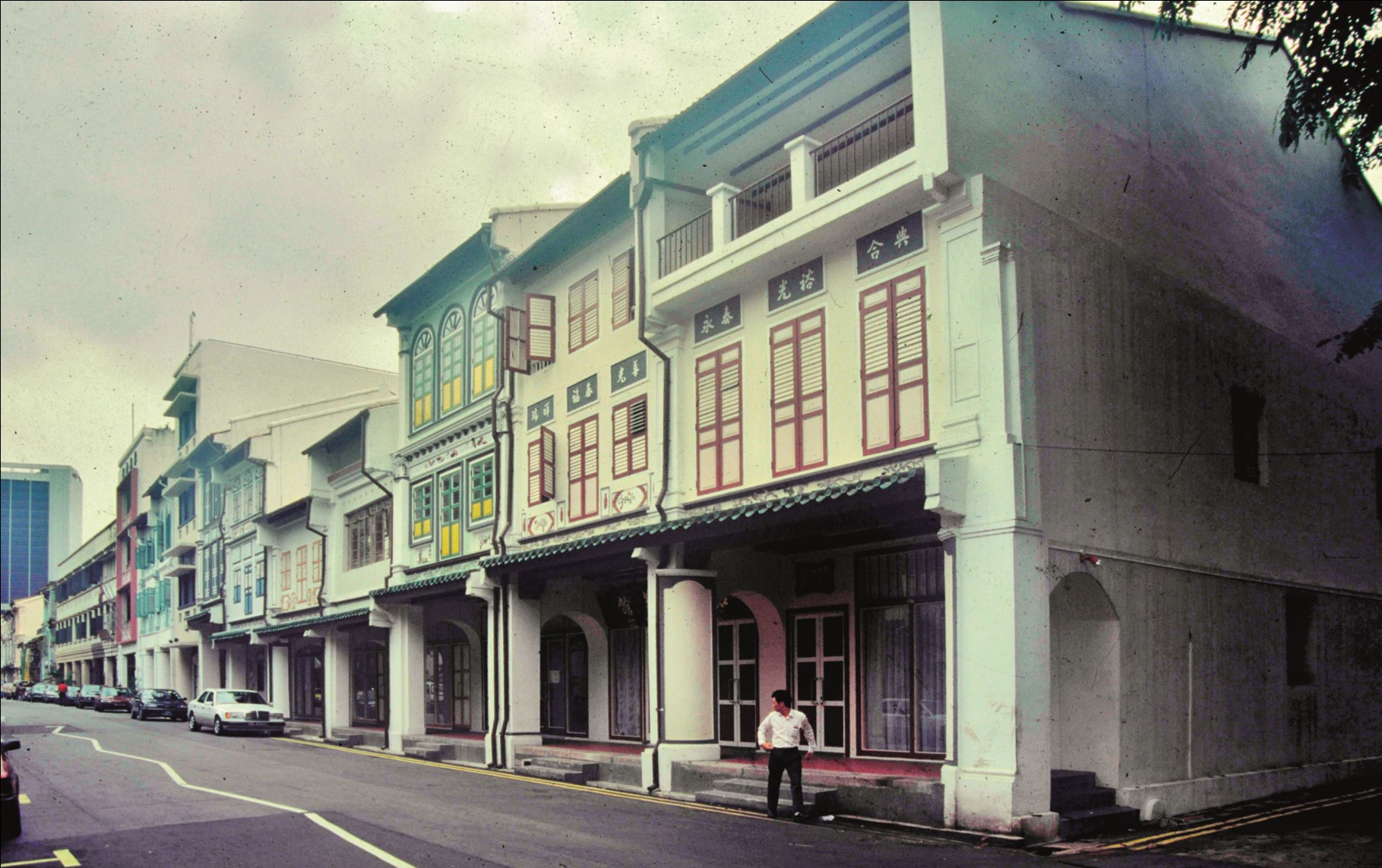 [Image: Singapore shophouses of the 1920s]
Structural engineer Brian Morton advised the Singapore Government on a new approach to restoring Singapore's shophouses, which has since been incorporated into the regulations.
---
In Singapore in the early 1990s shophouses were being demolished based on misleading structural advice that they were too expensive, or too difficult to restore for any future use. The cleared sites were of great value for the modern multi-storey development.
When Sir Stamford Raffles (1781–1826) arrived, Singapore was hardly developed at all. Raffles formulated a plan to divide the town into communal neighbourhoods, or campongs. The Chinese were moved to south of the Singapore River, and local groups and other Malays to the upper reaches of the river. The north banks of the Singapore River were set aside for development by the government.
Most of the first workers' houses, low-rise timber buildings, were replaced by the blocks of shophouses designed with set requirements relating to site size, building heights and overall layouts of these areas, such as China Town and Little India.
Prior to my involvement in 1993, and indeed during the time I was in Singapore, shophouses were being demolished at a significant rate. The government sought advice on how to save the buildings that were thought to be at the end of their life.
The reason that so many houses had been demolished related to an approach that was generally used by the builders. If the roofs were in a bad condition, the timbers were replaced, and if the floors were in bad condition, they too were replaced. Temporary supports were used to retain the party walls if necessary. The result of this was that houses collapsed.
Later a top-down philosophy was introduced, where individual roof timbers were inspected and replaced as necessary. Similar action was taken at each floor level, rebuilding masonry from the top down as the roof and floors were dealt with. This resulted in a very stable structure being retained.
The Singapore Government appointed a French architect and me to guide it with this new approach, and agreeing a way forward with the officers of the government and its engineers. This led to a proposal that a group of houses in China Town, and another group in Little India, should be restored in accordance with this approach. The new philosophy and methodology has since been incorporated into the control regulations for work to these historic structures.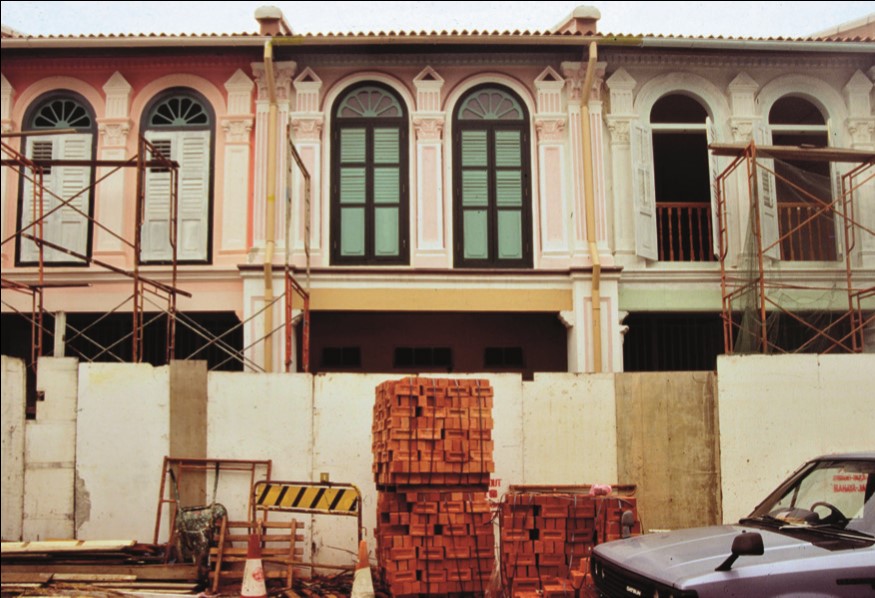 [Image: Singapore shophouses being refurbished]
Brian Morton MBE is consultant to the Morton Partnership.
---
Further reading
Lee, Edwin (1990) Historic Buildings of Singapore.
Kilpin, Lee (1988) The Singapore House, 1819–1942.
Davison, Julian (2011) Singapore Shophouse.
--Institute of Historic Building Conservation
IHBC NewsBlog
REMINDER – Gus Astley Student Award closing soon
Only 2 weeks left to win £500 and a free place in IHBC's 2018 Annual School as Student Award closes 31 July – 'Just send us your coursework, online and on time'!
---
IHBC Context 21 to 44 now online
From British Standard's pre-history to historic paints and decorative features view the historic environment practitioner's best source for accessible expertise in contemporary conservation.
---
IHBC CPD boost - Saving Art Deco heritage in Craigmillar
Historic Environment Scotland (HES) has highlighted how investing a little time and effort in older buildings can help Scotland's communities.
---
Stone carving tutor Nina Bilbey awarded Prince Philip Medal
Nina Bilbey is the Senior Stone Carving Tutor at City & Guilds, London Art School, the internationally highly respected centre of architectural and sculptural stone carving.
---
Research Council PhD Policy Internships Scheme - call closing August 10
The scheme provides an opportunity for Research Council-funded PhD students to work for three months in one of a selected group of highly influential policy organisations.
---
CultureisDigital the conversation on culture and digital technology working better together
Contains public sector information licensed under the Open Government Licence v3.0.

Join the conversation between Government, the cultural sector and tech companies on the digitisation of public collections and enhancement of online cultural experiences.
---
Infrastructure systems for a better world - apply for funding from innovate UK
Contains public sector information licensed under the Open Government Licence v3.0.
If you're a UK business or research organisation you can apply to Innovate UK for a share of £15 million to develop innovative infrastructure solutions – deadline 13 September 2017.
---
Saving closed chapels and churches in Wales for future generations
WalesOnline focuses on Carmarthen as it explores 'thinking outside the box' in creating new uses for places of worship to ensure the historic buildings survive for years to come.