Restoring Singapore shophouses
This article originally appeared in Context 145, published by The Institute of Historic Building Conservation in July 2016. It was written by Brian Morton MBE.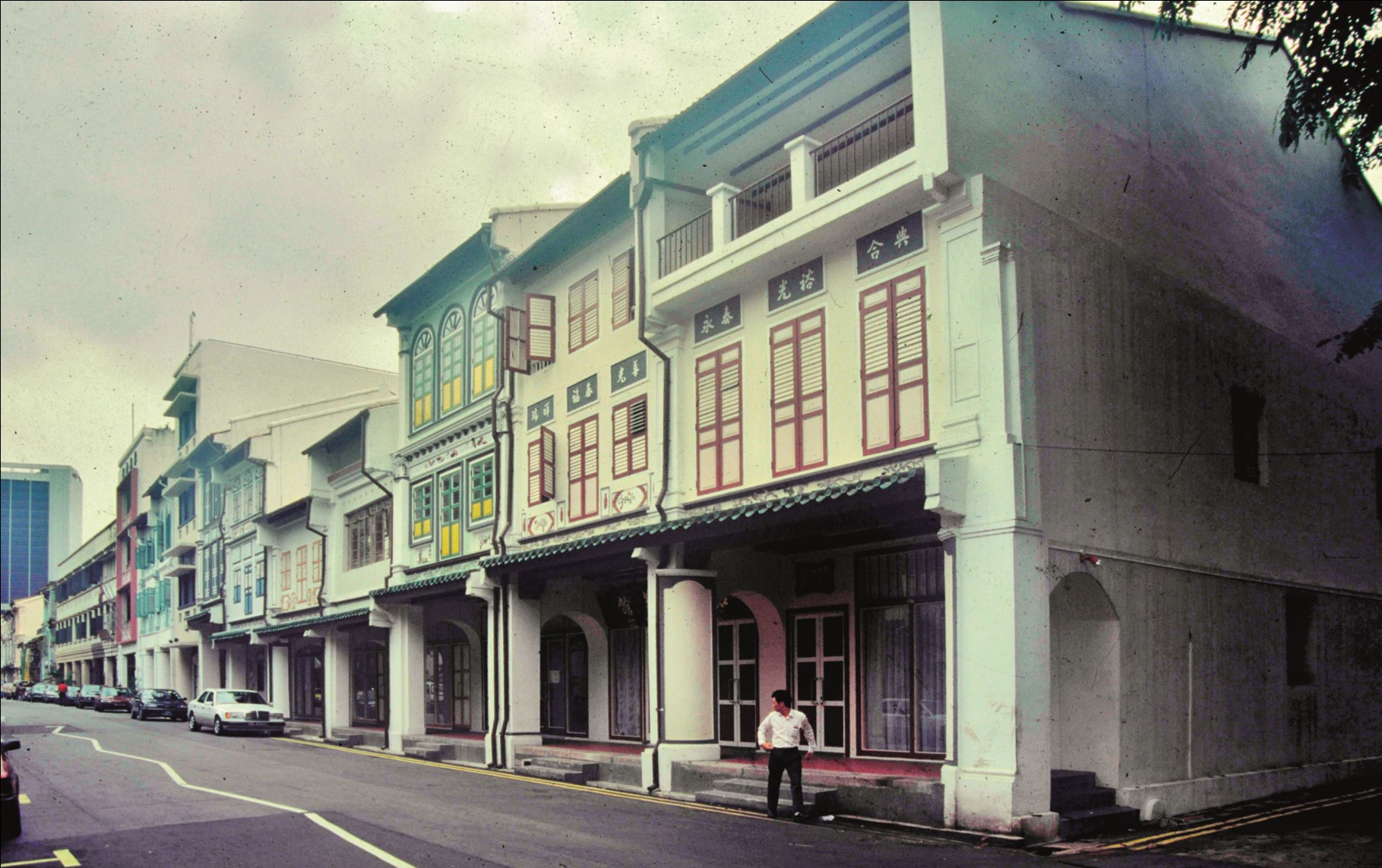 [Image: Singapore shophouses of the 1920s]
Structural engineer Brian Morton advised the Singapore Government on a new approach to restoring Singapore's shophouses, which has since been incorporated into the regulations.
---
In Singapore in the early 1990s shophouses were being demolished based on misleading structural advice that they were too expensive, or too difficult to restore for any future use. The cleared sites were of great value for the modern multi-storey development.
When Sir Stamford Raffles (1781–1826) arrived, Singapore was hardly developed at all. Raffles formulated a plan to divide the town into communal neighbourhoods, or campongs. The Chinese were moved to south of the Singapore River, and local groups and other Malays to the upper reaches of the river. The north banks of the Singapore River were set aside for development by the government.
Most of the first workers' houses, low-rise timber buildings, were replaced by the blocks of shophouses designed with set requirements relating to site size, building heights and overall layouts of these areas, such as China Town and Little India.
Prior to my involvement in 1993, and indeed during the time I was in Singapore, shophouses were being demolished at a significant rate. The government sought advice on how to save the buildings that were thought to be at the end of their life.
The reason that so many houses had been demolished related to an approach that was generally used by the builders. If the roofs were in a bad condition, the timbers were replaced, and if the floors were in bad condition, they too were replaced. Temporary supports were used to retain the party walls if necessary. The result of this was that houses collapsed.
Later a top-down philosophy was introduced, where individual roof timbers were inspected and replaced as necessary. Similar action was taken at each floor level, rebuilding masonry from the top down as the roof and floors were dealt with. This resulted in a very stable structure being retained.
The Singapore Government appointed a French architect and me to guide it with this new approach, and agreeing a way forward with the officers of the government and its engineers. This led to a proposal that a group of houses in China Town, and another group in Little India, should be restored in accordance with this approach. The new philosophy and methodology has since been incorporated into the control regulations for work to these historic structures.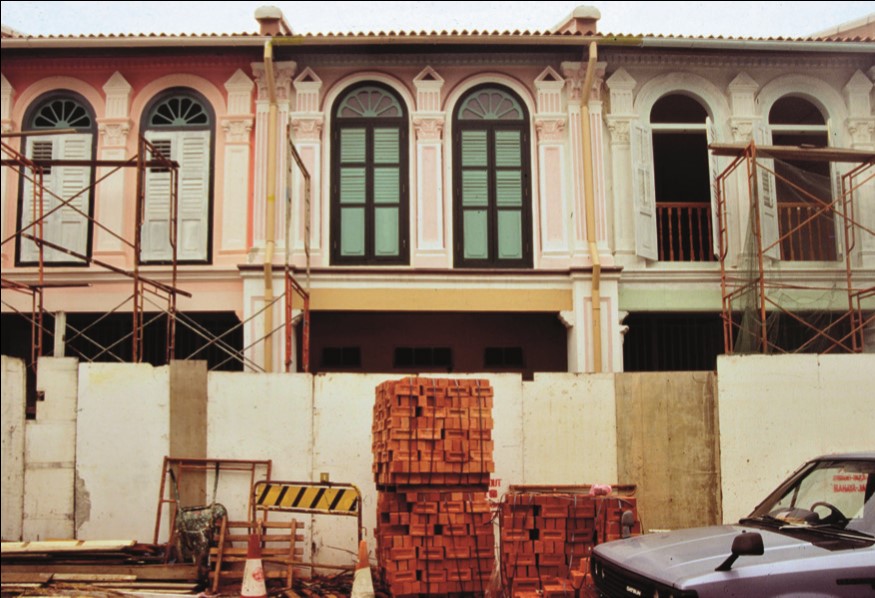 [Image: Singapore shophouses being refurbished]
Brian Morton MBE is consultant to the Morton Partnership.
---
Further reading
Lee, Edwin (1990) Historic Buildings of Singapore.
Kilpin, Lee (1988) The Singapore House, 1819–1942.
Davison, Julian (2011) Singapore Shophouse.
--Institute of Historic Building Conservation
Find out more
IHBC NewsBlog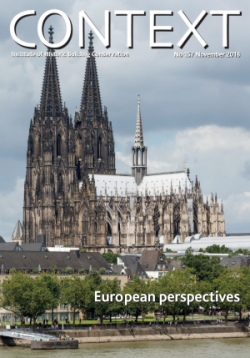 'European Perspectives' in Context 157, includes Jokilehto on 'Concerning Heritage', 'Brexit' takes and more.
---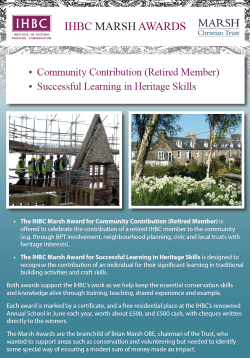 Nominate for the IHBC Marsh Awards 2019 – Celebrate OUTSTANDING retired IHBC members, and SUCCESSFUL new Heritage Learners – Closing 28 Feb!
---
IHBC HESPR top pick from £200K+ costed work this week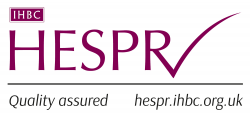 The National Heritage Memorial Fund (NHMF) seeks 'Parks for People' impact assessment, closing 28/01, value £55-60k.
---
Locally-driven approach is needed to rejuvenate town centres
Expert retail industry panel, the Town Centres Expert Panel, calla for a community-focused approach to tackling the challenges facing high streets and town centres.
---
BEIS Committee energy efficiency inquiry - deadline of 17 January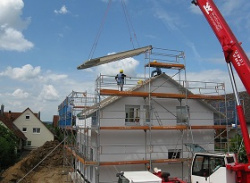 Business, Energy & Industrial Strategy Committee inquiry into Government's approach to delivering energy efficiency improvements to buildings – submissions deadline 17/1.
---
Heritage Lottery Fund: 'Updated Policy Directions' issued by DCMS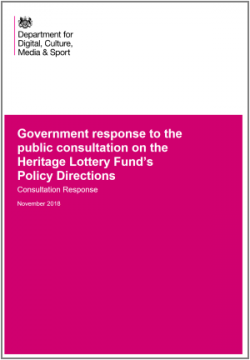 Following consultation, updated policy directions have been issued to the Heritage Lottery Fund (HLF) in its role as a distributing body of National Lottery funds.
---
BSI: UK to maintain European standards position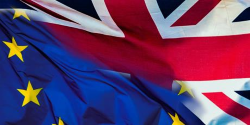 European Standards Organizations have approved a plan to secure BSI's membership post-Brexit.
---
CIOB Parliamentary Reception launches call for improving quality in the built environment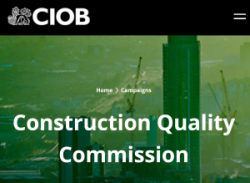 The Chartered Institute of Building's parliamentary reception on 12 Dec launched its report 'Improving Quality in the Built Environment'.
---
Programme to support placemaking in England at local level launched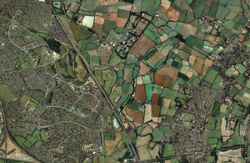 RIBA, Chartered Institute of Housing (CIH), Local Government Association (LGA) and RTPI's 'Future Place' will recognise, reward and encourage high quality placemaking.
---
SPAB awards for new design in historic settings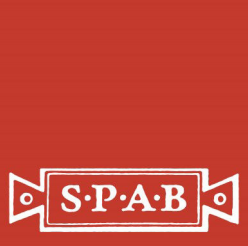 3 young architecture graduates have won the SPAB's, Philip Webb Award, for schemes proving that with imagination and sensitivity you don't need to demolish historic buildings.
---
Dounreay nuclear reactor demolition contract awarded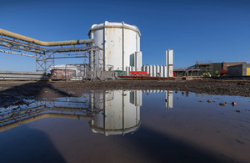 The decommissioning of Dounreay's oldest nuclear reactor in Scotland has taken a major step forward with the award of a multi-million pound demolition contract.
image: Open Government Licence v3.0
---
Civic Voice plans for 2019 - more Conservation Area advocacy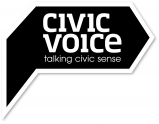 Civic Voice has highlighted how 'hundreds of conservation areas mark their 50th anniversary' in 2019, as it continues its Big Conservation Conversation.
---
Launch of a new strategic framework for heritage science in the UK: 2018-2023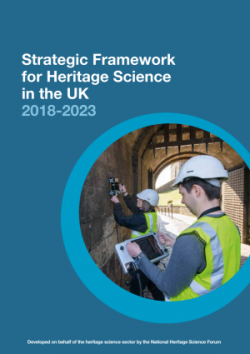 A new strategic framework for heritage science in the UK has been launched.
---
Planning Awards 2019 open - deadline 24 Jan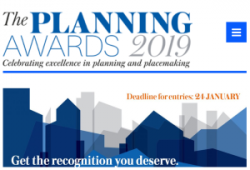 The 2019 Planning Awards have been launched, with categories including an award for 'best use of heritage in placemaking' among 25 linked categories.