Restoring Singapore shophouses
This article originally appeared in Context 145, published by The Institute of Historic Building Conservation in July 2016. It was written by Brian Morton MBE.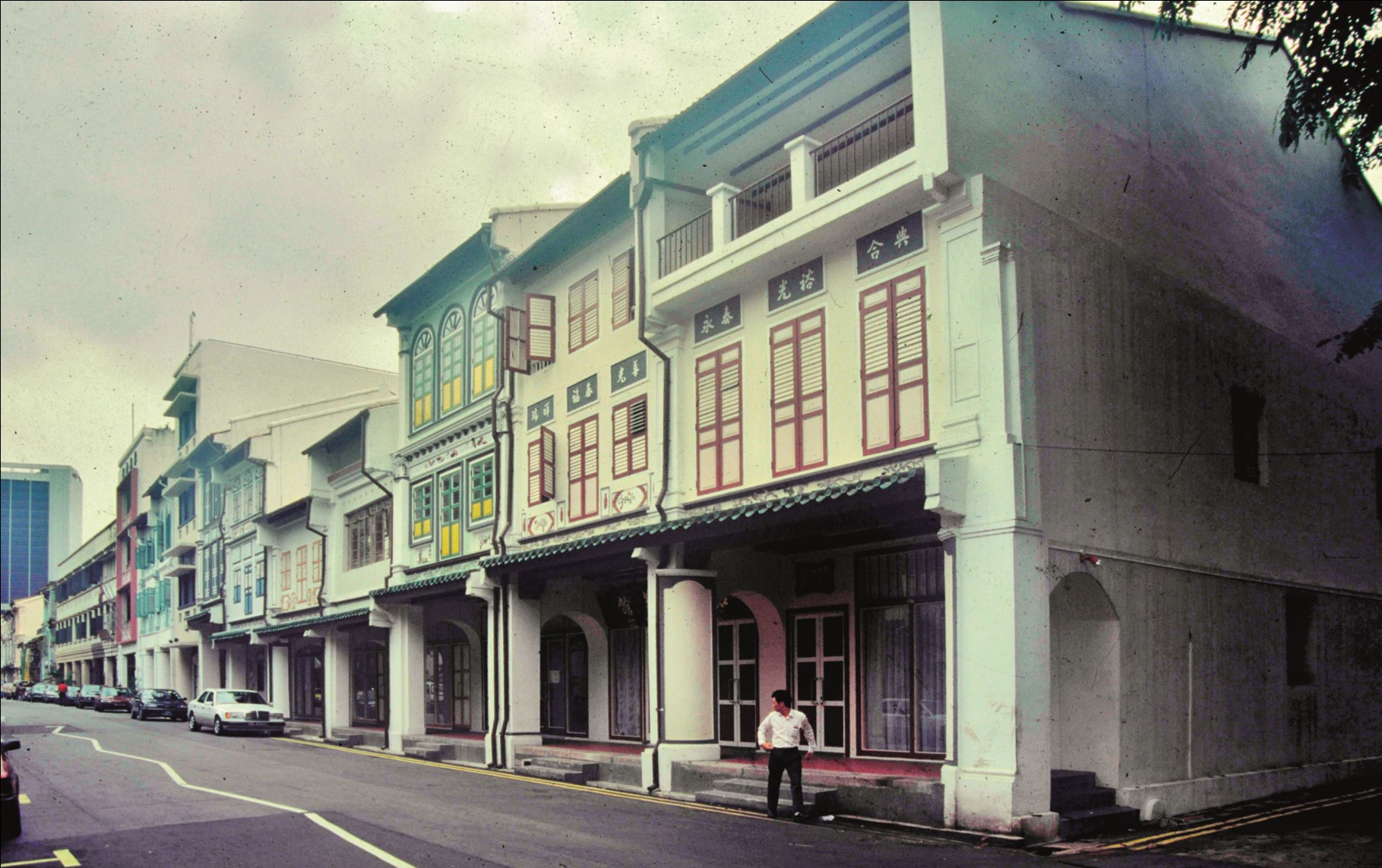 [Image: Singapore shophouses of the 1920s]
Structural engineer Brian Morton advised the Singapore Government on a new approach to restoring Singapore's shophouses, which has since been incorporated into the regulations.
---
In Singapore in the early 1990s shophouses were being demolished based on misleading structural advice that they were too expensive, or too difficult to restore for any future use. The cleared sites were of great value for the modern multi-storey development.
When Sir Stamford Raffles (1781–1826) arrived, Singapore was hardly developed at all. Raffles formulated a plan to divide the town into communal neighbourhoods, or campongs. The Chinese were moved to south of the Singapore River, and local groups and other Malays to the upper reaches of the river. The north banks of the Singapore River were set aside for development by the government.
Most of the first workers' houses, low-rise timber buildings, were replaced by the blocks of shophouses designed with set requirements relating to site size, building heights and overall layouts of these areas, such as China Town and Little India.
Prior to my involvement in 1993, and indeed during the time I was in Singapore, shophouses were being demolished at a significant rate. The government sought advice on how to save the buildings that were thought to be at the end of their life.
The reason that so many houses had been demolished related to an approach that was generally used by the builders. If the roofs were in a bad condition, the timbers were replaced, and if the floors were in bad condition, they too were replaced. Temporary supports were used to retain the party walls if necessary. The result of this was that houses collapsed.
Later a top-down philosophy was introduced, where individual roof timbers were inspected and replaced as necessary. Similar action was taken at each floor level, rebuilding masonry from the top down as the roof and floors were dealt with. This resulted in a very stable structure being retained.
The Singapore Government appointed a French architect and me to guide it with this new approach, and agreeing a way forward with the officers of the government and its engineers. This led to a proposal that a group of houses in China Town, and another group in Little India, should be restored in accordance with this approach. The new philosophy and methodology has since been incorporated into the control regulations for work to these historic structures.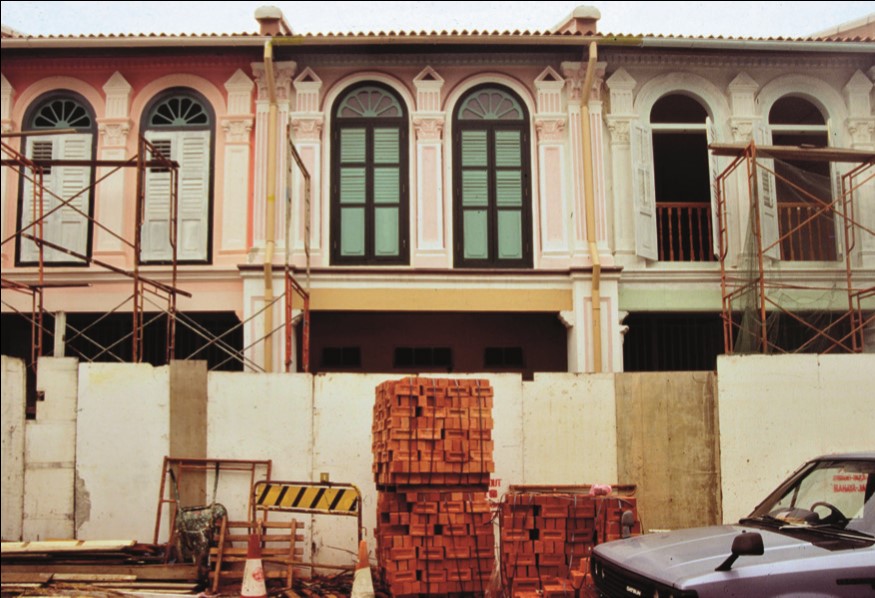 [Image: Singapore shophouses being refurbished]
Brian Morton MBE is consultant to the Morton Partnership.
---
Further reading
--Institute of Historic Building Conservation
Find out more
IHBC NewsBlog
'Unusual' WW2 sites listed and upgraded to mark 80th anniversary of Battle of Britain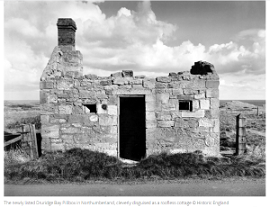 An air raid shelter, a pillbox cleverly disguised as a roofless cottage, a rare Chain Home radar defence tower, and a war memorial have been granted protection.
---
Derby City Council plans to knock down the 43-year old Assembly Rooms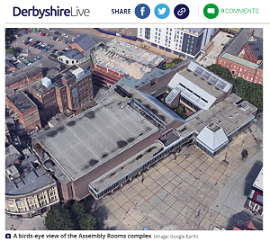 A planning application has been submitted by Derby City Council to knock down the Assembly Rooms – which has played host to the likes of Elton John, Iron Maiden, Take That, etc.
---
RIBA launches new contracts for the provision of conservation architectural services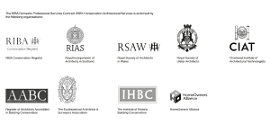 Specifically tailored for conservation projects, the Royal Institute of British Architects (RIBA) has launched two brand new professional services contracts.
---
Liverpool Mayor blocks £5m zip wire plan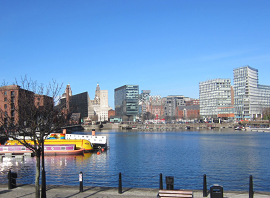 Liverpool Mayor Joe Anderson has made a dramatic intervention into the zip wire row which has divided people, politicians and businesses in the city.
---
Big Ben's roof is revealed as conservation work continues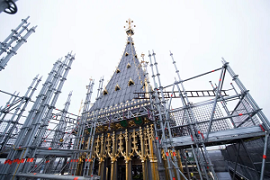 The roof of the Elizabeth Tower (also known as Big Ben) is slowly becoming visible again from 28 September 2020, as part of the scaffolding is removed.
---
Discover webinars, lectures, training, and other events via IHBC's CPD Circular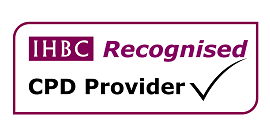 The IHBC lists quality providers of education and learning in the historic built environment, and emails a monthly recap of their upcoming events.
---
Denmark's 300-year-old homes of the future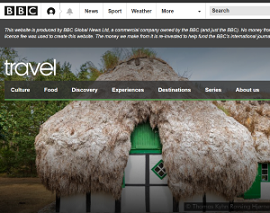 On Læsø, houses are thatched with thick, heavy bundles of silvery seaweed that have the potential to be a contemporary building material around the world.
---
Upcoming Heritage Open Days to feature in-person and online events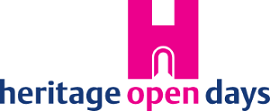 For the first time in its history, England's largest festival of heritage and culture will feature online events as well as in-person activities. Heritage Open Days (HODs) returns in September, thanks to support from players of People's Postcode Lottery.
---
RSA report 'Heritage for inclusive growth' published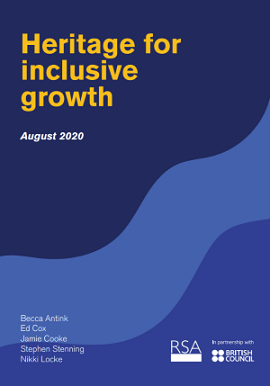 The Royal Society for the encouragement of Arts, Manufactures and Commerce (RSA) shows the scale of the 'missed opportunity' if we continue to separate heritage policymaking and economic policymaking.
---
UKGBC creating new 'Policy Playbook' covering retrofit of the existing housing stock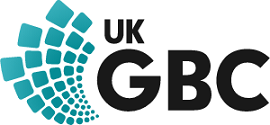 The resource format has proved to be a successful way of providing guidance for local authorities on crucial policy topics.
---