Nuclear Dawn mural, Brixton
[Original mural in 1981. Courtesy of London Mural Preservation Society]
Nuclear Dawn is the title of a foreboding mural on the wall of a Victorian-era building in Brixton, South London. Painted in 1981, the artwork provides a visceral representation of a time of escalating international tensions, when a nuclear strike felt a real possibility.
Once a troubled area of London, gentrification has transformed Brixton into a hipster destination to rival Shoreditch or Camden. Hidden behind trees on the other side of Coldharbour Lane from the thriving Brixton Village indoor market, few notice the landmark that is now languishing in a worsening state of deterioration and vandalism.
Indeed, locals are increasingly anxious that a proposed redevelopment of the derelict building could spell the end for one of London's most striking murals.
The mural was painted by Brian Barnes with the help of Dale McCrea and twenty other residents of the Carlton Mansions; at the time, a thriving co-operative housing community. It was funded by the Arts Council, the Gulbenkian Foundation, the Greater London Arts Association, and a £2,000 grant from Lambeth Council's Inner City Partnership Fund.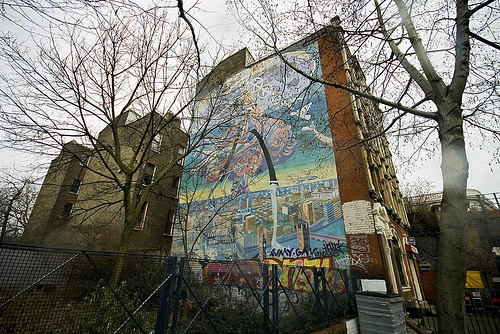 Measuring 25 sq. m, the artwork depicts a huge Grim Reaper-esque skeleton standing over London as a nuclear mushroom cloud erupts behind. The skeleton is adorned with the flags of nuclear weapon nations. One hand drops bombs over Brixton, where a miniature version of the mural can be seen.
Over the figure's shoulder flies a white dove merging into the Campaign for Nuclear Disarmament (CND) logo. Below the figure, in bunkers beneath the Houses of Parliament, are a handful of world leaders including then-Prime Minister Margaret Thatcher, then-US President Ronald Reagan, and Prince Charles.
Over the years, natural deterioration – through weather and the encroachment of ivy – and the increasing amount of graffiti, has left the mural in a state from which it may not be recoverable. A substantial piece of vandalism committed in March 2017, has almost completely obscured the London landscape in the bottom half of the mural.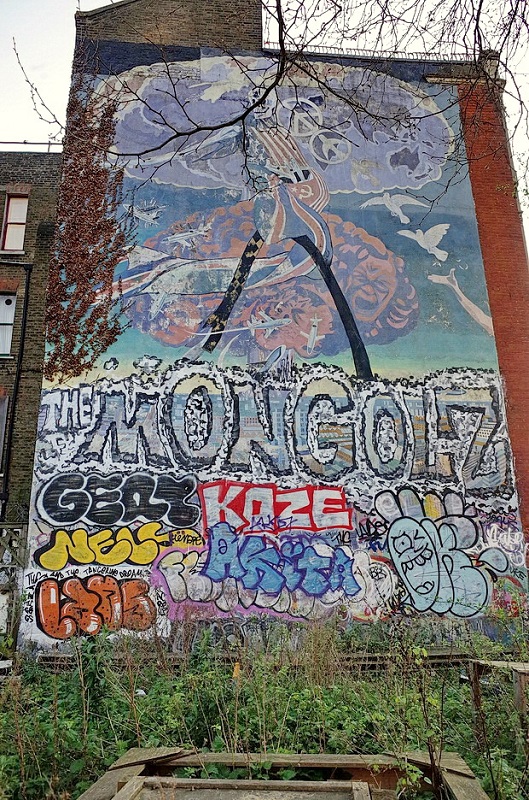 [Mural in 2017.]
The London Mural Preservation Society (LMPS) has been monitoring the condition of the mural over recent years and have expressed their alarm over its future, particularly since Carlton Mansions was earmarked for a major redevelopment in 2014, following the eviction of the building's residents.
The redevelopment scheme includes the neighbouring Somerleyton Road and will see the relocation of Ovalhouse - a fully-accessible, fit for purpose, and sustainable modern theatre. The wider project will comprise nearly 300 new homes, community and health facilities, a shop, social enterprise and training opportunities for young people.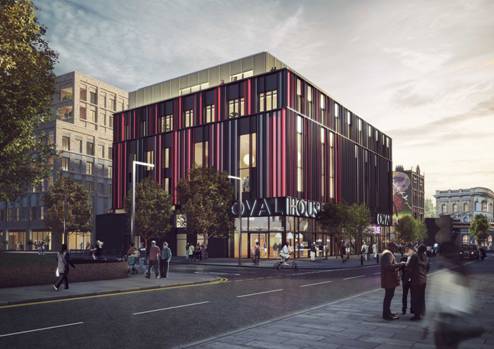 [Proposed redevelopment. Image © Ovalhouse]
Although the proposed plans for the new theatre include the restoration of the mural, the LMPS and others have expressed their fears that those behind the development will not hesitate to have it permanently removed should the opportunity arise.
The editor of local newspaper Brixton Buzz told Designing Buildings Wiki; "Gentrification has already seen Brixton lose much of its unique character so it's important that this mural is preserved. There's talk of getting the artwork restored through crowdfunding but there seems little point until the building's future is secured."
In response to an inquiry from Designing Buildings Wiki regarding the project's intentions for the mural, Deborah Bestwick, Director, OvalHouse said; "The theatre has been designed to leave a public space in front of the mural, and that the protection and preservation of the mural is within the brief that has been put out by Lambeth to procure the contractor to build the theatre and refurbish Carlton Mansions. Once the contractor is known we will talk to them about how to move forwards."
Without any assurance in writing, LMPS have organised a petition to demonstrate the support for the mural's restoration as a local landmark and powerful piece of community and political history. As of July 2017, the petition has attracted nearly 1,300 signatures. You can sign the petition here.
IHBC NewsBlog
IHBC update on MATE - Membership Application Training Events
Kate Kendall, lead on our Membership Application Training Events, offers her update on progress in supporting applications for conservation accreditation.
---
IHBC welcomes HE Conservation Principles update consultation - closes 2 Feb 2018
Historic England's Conservation Principles, offers guidance on its approach to its own research and advice on designation, planning and conservation.
---
IHBC welcomes update of environment website for Scotland
Scotland's environment newly launched website reflects how technology, design and user needs are constantly evolving as has their website since its creation in 2009.
---
Icon launches next five-year strategy - 2017-21
Institute of Conservation's (Icon's) next five-year strategy 2017-21 has been launched.
---
£1Million restoration boost from Europe for Rothesay Pavilion
More than £1 Million of European funding for the restoration of Rothesay Pavilion will help create new jobs, according to Economy Secretary Keith Brown.
---
London landmark Admiralty Arch to become luxury Waldorf Astoria hotel
Admiralty Arch, designed by Sir Aston Webb (completed in 1912) as part of the Queen Victoria memorial scheme, is being transformed into a luxury hotel, apartments and club.
---
Radical plans unveiled to pedestrianise Oxford Street
Radical plans to pedestrianise London's Oxford Street have been unveiled in a move intended to address air quality concerns and lessen problems of overcrowding in London.
---
Post Trauma Recovery and Reconstruction for World Heritage Cultural Properties
ICOMOS is pleased to share the 'ICOMOS Guidance on Post Trauma Recovery and Reconstruction for World Heritage Cultural Properties document.'
---
2017 Senior Managers' Risk Report from Zurich Municipal – the role of the public sector
The Report examines changing attitudes about the role of the public sector in an era of austerity with commentator noting: 'The danger is if councils lose their moral purpose'.
---
£450m development at Ayrshire leisure and tourism complex at Loudoun Castle
Developer behind Belfast's Titanic Quarter is in talks re a major role in the leisure, tourism and residential development planned for SW Scotland creating a possible 1,000 jobs.