Historic England protects three shipwrecks
In August 2016, three historic shipwrecks in South West England have beenwere given protection by the Department for Culture, Media and Sport (DCMS) on the advice of Historic England.
Historic England wrote:
Shipwrecks have been a source of inspiration to English writers, artists and scholars for centuries – from Shakespeare to Enid Blyton, whose Famous Five spent a whole summer exploring a fictional Cornish wreck. This summer, these wrecks have been given special protection, and they include two that are often publicly accessible from the Devon sands.
Shifting sands and weather patterns can allow the public to see sights that are usually the preserve of divers. When the conditions are right, visitors to Devon can see this important historic coastal fabric, which has now been identified and given state protection, from dry land. Dating from the late Medieval period to the late 18th century, all three wrecks are rare survivals of wooden sailing vessels found in English waters and are protected for their potential to shed new light on key periods of England's maritime history.
The earliest wreck, known as the Axe Boat, lies in a mud bank on the west side of the Axe River in south Devon. Before appearing out of the mud in 2001 following changes in the flow of the River Axe, the wreck was unrecorded, suggesting it has remained buried in the riverbed within living memory. It's a rare example of vessels of the late medieval period and dating of extracted samples of wood indicates that it was built between 1400 and 1640. The hull retains characteristic features of medieval ships such as the 'crook'd floor' – a Y-shaped framing timber at the bottom of the vessel.
The Axe Boat is likely to have been used in coastal trade or fishing and such vessels were once prolific as England's mercantile trade developed. Axmouth was ranked as a major port by the mid-14th century and accounted for 15% of the country's shipping trade.
The other two wrecks lie a few hundred metres apart on the sands at Northam Burrows Country Park in an Area of Outstanding Natural Beauty in North Devon. They date to the late 18th century and have been exposed by the elements a number of times over the past few decades, most recently following the winter storms of 2014.
The larger wreck at Westward Ho! (23metres long x 7 metres wide) is nationally important because it still retains its key identifying features despite the effects of erosion, with the ship's construction and orientation clearly visible. It is believed to be the remains of the 'Sally', which ran aground on the sands in 1769, while bound from Oporto in Portugal to Bristol with a cargo of port wine.
The smaller boat was probably a Severn Trow, a small merchant ship working locally in the Bristol Channel coastline around 200 years ago. It is lying at such an angle that it appears to have been driven ashore in a storm. 11,000 vessels are known to have been wrecked in England waters in the late 18th century and few from this period have been discovered other than naval ships or important trading vessels such as East India Company ships. Together, the two wrecks are significant because they represent England's commercial ambitions of the time.
All three wrecks lie in sand or in mud in the inter-tidal zone so are freely accessible to visit on public land at the points when they are uncovered. No diving licence is required, though attention must be given to local tidal conditions.
[edit]
Find out more
[edit]
External references
IHBC NewsBlog
Discover webinars, lectures, training, and other events via IHBC's CPD Circular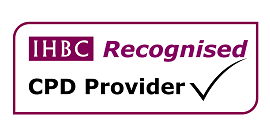 The IHBC lists quality providers of education and learning in the historic built environment, and emails a monthly recap of their upcoming events.
---
Denmark's 300-year-old homes of the future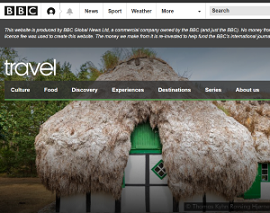 On Læsø, houses are thatched with thick, heavy bundles of silvery seaweed that have the potential to be a contemporary building material around the world.
---
Upcoming Heritage Open Days to feature in-person and online events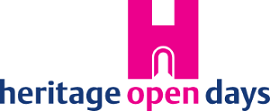 For the first time in its history, England's largest festival of heritage and culture will feature online events as well as in-person activities. Heritage Open Days (HODs) returns in September, thanks to support from players of People's Postcode Lottery.
---
RSA report 'Heritage for inclusive growth' published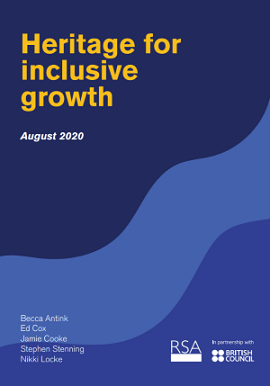 The Royal Society for the encouragement of Arts, Manufactures and Commerce (RSA) shows the scale of the 'missed opportunity' if we continue to separate heritage policymaking and economic policymaking.
---
UKGBC creating new 'Policy Playbook' covering retrofit of the existing housing stock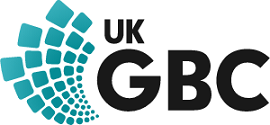 The resource format has proved to be a successful way of providing guidance for local authorities on crucial policy topics.
---
Over-engineered buildings nullify the green benefits, from pbctoday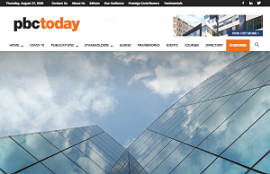 Insight into the smart ways to design building services to ensure they perform as designed without being over-engineered
---
World's oldest operational vehicular suspension bridge receives restoration funding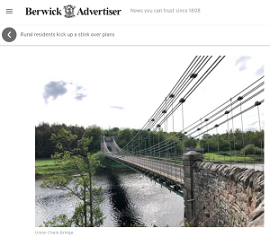 Historic England (HE) has awarded £250,000 towards the restoration of the Union Chain Bridge, built in 1820, spanning the River Tweed near Berwick.
---
'Restoration' and 'Repair': what's the difference?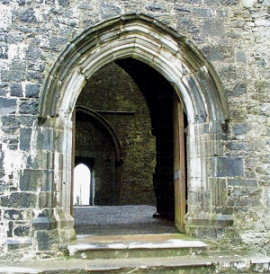 One of Ireland's most distinguished architectural historians explores the differences between 'restoration' and 'repair' and Conservation ethics in issue 163 of CONTEXT.
---
Don't demolish old buildings, urge architects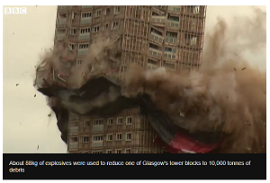 Architects say buildings should be protected – to fight climate change, reports the BBC on recent evidence given to the Commons Environmental Audit Committee (EAC).
---
IHBC's latest issue of CONTEXT explores issues with Damp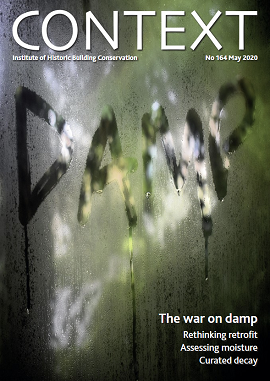 It includes articles on Rethinking Retrofit to not waste carbon and not damage buildings, Assessing Moisture in porous building materials, conserving the Burns Monument using lime grout and injection mortars, Curated Decay, and more.
---