Dunelm House, Durham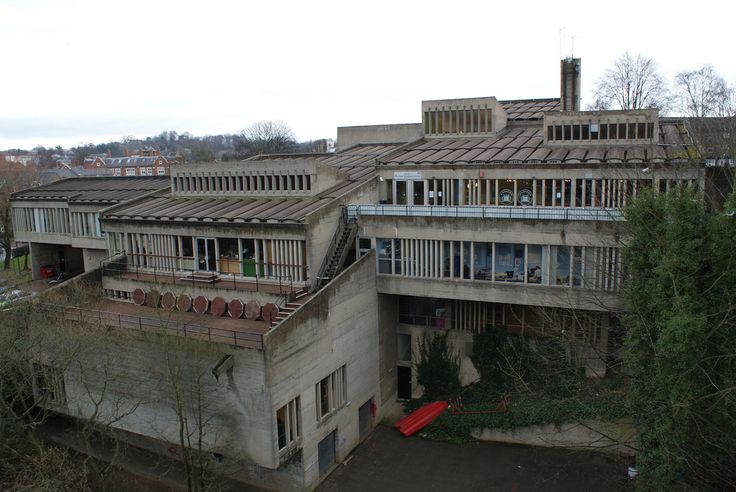 Dunelm House is the student's union building for Durham University, designed in the Brutalist style.
Located on the banks of the River Wear, the white concrete structure was completed in 1966 by the Architects' Co-Partnership, engineered by Ove Arup. It is physically connected to the Grade I-listed Kingsgate Bridge, also designed by Arup, and considered by him to be one of the most important of his career.
The Brutalist building features heavy-angled facades of concrete, with a roof of large interlocking precast concrete u-units that form a 'broken' profile above the eaves. Inside, the five levels are linked by the main circulation space and staircase running in a straight line to create a stepped internal 'street'.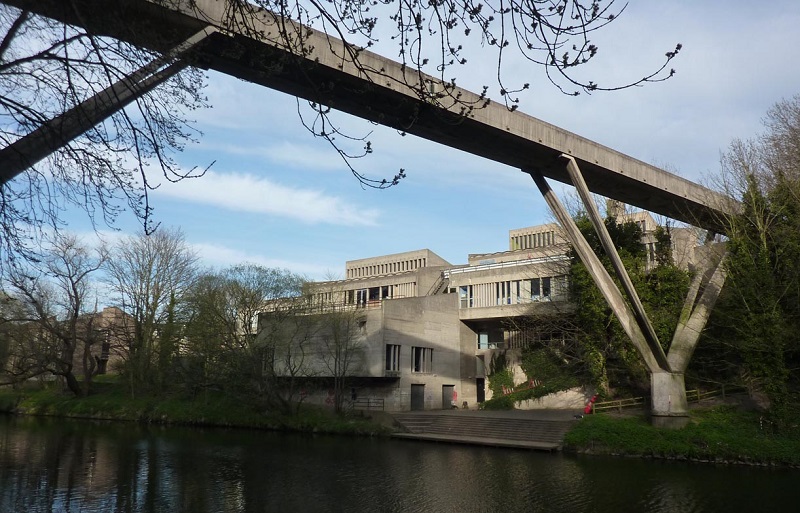 In 2016 it was announced that the landmark, yet divisive, building could be demolished to make way for a new build.
The university estimated that the redesign and repair work necessary to make the building fit-for-purpose would cost £14.7 million, and have applied for a certificate of immunity from listing which would otherwise protect the building from demolition.
There is considerable opposition to the demolition proposal. Campaigners argue that refurbishing the building would cost much less than demolition and rebuilding from scratch. They point to other successful refurbishment projects of Modernist buildings such as Park Hill in Sheffield and the Barbican in London.
The Twentieth Century Society said: "We consider the award-winning Dunelm House to be a remarkably intact survivor of its era, historically and architecturally significant and to have group value with the beautiful Kingsgate Bridge adjacent."
In November 2017, the Culture Secretary stood firm on her decision not to list the building, saying that it 'does not possess special architectural interest' and that it was 'not stylistically or structurally innovative'.
In response the Twentieth Century Society said:
'The Twentieth Century Society fundamentally disagrees with the minister's conclusion that Dunelm House lacks architectural significance. The society considers that this is a unique building and surpasses any other of its date for its response to its setting.'
A petition 'Saving Dunelm House' can be found here.
[edit]
Find out more
IHBC NewsBlog
Find an IHBC HESPR accredited professional using our map-based search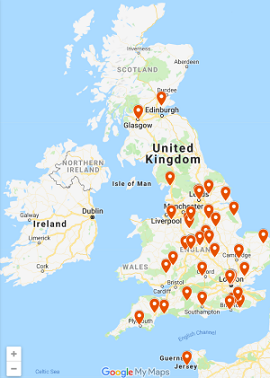 Find the office locations of HESPR members – IHBC's Historic Environment Service Provider Recognition (HESPR) scheme – using our map-based facility.
---
The Liverpool Grade II 'jewel' that lies empty, derelict and vandalised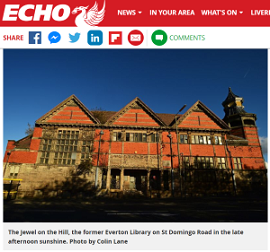 Liverpool landmark the Everton Library, a Grade II (GII) listed building that has been the focus of calls to restore it to its former glory continues to lie leaking, vandalised and derelict, when £5m could renovate the building, reports The Liverpool Echo.
---
Flintshire: Shotton steelworks' John Summers building to be restored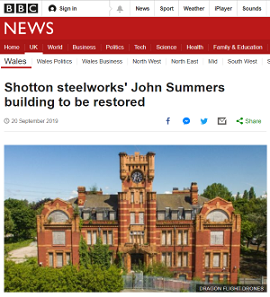 A landmark on a list of the UK's most endangered buildings, Shotton steelworks' Grade II-listed general office and clock tower, is to be brought back to life in Flintshire.
---
Rochdale Market, Manchester, to close as trader numbers and revenue continue to fall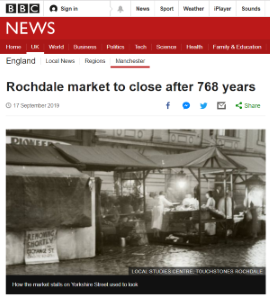 Rochdale Borough Council writes: Over the past year the number of traders regularly attending the market has halved and it is not financially viable.
---
IHBC supports Climate Heritage Network Global Launch: Edinburgh 24-25 Oct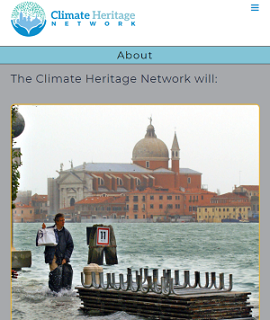 The Climate Heritage Network (CHN) Global Launch is a two-day program devoted to urgently mobilizing the cultural heritage sector for climate action across the globe.
---
Brunel's 'other bridge' in Bristol to be 'saved with £62k grant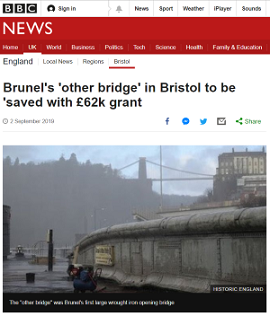 A swing bridge that was designed by Brunel is to be 'saved' with a £62,000 grant from Historic England.
---
Victorian Society announce Top 10 Most Endangered Buildings 2019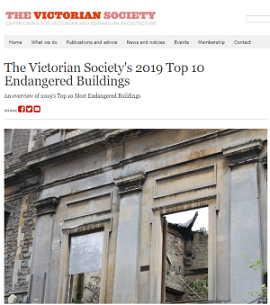 On September 13th the Victorian Society announced its Top 10 Endangered buildings list.
---
American Cities Then & Now: See How New York, Los Angeles & Detroit Look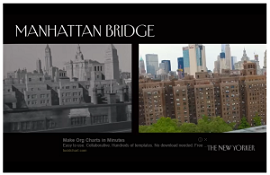 An Open Culture article takes a look at the American Cities of New York, Los Angeles and Detroit comparing how they look now compared to the 1930s and 1940s.
---
Great Yarmouth's Venetian Waterways to recapture former glories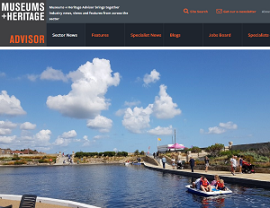 Great Yarmouth's 91 year old Venetian Waterways has been re-opened to the public following a £2.7 million regeneration project.
---
Fire engulfs Grade II-listed Horncliffe Mansion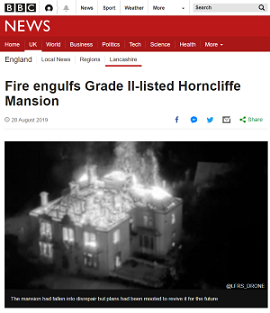 BBC news has reported on how the Grade II-listed mansion, Horncliffe Mansion in Rawtenstall has been 'completely gutted' after a fire tore through the derelict building.
---