Ash deafening
Ash deafening, or 'pugging' (occasionally mistakenly referred to as 'deadening') was traditionally used in the construction of buildings in Scotland to provide sound insulation in timber separating floors (floors designed to restrict the passage of sound between the spaces above and below the floor). It is commonly found in Georgian, Victorian, traditional tenement and four-in-a-block dwellings built before 1919. After 1930 separating floor constructions tended to become lighter, using 'quilt' insulating materials such as mineral wool instead.
Deafening generally comprises 70mm of ash and small stones from builder's rubble. This usually rests on timber boards referred to as 'deafening boards' above a suspended ceiling. Two common configurations are illustrated below.

As well as acoustic insulation, deafening and deafening boards can also help stiffen a floor.
Problems or poor performance of deafening can be caused by lack of cover between joists and walls, or where deafening has been removed or moved during alterations to buildings. Water leaks can also wash deafening into the ceiling or wall constructions, and can damage plaster.
Ash deafening can now be difficult to source, and alternatives such as graded stone chips, dry sand or other crushed dense materials may be used instead. If sand or other fine particles are used, a lining sheet may be required to prevent particles falling between the deafening boards. Ash deafening typically has a mass of around 70 to 80 kg/m2, and so a structural engineer should be consulted before insertion.
[edit]
External references
Featured articles and news
IHBC Marsh Awards - £500 and a free place at the IHBC Annual School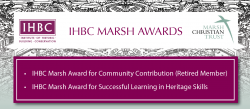 Know a great learner? Celebrate their successful learning in heritage activities with a nomination (closes 31 March).
---
IHBC Course Connection Day 2016 on YouTube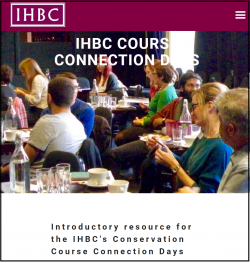 Students' videos offer first hand insights to diverse philosophies at the institute's main annual event supporting conservation students.
---
IHBC East Anglia offers CPD on traditional repairs 16 May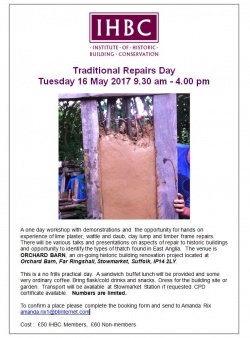 One-day workshop on 'traditional repairs' - with talks and hands-on experience of lime plaster, wattle and daub, clay lump and timber frame repair.
---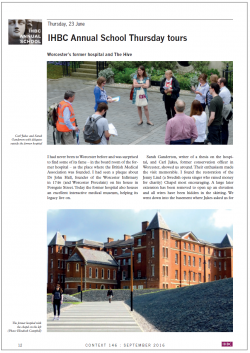 Context on the 2016 School tours which visited different sites in Worcester and considered how conservation and heritage can been seen in the city today.
---
£200,000 funding to help transform the UK planning system
A mix of enterprises (SMEs) and local planning authorities have been selected by Future Cities Catapult to receive £200,000 to transform outdated planning systems.
---
MPs seek to cut bill for Houses of Parliament repairs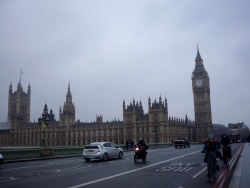 The Treasury select committee has queried the £3.5bn cost of building work and is investigating if a temporary shutdown can be avoided.
---
Belfast Victorian baths become hi-tech co-working space
The BBC reports that the listed The Ormeau Baths building in Belfast is to become a co-working space for freelancers and small businesses.