59 Greek Street: home of the Theatre Girls' Club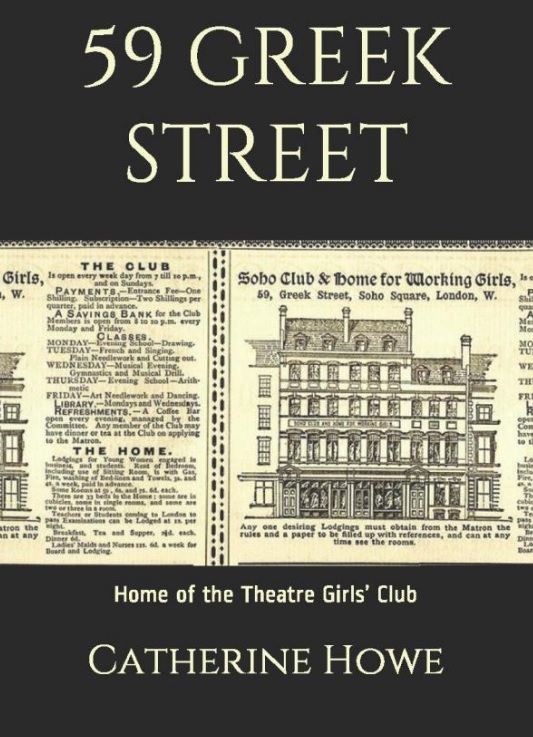 59 Greek Street: home of the Theatre Girls' Club, Soho, London, Catherine Howe, APS Books, Aberford, West Yorkshire, LS25 3AE, 2021, 164 pages, not illustrated.
'A secure place in an insecure world.' Those words come near the end of this unusual book that explores a neglected topic: the capital's hostels and places of refuge from its bleak and threatening streets. 59 Greek Street, a large house near Soho Square at the heart of London's west end, was first set up as a 'club and home for working girls', whose history is traced in these pages through personal memories. To some degree adopting the history-in-real-time genre of many TV documentaries, the author skilfully evokes the everyday lives of the building's inhabitants. For a scholarly account of Greek Street's beginnings, see the two 1966 volumes of the Survey of London, available at British History Online.
59 Greek Street is within the walls of a five-storey, Italianate building of about 1880. The basement was formerly used by the theatre girls as a rehearsal space, but all the floors above have been gutted for modernisation. The Victorian staircase has also been lost. Fortunately, the ground-floor street frontage was retained and is in elegant retail use, with detailing that closely resembles the original appearance as depicted on the book's front cover. During its first few decades, the building, with its dormitories, dining room, chapel, laundry and roof terrace, offered a temporary home to seamstresses, shop assistants and other female employees in the area, who were known as 'working girls'. From 1917 until the late 1960s it came under the control of Sir Compton Mackenzie (1883–1972) and his family. With their theatre links, they transformed the tall house into a secure, although spartan, home for female performers from the Soho and wider area.
We learn in detail about the lives of these young women (some of whom stayed on into their later years). The building stood at the hub of London's sex trade during the two world wars and beyond, when soldiers and sailors scoured the streets in search of relief. As the Theatre Girls' Club, it excluded males and gave preference to performers; in turn, these young women, mostly in their early teens on arrival, were excluded from normal lodging houses. While attending their auditions and rehearsals for dance routines, they found out about No 59 on the show-biz grapevine, thus enabling them to sleep in proper beds and much more securely than in London's parks.
The book provides a vivid account of life at the club, derived from first-hand accounts in letters sent to Catherine Howe, who herself once lived there. The narrative of a historic building seen from the inside, combined with aspects of west-end entertainment, make for a unique perspective. The world of song and dance extended out from 59 Greek Street to provincial theatres and even to the ships that cruised the oceans. There is a full index and bibliography, and notes to help with further research – perhaps on some of the hostels, soup kitchens, religious and medical centres for minorities and the vulnerable, whose historic buildings can still be found in our streets, but whose lives are often forgotten.
---
This article originally appeared as 'Working girls' in the Institute of Historic Building Conservation's (IHBC's) Context 172, published in June 2022. It was written by Graham Tite, a Soho Society member.
--Institute of Historic Building Conservation
IHBC NewsBlog
Part of historic Old Courthouse in Cockermouth collapses into river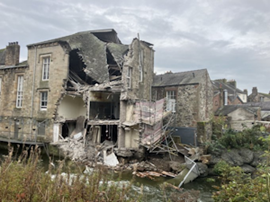 A section has fallen away and landed in the River Cocker below, including the back walls over three floors, sections of flooring and parts of the roof.
---
Scaffolding removed from Salisbury Cathedral after 37 years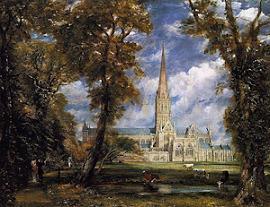 Starting with a survey in 1986, the 'topping out' ceremony took place 7 Sep 2023.
---
Demolition of Kirkcaldy's Category B former Kitty's nightclub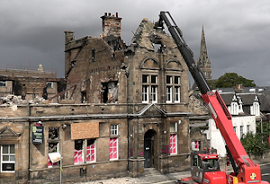 Following a fire, engineers confirmed that the building faced complete demolition.
---
Irreplaceable Welsh castle saved from collapse thanks to £2.2m grant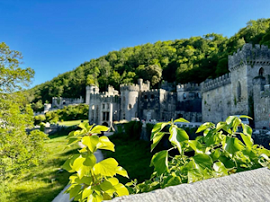 Wales' Gwrych Castle has a funding lifeline from the National Heritage Memorial Fund (NHMF) as part of its Covid-19 Response Fund
---
New interactive models of the 'Dinosaurs' sculptures in Crystal Palace Park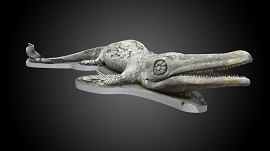 Interactive 3D models have been created of the 29 surviving 'dinosaurs' in Palace Park, South London.
---
How was it built – the Iconic Forth Bridge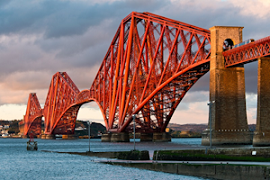 The Forth Bridge is one of the engineering wonders of the world. From the Engine Shed HES, find out more about how this incredible structure was built and what the conservation challenges are today.
---
Stirling's Christie Clock Tower demolition 'over safety' sparks Council investigation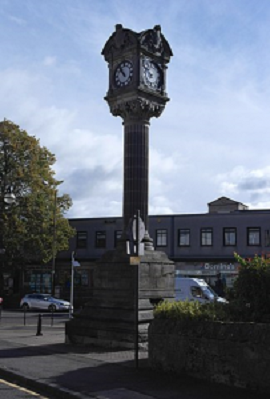 A clock tower which stood in Stirling for 117 years has been controversially and dramatically demolished by the local council over safety fears
---
The Natural Stone Source Book 2023-24 Specifiers Guide published

This guide is designed to be both inspirational and educational, providing the information and creative stimulation needed for successful completion of a natural stone project.
---
Context C176 published - World Heritage Sites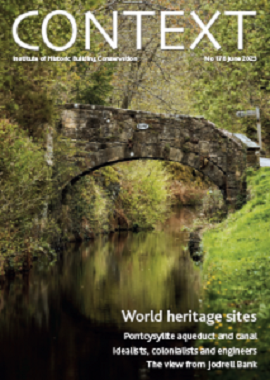 The issue explores the diverse facets of conservation of World Heritage Sites from across our globe.
---
Historic Environment Scotland unveils plans for new Archive House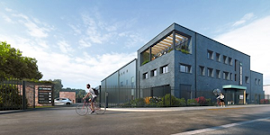 The innovative project will be an exemplar of reuse and retrofit of an existing building.