Seashaken Houses: a lighthouse history from Eddystone to Fastnet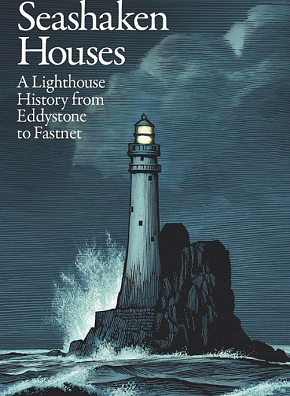 Seashaken Houses: a lighthouse history from Eddystone to Fastnet, Tom Nancollas, Particular Books, 2018, 256 pages, black and white illustrations, hardback.
---
I like a book to have a good title and Seashaken Houses, a line borrowed from Dylan Thomas, is a good title. 'Standing far offshore, the rock lighthouses are strange conceits, surrounded entirely by water but impervious to its effects… In fair conditions, waves bounce against their massive drum-like lower parts, sending chance plumes of spray to harass the window sills. Fouler weather sends heavier walls of water over the fragile glass lanterns, usually held protectively out of the sea's reach. In the heaviest weather, they shake.' Several accounts by lighthouse men attest to this shaking. The buildings groan too, in the heaviest seas.
The book started as a dissertation – 'A Machine for Living in: appraising the Rock Lighthouse interior' – commended in the Gus Astley Student Awards in 2016. By the time it became a book the title had, thankfully, changed but it had also morphed into something broader. Part architectural and social history of these eccentric buildings, it is written as a travelogue, giving an understanding of the isolation and purpose of these edifices. The incredible ingenuity required to build them at sea and the tenacity of the men who manned them, risking their lives and their sanity, are woven with salty tales of seafaring and shipwrecks to form a richly atmospheric read. Nancollas writes of the lighthouses: 'Their stories would hold the attention of even the most wandering mind.'
The book takes you on a journey around the seas of Britain to visit surviving rock lighthouses. From the oldest standing one (Bell Rock, 1813), off Arbroath in Scotland, past Perch Rock in the mouth of the Mersey to Wolf Rock located in notoriously tempestuous seas eight miles off the coast of Land's End. These are lighthouses on the very fringes of the country, not even of the country, standing on offshore rocky reefs that had, by the time any of the lighthouses were built, wrecked many ships and claimed many lives.
The story starts with Henry Winstanley's ludicrously decorative first lighthouse at Eddystone (1698). Built of timber, with an external stair wrapping around, it looked more like a helter-skelter in a fairground than a fortress to face the worse tempers of the sea. Surprisingly, it lasted for five years until the Great Storm of 1703 swept it away with Winstanley (who had rushed out to it to sea to strengthen it) inside it. The lighthouse and Winstanley were never seen again. He was not alone. Thirteen naval ships were wrecked and 1,000 sailors died in the same storm. John Smeaton's replacement at Eddystone (1759) became the standard form for all later lighthouses: the tall, tapering cylinder topped with the glass-encased light. Smeaton's particular tour de force was to build it of interlocking stonework, blocks dovetailed together and bedded with hydraulic cement. It became the blueprint for lighthouse building.
Not that it made building them any easier. As Nancollas writes of the men who built Bishop Rock lighthouse, 32 miles off the coast of Land's End: 'these men clung like limpets to unforgiving nodules of granite. Atlantic swells regularly crashed over their god-forsaken building site, but they clung on with the help of harnesses bolted deeply into the rock. Even the tools were tied down. They ate limpets too, in their grim quarters on a nearby islet because storms frequently halted their supply chain.' The book captures the isolation of these buildings, as well as the deprivations faced by the men who built and manned them. There is no romantic view of these isolated beacons. Madness was never far away.
Seashaken Houses is an evocative and well-written book. It does not easily fit into a category, part architectural and social history, part travelogue, but I liked it all the more for that. Perhaps bookshops and libraries should have a good-read section. That would be a good place for it.
---
This article originally appeared as 'Homes for limpets' in IHBC's Context 160 (Page 48), published in July 2019. It was written by Kate Judge, freelance architectural historian.
--Institute of Historic Building Conservation
IHBC NewsBlog
'Local Heritage Listing: Identifying and Conserving Local Heritage' Published
Historic England has published a new edition of its advice note on how local heritage listing and local heritage lists can be formally identified as part of the wider range of designation so that they can be taken into account in planning applications.
---
Hammersmith Bridge illuminated red in Valentine's Day message to Government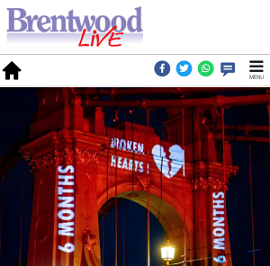 The stunt aimed at highlighting ongoing delays to its repair, as the 133-year-old west London bridge has been closed to traffic since April 2019 when cracks appeared in its pedestals.
---
Drone Surveying a London Landmark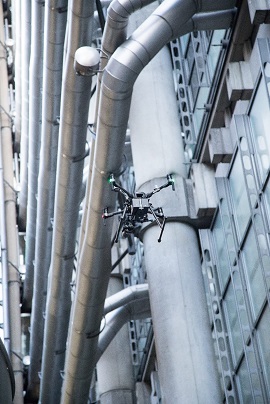 Uninhabited Aerial Vehicles (UAVs) have been used to undertake a survey of the Lloyd's building's external façade in the heart of the City of London.
---
Green Party calls for no VAT on refurbishment in new Parliamentary petition
The petition calls on the government to remove VAT on refurbishment projects and raise VAT on non-Passivhaus new-build construction to 20 per cent. Retrofitting is carbon-efficient but the current VAT regime privileges new build over refurbishment.
---
Conservation Professionals Concerned about Future Planning Policy

Directors of the IHBC and the Victorian Society are among those whose opinions are featured in the RICS in-house publication Modus as it explores heritage impacts in England's planning proposals.
---
Learn all about the Professions in Building Conservation at upcoming Conference

Glasgow City Heritage Trust (GCHT) 3-day online conference aimed at anyone working, or interested in working, within the building and heritage sectors.
---
New use for abandoned oil rigs: Offshore reefs!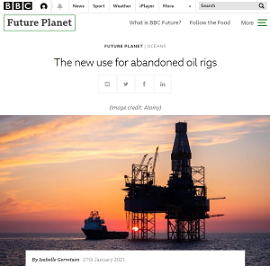 One way in which these old rigs can be remarkably useful is that the subsurface rig can provide the ideal skeleton for coral reefs, allowing the remarkable ecosystems beneath the waves come into their own.
---
Birnbeck Pier, in Weston-super-Mare, to undergo Restoration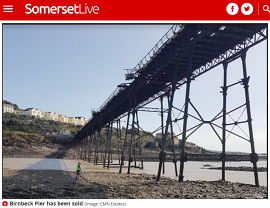 A new company – Birnbeck Holdings Limited – has now been set up by CNM Estates which has purchased Birnbeck Island and the historic pier.
---
Ecclesiastical Heritage Risk Barometer 2020 Published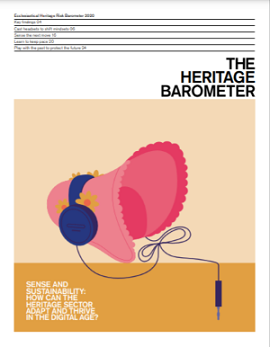 The publication offers research to help answer the question: 'How can the heritage sector adapt and thrive in the digital age'?
---
Victorian Bath House dug up from under a Manchester Car Park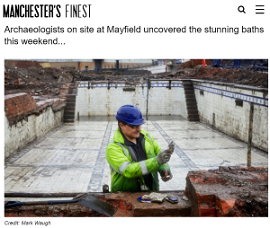 A stunning Victorian Bath House has been uncovered during works on creating the city's first public park in over 100 years.