Seashaken Houses: a lighthouse history from Eddystone to Fastnet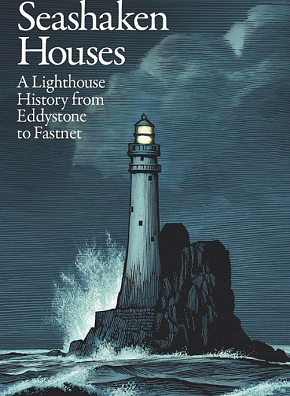 Seashaken Houses: a lighthouse history from Eddystone to Fastnet, Tom Nancollas, Particular Books, 2018, 256 pages, black and white illustrations, hardback.
---
I like a book to have a good title and Seashaken Houses, a line borrowed from Dylan Thomas, is a good title. 'Standing far offshore, the rock lighthouses are strange conceits, surrounded entirely by water but impervious to its effects… In fair conditions, waves bounce against their massive drum-like lower parts, sending chance plumes of spray to harass the window sills. Fouler weather sends heavier walls of water over the fragile glass lanterns, usually held protectively out of the sea's reach. In the heaviest weather, they shake.' Several accounts by lighthouse men attest to this shaking. The buildings groan too, in the heaviest seas.
The book started as a dissertation – 'A Machine for Living in: appraising the Rock Lighthouse interior' – commended in the Gus Astley Student Awards in 2016. By the time it became a book the title had, thankfully, changed but it had also morphed into something broader. Part architectural and social history of these eccentric buildings, it is written as a travelogue, giving an understanding of the isolation and purpose of these edifices. The incredible ingenuity required to build them at sea and the tenacity of the men who manned them, risking their lives and their sanity, are woven with salty tales of seafaring and shipwrecks to form a richly atmospheric read. Nancollas writes of the lighthouses: 'Their stories would hold the attention of even the most wandering mind.'
The book takes you on a journey around the seas of Britain to visit surviving rock lighthouses. From the oldest standing one (Bell Rock, 1813), off Arbroath in Scotland, past Perch Rock in the mouth of the Mersey to Wolf Rock located in notoriously tempestuous seas eight miles off the coast of Land's End. These are lighthouses on the very fringes of the country, not even of the country, standing on offshore rocky reefs that had, by the time any of the lighthouses were built, wrecked many ships and claimed many lives.
The story starts with Henry Winstanley's ludicrously decorative first lighthouse at Eddystone (1698). Built of timber, with an external stair wrapping around, it looked more like a helter-skelter in a fairground than a fortress to face the worse tempers of the sea. Surprisingly, it lasted for five years until the Great Storm of 1703 swept it away with Winstanley (who had rushed out to it to sea to strengthen it) inside it. The lighthouse and Winstanley were never seen again. He was not alone. Thirteen naval ships were wrecked and 1,000 sailors died in the same storm. John Smeaton's replacement at Eddystone (1759) became the standard form for all later lighthouses: the tall, tapering cylinder topped with the glass-encased light. Smeaton's particular tour de force was to build it of interlocking stonework, blocks dovetailed together and bedded with hydraulic cement. It became the blueprint for lighthouse building.
Not that it made building them any easier. As Nancollas writes of the men who built Bishop Rock lighthouse, 32 miles off the coast of Land's End: 'these men clung like limpets to unforgiving nodules of granite. Atlantic swells regularly crashed over their god-forsaken building site, but they clung on with the help of harnesses bolted deeply into the rock. Even the tools were tied down. They ate limpets too, in their grim quarters on a nearby islet because storms frequently halted their supply chain.' The book captures the isolation of these buildings, as well as the deprivations faced by the men who built and manned them. There is no romantic view of these isolated beacons. Madness was never far away.
Seashaken Houses is an evocative and well-written book. It does not easily fit into a category, part architectural and social history, part travelogue, but I liked it all the more for that. Perhaps bookshops and libraries should have a good-read section. That would be a good place for it.
---
This article originally appeared as 'Homes for limpets' in IHBC's Context 160 (Page 48), published in July 2019. It was written by Kate Judge, freelance architectural historian.
--Institute of Historic Building Conservation
IHBC NewsBlog
Modus on the challenge the construction industry has to become more circular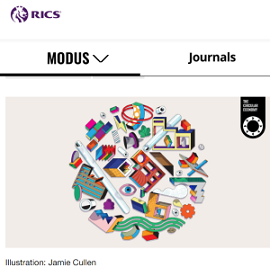 RICS members' journal Modus 'crunches the numbers' on the challenge the construction industry has to become more circular.
---
RTPI: Measuring What Matters: Planning Outcomes Research

The Royal Town Planning Institute(RTPI) has issued research from across the UK and Ireland into how authorities can measure the outcomes of planning.
---
Wales introduces the Optimised Retrofit Programme (ORP) for a green recovery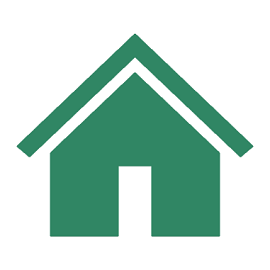 The Welsh Government has given the green light and a further £10M to a major new programme that will transform social housing across Wales, boost the economy and open the door to a new Welsh industry: the Optimised Retrofit Programme (ORP).
---
Lifeline grants for culture in all corners of the country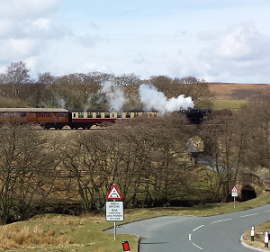 Culture across the country benefits as Lifeline grants from the latest round of the £1.57 billion Culture Recovery Fund will protect a further 162 heritage sites across the country.
---
Scottish Government rejects transformation of landmark building into luxury hotel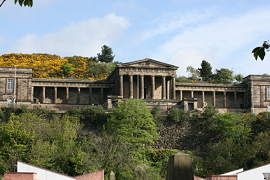 Now the building long touted as a potential home for the Scottish Parliament stands as a symbol of a divided Scottish capital.
---
One of Britain's last AA telephone boxes saved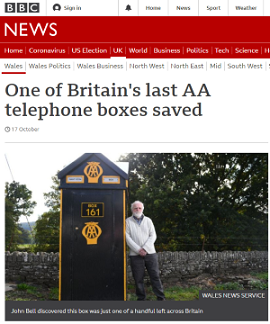 AA Box 161 has now been listed. The telephone boxes were a sanctuary for motorists in distress, but of the hundreds across Britain just 21 remain.
---
IHBC submits comments on BSI's PAS 2038 – Retrofitting non-domestic properties

The IHBC has noted that it fails to emphasise the need to carry out appropriate repairs as the vital precursor to installing retrofit measures.
---
Mapping tool for unused construction materials launched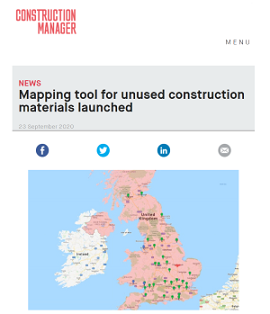 A mapping tool that provides contractors and their suppliers with a central database of local Materials Exchange Platform (MEP) projects to help cut waste by finding a home for unused materials has been launched.
---
'Unusual' WW2 sites listed and upgraded to mark 80th anniversary of Battle of Britain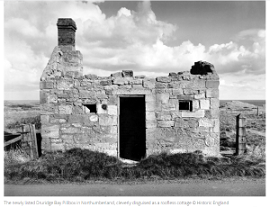 An air raid shelter, a pillbox cleverly disguised as a roofless cottage, a rare Chain Home radar defence tower, and a war memorial have been granted protection.
---
Derby City Council plans to knock down the 43-year old Assembly Rooms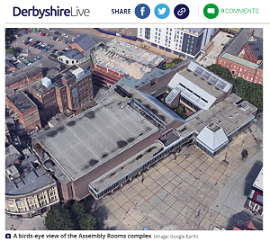 A planning application has been submitted by Derby City Council to knock down the Assembly Rooms – which has played host to the likes of Elton John, Iron Maiden, Take That, etc.
---