Hiring in a retail designer
Whether you are remodeling or opening a retail store, you may want to hire a retail designer. A retail designer may also work with an architect to make sure that your merchandising plan fits with your space in the most profitable way. A retail designer may also go by the title interior designer, visual marketing specialist or merchandising designer. Companies that offer these services or that employee the professionals will often have a team of specialists work on a design that works best for you.
When you work with a retail design team, they should always keep your profits in mind. They will not give you an extravagant design that is not very user friendly. They should consider your space, your products, your inventory, your budget and your customers. Retail designers can often come up with innovative designs that you haven't thought of yet. It can help you to take a fresh approach to merchandising that result in profits.
Retail and visual merchandisers are specialists in determining your clients' needs. They anticipate what your clients will want and design the store around them. They will also want to catch the consumer's eye and create new wants and desires along the way. All of this can be done by someone with a keen eye who does a lot of research.
Visual merchandisers will create the lure to get customers in your store. This often starts with the window displays. Mannequins and lighting designs can help to draw in customers. Once inside, the products need to be arranged in a logical fashion so that customers can easily feel their way around the store. Your showcases should be strategically placed to guide customers deeper and deeper into the store. Impulse buy displays should finish out the design. They are generally located in areas where customers will be passing once they've decided to leave the store. Near the register and near the door are good places to make that last ditch effort in selling a few more items.
If you have a small space, a retail design team my suggest using the walls to maximize your display area. Gridwall and slatwall are great for managing a large amount of merchandise in a small area. You can constantly update your displays. Spread them out for a more spacious feel, or arrange them close together to advertise just how much merchandise you have to offer. Gridwall and slatwall displays allow you to face your merchandise outward where it can be more easily seen, even from outside your store.
IHBC NewsBlog
APPG on 'Conservation, Places and People' Opens first Parliamentary Inquiry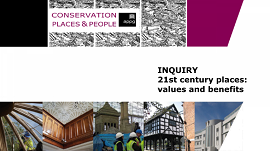 The Inquiry is into '21st Century Places – Values & Benefits'
---
Historic Photographer of the Year 2020 Winners Announced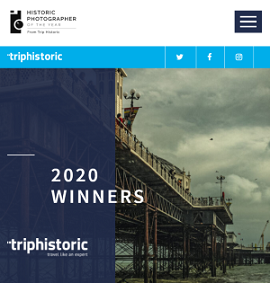 The awards showcase the very best historic places and cultural sites from across the globe.
---
IHBC Launches new 'Guidance Note' on Alterations to Listed Buildings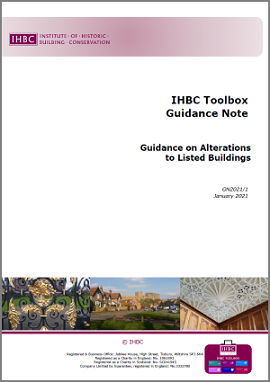 The IHBC's latest Toolbox Guidance Note, on 'Alterations to Listed Buildings' has been issued following UK-wide consultation.
---
Caithness Iron Age Stone Tower Conserved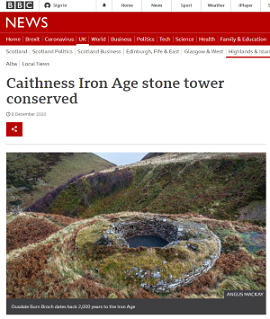 The ruins of Ousdale Burn Broch, north of Helmsdale in Caithness, had fallen into further disrepair over the past 130 years.
---
The American Air Museum at Duxford has been listed Grade II*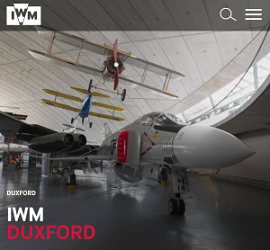 Europe's largest air museum and Britain's best-preserved Second World War airfield – has been included in Grade II* listing, even though technically too recent.
---
West Dean College wins Sussex Heritage Trust Award 2020 for Roof Restoration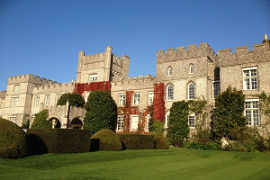 The College of Arts and Conservation has won the award for a for a project which provides or improves facilities for the community, including a £5.8M restoration of the College's 126-year-old roof.
---
Stowe North Hall & WMF: A Step Closer to Completion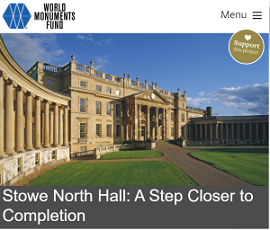 Completion of the restoration of Stowe House's North Hall, largely funded by World Monuments Fund (WMF), came a step closer this summer with the installation of a statue of Mercury opposite the imposing Laocoön group installed last year.
---
IHBC CREATIVE Conservation Fund launched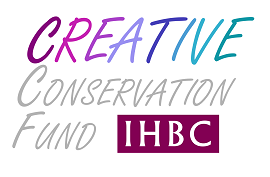 The CREATIVE Conservation Fund helps the IHBC generate and distribute funds exclusively to deserving causes in built and historic environment conservation.
---
The tunnel near Plymouth with a nuclear secret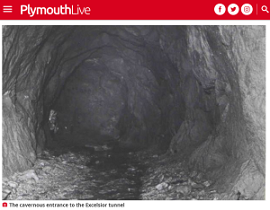 For years, there have been rumours whispered around Plymouth and Cornwall about so-called 'nuclear tunnels' that exist beneath the Tamar Valley.
---
141 bridges with 'very poor' rating remain open to avoid disruption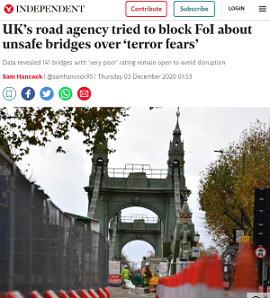 Just under half of England's busiest bridges are severely defected or damaged, but have remained open due to concerns about an influx of traffic should repairs be ordered, it has been revealed.