Gender stereotypes examined in Unlimited Potential report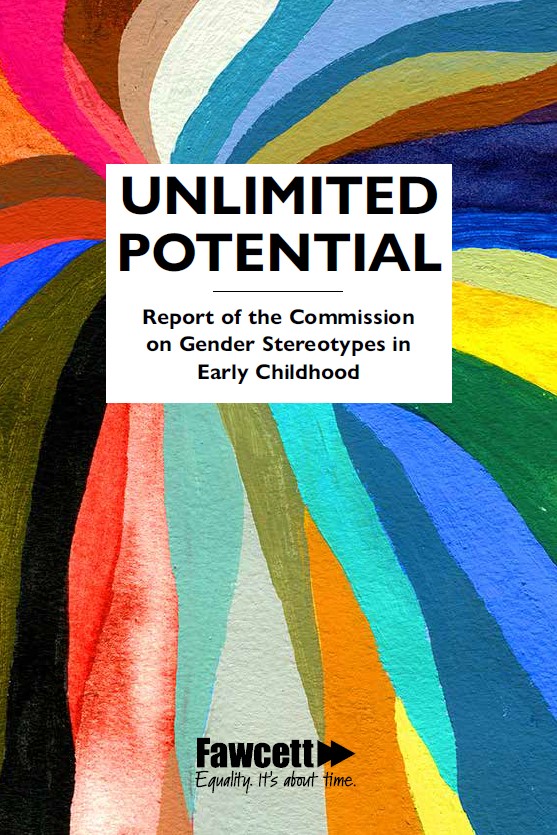 [edit]
Introduction
In December 2020, the Fawcett Society published Unlimited Potential - the final report of the Commission on Gender Stereotypes in Early Childhood. Key findings of the report indicate that harmful gender stereotypes - including those perpetuated by parents - may be limiting children's potential.
The report is the culmination of an 18-month process of research and evidence gathering that concluded in 2020. As a result of its findings, the Commission (which was established by the Fawcett Society for the purpose of conducting this research) called for changes in parenting, education and the commercial sector.
Unlimited Potential explains how gender expectations significantly limit children, possibly resulting in lower self-esteem in girls and poorer reading skills in boys. The report indicates that stereotypes may limit career choices and contribute to the gender pay gap.
There is also a need to make women and girls visible when, because of pre-existing bias, the default male role model will still be the prevailing assumption. So it's important, for example, to routinely show children examples of women in construction, engineering, science and leadership roles.
"We still limit our children based on harmful, tired gender stereotypes," said Professor Becky Francis, co-chair of the Commission. "The stereotypes we impart in early childhood cause significant damage to our children."
[edit]
Stereotypes and parenting
The findings show that parents wish to see change and recognise existing problems. The majority of mothers (58%) and half of fathers (50%) say gender stereotyping limits the jobs girls feel able to do when they are older. The report also indicates that parents are behind some stereotype reinforcements. When asked what work they could see their kids doing when they grow up, nearly a quarter of parents (22%) said they could see their sons working in construction compared to just 3% of their daughters.
Sam Smethers, Fawcett Society Chief Executive observes that the notion of "'jobs for boys' and 'jobs for girls' views among some parents are deeply embedded, and they last a lifetime."
[edit]
Racial bias
On the impact of racial bias alongside gender stereotypes, 67% of parents agree that treating children differently on the basis of race from an early age has negative consequences.
The report found that gender stereotyping persists amongst professionals in the field of education, where additional training and changes to curriculum are needed. BAME educational practitioners were more likely to perceive differential treatment of children based on race alongside gender, with 55% seeing this for Black boys and 49% for Asian girls, compared with 29% each among white practitioners.
In the commercial sector, stereotypes persist in advertising, product development and other forms of gender segregation. According to the report, the majority of parents (66%) want to see companies voluntarily advertise toys to boys and girls in the same way, and an end to stereotypical imagery and slogans on clothing.
[edit]
The case for change
Existing research analysed for the Commission shows the harm caused, including:
In girls: by the age of six, avoiding subjects they view as requiring them to be "really, really smart", which reads across to lower take-up of STEM subjects in later life.
Gender stereotypes can contribute to the abuse and harassment of LGBT young people and adults.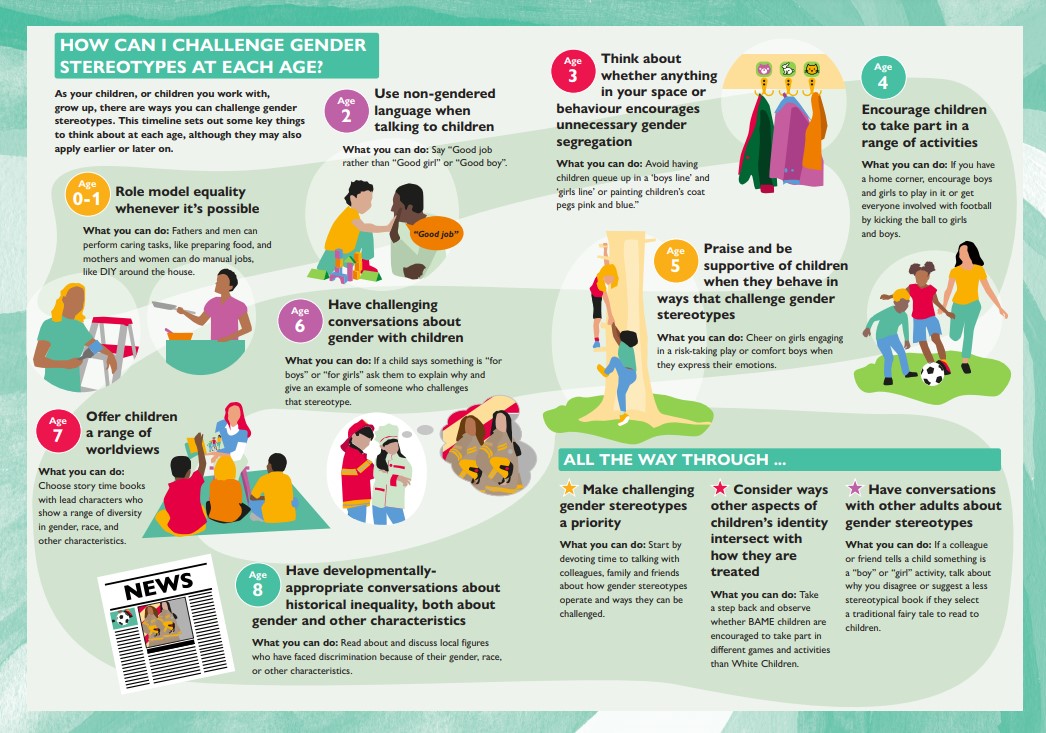 Challenging gender-stereotyped behaviour in early childhood can generate positive actions including a reduction in violence against women and girls. Even simple role model adjustments within the home (such as how parents divide up domestic and paid work tasks) can have an impact on children's perceptions of gender stereotypes. Getting fathers more involved at home and giving them longer, better-paid time off when a child is born, can change how children perceive their parents and shape their self-image at an early age.