Eps recycling
This article needs more work. To help develop this article, click 'Edit this article' above.
---
INTCO is a Styrofoam Recycling Specialist, providing total solution to EPS recycling and polystyrene recycling.
INTCO manufactures and sells GREENMAX EPS Compactors/Densifiers and Recycling machines/systems, purchases back compressed EPS scraps, and reuses them to make frame products.
In 2012, INTCO recycled 50,000 tons of waste EPS, which helped save 4,000,000 trees and reduce 100,000 tons of carbon emission. INTCO became one of the biggest waste EPS end-user and recyclers in the world.
The handling process of EPS is not easy:
Firstly, it is not good to handle the waste EPS through landfill. As the waste EPS can release waste chemicals, the soil and groundwater can become polluted.
Secondly, people can make the EPS material into other handicrafts but the amount of EPS material used is very little. So it is not reasonable to handle the large amount of EPS material in this way.
Featured articles and news
IHBC Gus Astley Student Award 2017 now open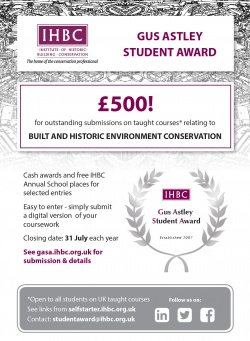 Send in your coursework on a taught course by 31 July for a chance to win a prize and attend the IHBC's Annual School in Belfast in June 2018.
---
Can Wellington (NZ) save its heritage buildings before it's too late?

---
Local military heritage at risk
The Daily Telegraph reports that many small regimental museums are to lose Ministry of Defence (MoD) funding by the end of next decade.
---
Heritage Open Days festival 2016 attended by millions
The Heritage Open Days (HODs) 2016 Impact Report shows an estimated 3 million visitors attending 5293 events with £10m for local economies.
---
International News - Cultural Protection Fund projects announced
The British Council has announced the initial projects to be supported by the Cultural Protection Fund, which will protect heritage overseas.