Kentish ragstone
[edit]
Introduction
Kentish ragstone is a building stone that has been used – both historically and currently – throughout South East England. It is a hard, medium grey, sandy limestone from the Cretaceous era (and so is a 'young' limestone) that is quarried in Kent from the Hythe Formation of the Lower Greensand group.
In appearance, it has a rough, course texture that is difficult to work, so even carving square blocks can be difficult. For this reason, it does not tend to be suited to fine stonework; consequently, it is sometimes used for infilling a wall that is faced with a 'fairer' stone. However, due to the scarcity of good stone in the South East, it has become a very familiar building material in Kent and the neighbouring counties.
[edit]
Historical use
Historically, Kentish ragstone was quarried primarily around Maidstone, Kent, from where it could be easily shipped on barges down the River Medway, then carried up the Thames to places as far as Eton and Windsor.
The Romans used Kentish ragstone for the walls of Londinium. During the medieval period the material was in much demand in London for churches and engineering works such as river walls. It was also used on the Tower of London, Rochester Castle, the medieval Guildhall, London and Westminster Abbey, as well as numerous churches in Kent.
One of the most celebrated examples of Kentish ragstone is Knole House, near Sevenoaks, Kent, built in 1456, where the material is seen extensively for window surrounds, string courses, copings and finials, all demonstrating that it can achieve a good finish if carefully chosen.
Its use declined in 17th century London as brick and Portland stone gained favour.
Possibly due to its hard, uncoursed, irregularly bonded and rubble-like consistency, Kentish ragstone remained a favoured building stone for Victorian churches. However, the course, uneven texture may attract dirt which can mar the aesthetics.
Today, Kentish ragstone is still used in Kent as a vernacular material for building and repair work but its use in surrounding regions is generally limited due to the difficult processes involved and the variable nature of the material. As a result, it is sold by the tonne and can be used for gabion walling, as a general construction aggregate, and for resurfacing paths.
IHBC NewsBlog
Historic Photographer of the Year 2020 Winners Announced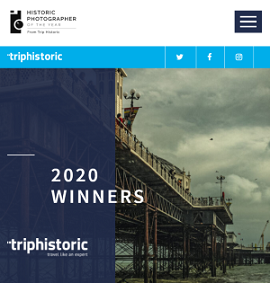 The awards showcase the very best historic places and cultural sites from across the globe.
---
IHBC Launches new 'Guidance Note' on Alterations to Listed Buildings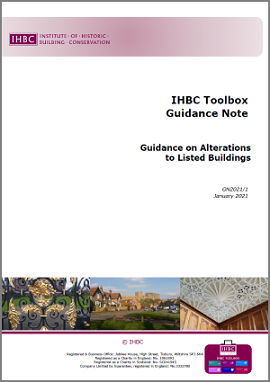 The IHBC's latest Toolbox Guidance Note, on 'Alterations to Listed Buildings' has been issued following UK-wide consultation.
---
Caithness Iron Age Stone Tower Conserved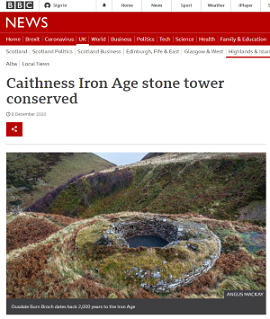 The ruins of Ousdale Burn Broch, north of Helmsdale in Caithness, had fallen into further disrepair over the past 130 years.
---
The American Air Museum at Duxford has been listed Grade II*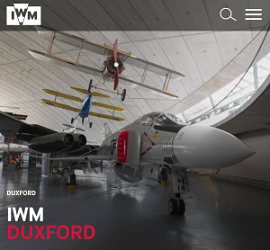 Europe's largest air museum and Britain's best-preserved Second World War airfield – has been included in Grade II* listing, even though technically too recent.
---
West Dean College wins Sussex Heritage Trust Award 2020 for Roof Restoration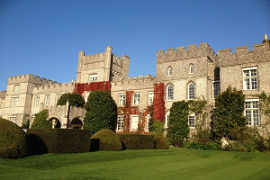 The College of Arts and Conservation has won the award for a for a project which provides or improves facilities for the community, including a £5.8M restoration of the College's 126-year-old roof.
---
Stowe North Hall & WMF: A Step Closer to Completion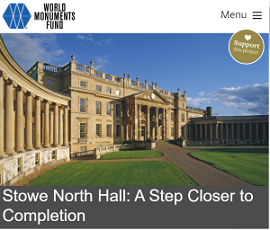 Completion of the restoration of Stowe House's North Hall, largely funded by World Monuments Fund (WMF), came a step closer this summer with the installation of a statue of Mercury opposite the imposing Laocoön group installed last year.
---
IHBC CREATIVE Conservation Fund launched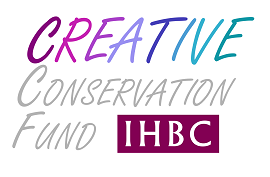 The CREATIVE Conservation Fund helps the IHBC generate and distribute funds exclusively to deserving causes in built and historic environment conservation.
---
The tunnel near Plymouth with a nuclear secret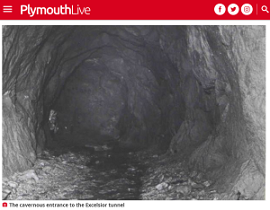 For years, there have been rumours whispered around Plymouth and Cornwall about so-called 'nuclear tunnels' that exist beneath the Tamar Valley.
---
141 bridges with 'very poor' rating remain open to avoid disruption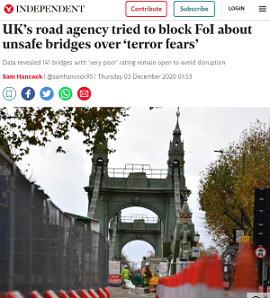 Just under half of England's busiest bridges are severely defected or damaged, but have remained open due to concerns about an influx of traffic should repairs be ordered, it has been revealed.
---
IHBC's new issue of 'Context' released, Oxford themed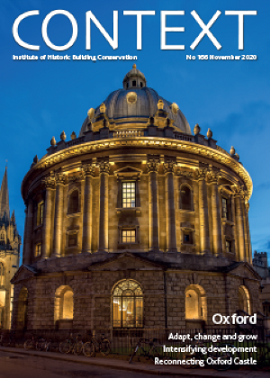 The issue focusses on the future of an historic city – Oxford – and includes an introduction by Layla Moran MP, Chair of the new APPG on Conservation, People and Places which has the IHBC as its Secretariat.
---