Caring for your Home website
This article originally appeared in the IHBC NewsBlogs
---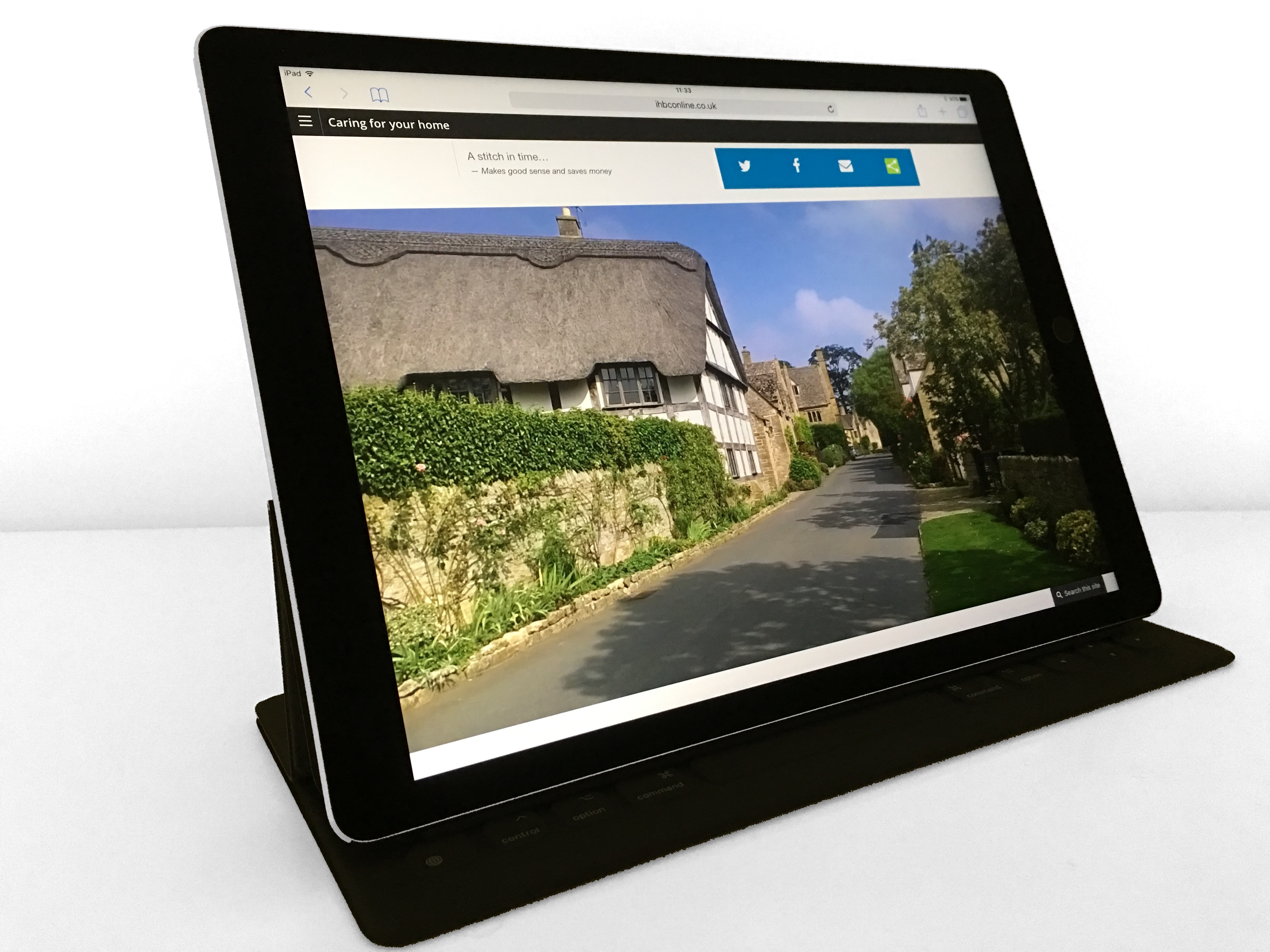 The IHBC has launched its 'Caring for your home' website at its 2016 School, offering an accessible guide to anyone seeking help in looking after their home; and while there's still work to be done on the resource – as a Beta test site – there's lots of help on offer there already.
IHBC's Vice Chair Kathy Davies said: 'This is set to be a very useful new resource for home-owners and residents. I'm delighted that the IHBC, with initiatives like this site, is making real contributions to the widest constituencies of heritage users. It is the perfect way for the IHBC to help 'join the dots' between all the players that shape the future of our heritage'.
IHBC's Technical Committee, led by Janice Gooch, helped shaped the distinctive style of this resource. Janice said: 'This is a modern day resource that replaces the much respected publication of 'Stitch in Time', which we produced with the Society for the Protection of Ancient Buildings (SPAB). This website sets out the core principles and forms a strong starting point for further development and progression, like any good conservation document.'
'Though aimed at the general householder, it is a great resource for anyone, professionals included.'
'Also, it will be developed further with the help of IHBC members and colleagues, but always remembering the key audience: the general public. This is an important step from the IHBC to provide the public with independent free guidance written by heritage professionals.'
IHBC Director Seán O'Reilly said: 'The 'Caring for your home' web resource retains the classic Hellman cartoons from the much revered 'Stitch in time', but there's a very different character. With this digital platform we'll be able to reach many more people who need access to basic guidance on how best to look after their homes.'
'And of course many of the lessons and tips apply equally to properties of very different types – not least the number one priority, needing to take care of them'
'The website is built using a 'mobile first' approach, so you can take the content along with you too, once you've a signal. But do also remember that you should always put health and safety first, and don't use it when or where it might lead to an accident!'
For more information and background see the IHBC NewsBlog
IHBC NewsBlog
IHBC's first Virtual School a Marked Success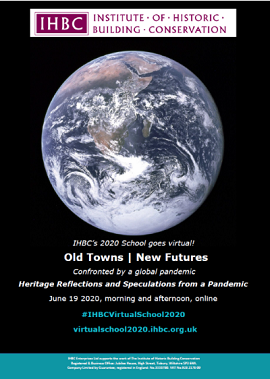 The first 'Virtual School' hosted by the IHBC was launched on 19 June with lead speakers covering pandemic-related topics shaping valued places over two sessions.
---
MPs are Asked for Views on £4bn Parliament Restoration Plan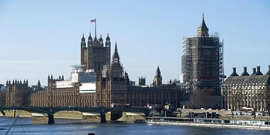 MPs and peers are being asked for their views on the planned restoration and renewal of the Houses of Parliament.
---
Ireland National Heritage Week: 15-23 August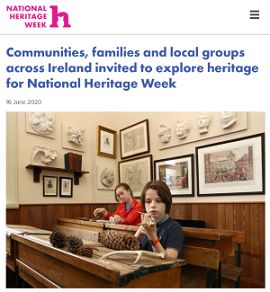 Plans are in place for a modified National Heritage Week for Ireland, which take into account ongoing restrictions on events and gatherings due to COVID-19.
---
Grimsby's historic Ice Factory thrown new survival lifeline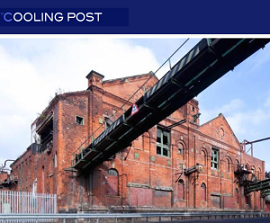 Opened in 1901, and derelict for the last 30 years, the Grimsby Ice Factory is the earliest and largest known surviving ice factory in the world. It still contains an array of historic ice making equipment including four J&E Hall ammonia compressors installed in 1931.
---
Risk Assessments and Contractual Impact from CIAT

A note on contractual obligations under the current COVID-19 pandemic has been issued by The Chartered Institute of Architectural Technologists(CIAT).
---
RTPI calls on government to issue planning guidance to prevent development delays

The Royal Town Planning Institute (RTPI) has called on the government to urgently issue planning guidance to prevent unnecessary delays to development from the pandemic.
---
How to Enjoy Heritage from Home, from the Heritage Fund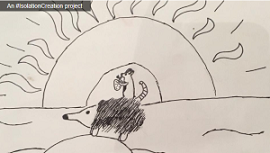 The Heritage Fund has put together a list of heritage-inspired activities to be done from home.
---
Listed Property Owners Club's Spring Checklist for Buildings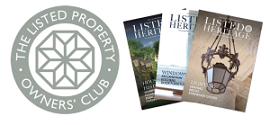 Spring is a good time to stand back and consider any building repairs that are required over the next 12 months, notes the LPOC, and regular inspection and maintenance is the key to keeping homes in good repair, as per its accessible step-by-step guidance.
---
Firefighters tackle blaze at converted Grade II listed former mill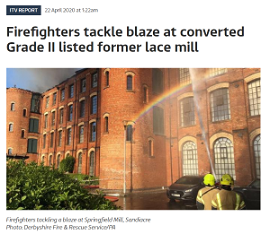 Derbyshire Fire and Rescue Service said "rapid and effective firefighting" had saved three quarters of the mill – which is now apartments.
---
Thieves take advantage of lockdown to steal lead from church roof in Halsham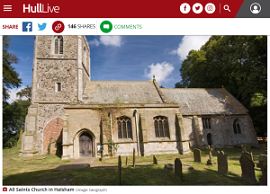 Police have appealed for witnesses after thieves stole lead from the roof of All Saints Church in Halsham near Hedon during the coronavirus lockdown.
---
IHBC's CPD Circular provides info on digital CPD opportunities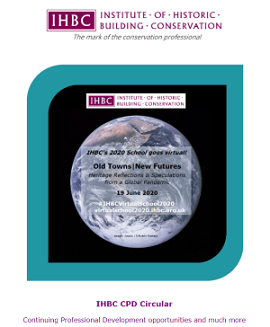 The regular newsletter showcases the IHBC's own Continuing Professional Development (CPD) content as well as online opportunities from 'IHBC Recognised CPD Providers' and other conservation related training and events.
---
Frank Lloyd Wright houses offer virtual tours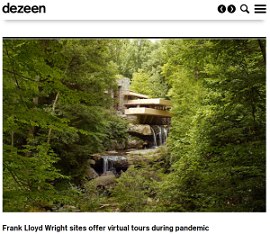 To make sure the public still has access to twelve of those famous works, #WrightVirtualVisits has been launched, which offers virtual tours of 12 iconic houses.
---