39 cathedrals to benefit from grants for repairs
On 21 July 2016 the Department for Culture, Media & Sport, Culture Secretary Karen Bradley MP, English Heritage and the Heritage Lottery Fund announced that 39 cathedrals across England would benefit from government funding of £14.5 million for repairs. Ref Gov.uk England cathedrals benefit from £14.5 million government investment to help protect nation's heritage.
The Church of England's 42 cathedrals are estimated to contribute £220 million to the economy, and welcome more than 11 million visitors annually. The grants, awarded from the First World War Centenary Cathedral Repairs Fund, will help keep them wind-proof, weather-tight, safe and open to the public.
Thirty-two Church of England cathedrals will receive between £15,000 and £870,000. The largest grant of £870,000 goes to Coventry Cathedral to re-fix the exterior slates of the Chapel of Unity.
Other repairs include:
Roof repairs – Lichfield, Derby, Guildford, Sheffield, Liverpool, Rochester, Hereford, Carlisle, Southwell, Canterbury, Lincoln – ranging from to £250,000 (Canterbury) to £750,000 (Derby).
Restoration of stained glass windows - Winchester, Wakefield and Worcester – ranging from £390,000 (Worcester) to £500,000 (Winchester).
Decisions on the allocation of grants are taken by an expert panel which includes English Heritage, the Heritage Lottery Fund, the Church of England and the Catholic Church.
Secretary of State for Culture, Media and Sport Karen Bradley said: "Cathedrals are powerful symbols of Britain's shared history. They are important not only for their architecture and heritage, but also for the vital role they play in local communities."
Dame Fiona Reynolds, Chair of the Cathedrals Fabric Commission for England, said: "Cathedrals which benefitted from the first phase of this fund have been repaired and refurbished, and staff and volunteers have time and resources to serve their cities and regions with renewed energy. It is fantastic that more cathedrals are now able to benefit from this scheme."
Sir Paul Ruddock, Chair of the Expert Panel of the First World War Centenary Cathedral Repairs Fund said: "In 2014 the Chancellor announced the first £20 million phase of the Fund, intended to get our wonderful heritage of Cathedral buildings waterproof and weather-tight, safe and open and in good shape for the commemorations of the First World War Centenary in which they are playing such a key part. I and all those who love these great buildings were delighted when he announced a further £20 million for the Fund in the March 2016 budget. It will now run until 2018 and the works it will have supported between 2014 and 2018 will stand as a very fitting memorial to the First World War a century earlier."
IHBC NewsBlog
Methodology for Moisture Investigations in Traditional Buildings agreed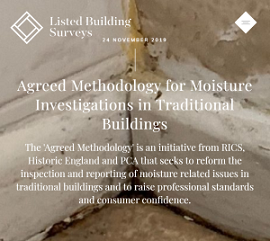 A 'Methodology for Moisture Investigations in Traditional Buildings ' has been agreed between RICS, Historic England and the service provider PCA, a trade body, which should help raise professional standards and consumer confidence.
---
Drinkers toast the future after historic Leeds pub granted GII listed heritage status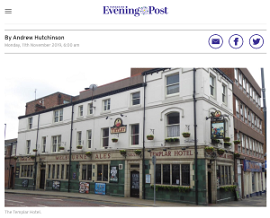 The Templar Hotel on Vicar Lane has been listed at Grade II by the Department for Digital, Culture, Media and Sport on the advice of Historic England.
---
Housing Minister announces new champion for modern 'MMC' housebuilding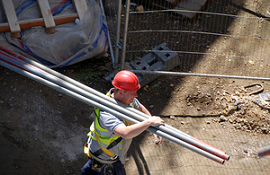 Government has announced a new Champion for Modern Methods of Construction as part of the government's drive to make the UK the global leader in housing standards.
---
RTPI on 'Why planning needs better outcome measurement'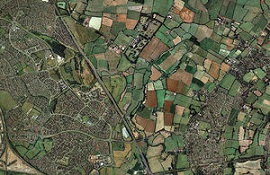 Planning is about so much more than the number of applications approved and the speed of processing them so the RTPI is commissioning research aimed at producing a toolkit that can demonstrate a wider range of outcomes.
---
The rise of 'facadism' in London, from the BBC and 'The Gentle Author'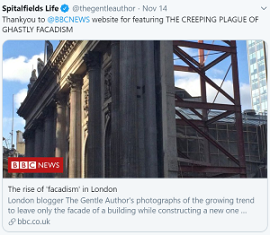 London blogger The Gentle Author has been photographing the changing face of London, focusing on what is known as 'facadism', the practice of destroying everything apart from the front wall and constructing a new building behind it.
---
Great Yarmouth Winter Gardens Facing Off Dilapidation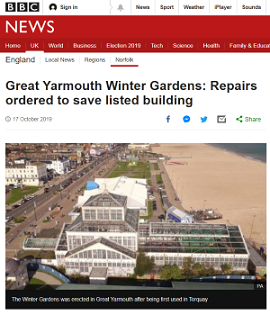 Urgent repairs have been ordered to save one of the country's most endangered buildings from dilapidation while Great Yarmouth Borough Council seeks an investor.
---
Construction urged to do more for butterflies and bees, via SNH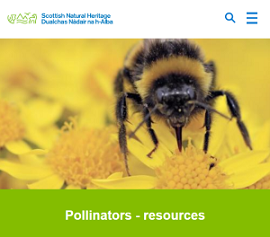 SNH has published new guidance on how best to fit pollinators into urban design and construction with a series of easy steps to suit all project budgets and sizes.
---
Applications now open for the Sustainability Scholarship for 2020: Closing 29/11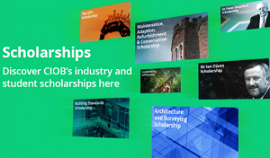 Applications are invited for the Sustainability Scholarship 2020, with successful applicants to receive £3000, support and mentoring from experts, and closing 29 November.
---
Government asked to save plans for Queensbury tunnel cycle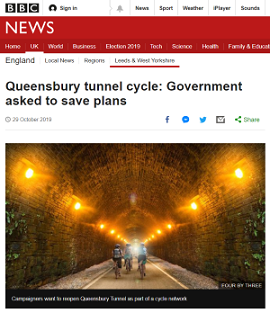 It was hoped the 1.4 mile (2.3km) Victorian Queensbury Tunnel could be used by cyclists travelling between Bradford and Halifax, but plans have been threatened.
---
Case Study in Durham Cathedral: Project Managment and Building Services Challenges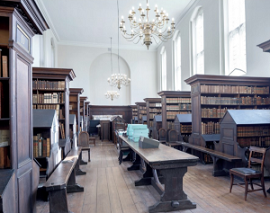 Completing works that widened public access to the hidden architectural spaces and collections of Durham Cathedral showcases exceptional project management.
---
Autumn clamp down on dust by HSE – site visits planned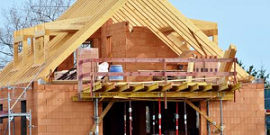 This month HSE is carrying out its latest construction inspection initiative with a focus in particular on measures in place to protect workers from occupational lung disease caused by asbestos, silica, wood and other dusts when carrying out common construction tasks.
---