English housing stock age
According to the English housing survey 2014 to 2015: housing stock report, published by the Department for Communities and Local Government (DCLG), the age of the housing stock in England in 2014 was: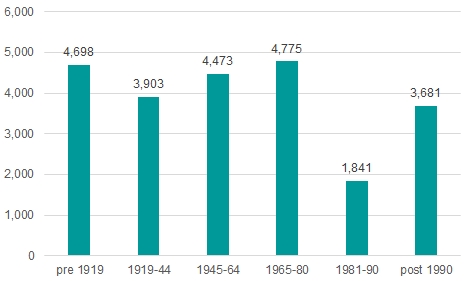 [The number of houses is shown in thousands]
20% were built before 1919 and 24% were built after 1980. There were approximately 23.4 million homes in total, just over a million of which were vacant.
The earlier 2001 DCLG English House Condition Survey gives more detail about the pre 1919 period: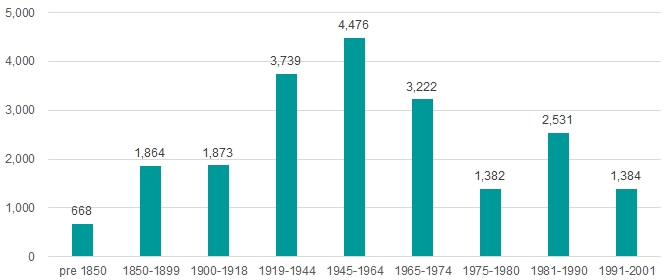 These figures can be combined (approximately) and some timeline information added to give a sense of the period houses and their likely construction.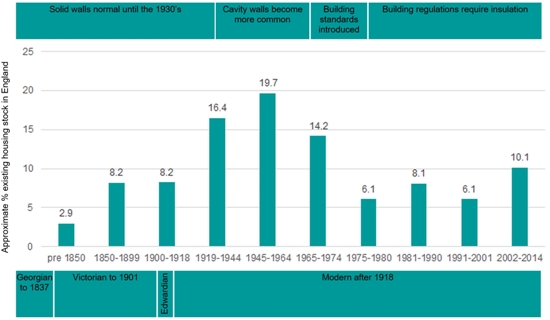 Featured articles and news
IHBC Gus Astley Student Award 2017 now open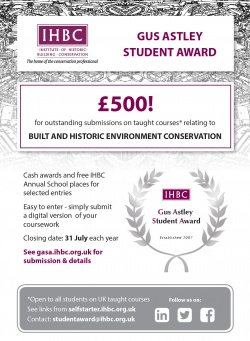 Send in your coursework on a taught course by 31 July for a chance to win a prize and attend the IHBC's Annual School in Belfast in June 2018.
---
Can Wellington (NZ) save its heritage buildings before it's too late?

---
Local military heritage at risk
The Daily Telegraph reports that many small regimental museums are to lose Ministry of Defence (MoD) funding by the end of next decade.
---
Heritage Open Days festival 2016 attended by millions
The Heritage Open Days (HODs) 2016 Impact Report shows an estimated 3 million visitors attending 5293 events with £10m for local economies.
---
International News - Cultural Protection Fund projects announced
The British Council has announced the initial projects to be supported by the Cultural Protection Fund, which will protect heritage overseas.