ICE recommendations on Palace of Westminster
On 15 Sept 2016, the Joint Committee on the Palace of Westminster accepted the Institution of Civil Engineers'(ICE) recommendations for the historic building's redevelopment.
They concluded that the lowest risk, most cost-effective and time-efficient option was for all MPs, Peers and staff to move out of the Palace in one single phase while works were carried out.
Appointed in July 2015, the committee is co-chaired by Chris Grayling MP and Baroness Stowell of Beeston.
Responding to the Committee's call for evidence, ICE provided its expertise through a written submission, as well as calling David Hirst CEng FICE, the chair of ICE's Management Panel, to give evidence in person.
Hirst suggested that a full decant of occupants offered best value for public money. He told the committee that "giving clear access to a range of contractors over a period of time offers the simplest, best and lowest risk option."
ICE's submission offered evidence on the scope of the work as well as how the work should be delivered. Amongst the recommendations were to ensure that the project is properly resourced and funded, with highly capable and experienced professionals and adequate contingency provisions.
He also said that, "a partial decant would include quite a lot of working around existing activities. You would end up taking up a lot more space to allow existing activities to carry on. It would be quite difficult to co-ordinate and more expensive as a result.
"Continuing maintenance on a larger scale without decanting, we would never see the end of. It is beyond the working lifetime of the people involved and the scope of works would necessarily change during the lifetime of that scale of works."
He warned that the project needed a clear vision early on, in order to realise the opportunities that were on offer.
The joint committee agreed, concluding that the Palace 'faces an impending crisis which we cannot responsibly ignore'. They stated that there was 'a substantial and growing risk of either a single, catastrophic event, such as a major fire, or a succession of incremental failures in essential systems which would lead to Parliament no longer being able to occupy the Palace.'
---
This article was originally published by ICE on 15 Sept 2016. It was written by Simon Barney.
--The Institution of Civil Engineers
Featured articles and news
IHBC Gus Astley Student Award 2017 now open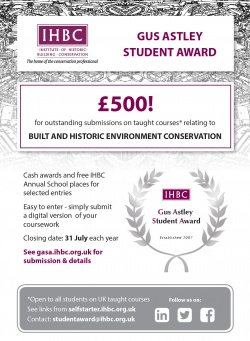 Send in your coursework on a taught course by 31 July for a chance to win a prize and attend the IHBC's Annual School in Belfast in June 2018.
---
Can Wellington (NZ) save its heritage buildings before it's too late?

---
Local military heritage at risk
The Daily Telegraph reports that many small regimental museums are to lose Ministry of Defence (MoD) funding by the end of next decade.
---
Heritage Open Days festival 2016 attended by millions
The Heritage Open Days (HODs) 2016 Impact Report shows an estimated 3 million visitors attending 5293 events with £10m for local economies.
---
International News - Cultural Protection Fund projects announced
The British Council has announced the initial projects to be supported by the Cultural Protection Fund, which will protect heritage overseas.