A Steeplejack's View of Life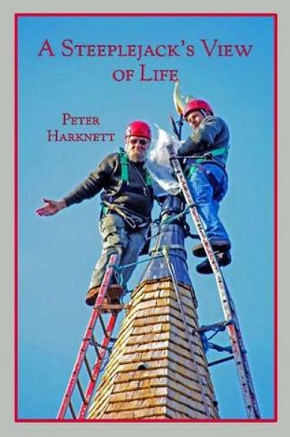 A Steeplejack's View of Life, Peter Harknett, Steeplejack Publishing, 2018, 176 pages hardback, fully illustrated.
Those who spend 50 or more years in their chosen job deserve a salute and probably have something worthwhile to pass on. Peter Harknett began his way up the ladder of success after National Service in the 1950s and he tells us he is still enjoying life at the top in his eighties. He passes on his considerable knowledge amusingly in this well-produced book, packed with valuable information in its 19 chapters.
The Federation of Master Steeplejacks was formed in 1948. The author began to learn about working at heights soon after this, when employed as a rigger on circus tents. He then began touring the country knocking on doors or 'repping' for work on church spires, Victorian school roofs and industrial chimneys that required repair or demolition. Little by little he became established and he has worked as far away as Israel.
Apart from the many hilarious incidents and scary adventures that he recounts with such grace, and sometimes illuminates with his own black-and-white sketches, the book is rich in tips that most readers in all aspects of our business will find of great use. Shingles are widely employed to clad church towers or spires, but Harknett takes us deep into the topic from the origins, sources, roles in woodpecker diet, and ultimate replacement of these wooden tiles. Chapter 14, 'To shingle a spire' is a model method statement of every aspect of such a task.
The book arrived with the mail only a couple of days after news of the disaster at Notre Dame, Paris. Despite some close scrapes, the author reports on numerous similar jobs on which he worked, but neither life nor fabric have suffered loss. Church authorities, architects and all those involved in the administration of the potentially hazardous matter of replacing or repairing roofs, bells, clocks or weathervanes are advised to read and learn from the wisdom and experience imparted.
---
This article originally appeared as 'Life at the top' in IHBC's Context 160 (Page 50), published by The Institute of Historic Building Conservation in July 2019. It was written by Graham Tite, conservation officer.
--Institute of Historic Building Conservation
IHBC NewsBlog
COVID-19: Advice and Updates collated from the Heritage Sector
Organisations with conservation links have been collating resources on COVID-19 impacts, including Built Environment Forum Scotland (BEFS), Historic Environment Forum, The Heritage Alliance (THA), and Historic England, on cleaning surfaces.
---
Councils considering 'executive powers' as measures to avoid planning gridlock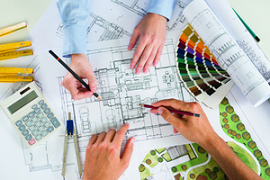 Councils are reported to be considering taking up rarely-used executive powers to keep the planning and development system moving during the coronavirus pandemic.
---
Historic England provides updated flood recovery advice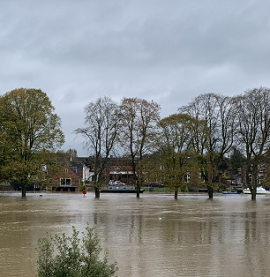 Historic England's 'After a Flood' provides timely advice on how to dry walls properly and avoid further damage to the building fabric.
---
Conservation of Timber Buildings: an example of evolving conservation techniques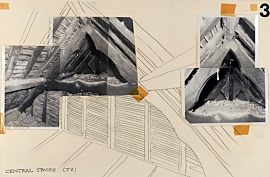 Context Issue 162 offers a peek into an archive of timber conservation history through the records of the practice of FWB and Mary Charles Chartered Architects.
---
Call for VAT rates for Refurbishment to be Reduced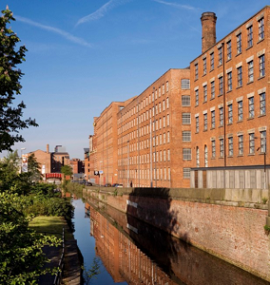 To meet the government's target of being carbon neutral by 2050, we must recycle, reuse and responsibly adapt our existing historic buildings, according to this year's Heritage Counts report, so Historic England and partners are calling for a reduction in VAT rates to incentivise this more sustainable option.
---
Grade II Edwardian swimming baths in Birmingham restored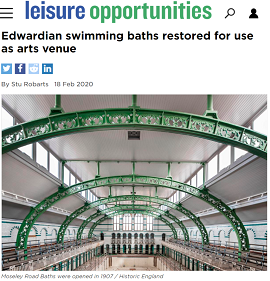 Donald Insall Associates, with the help of Historic England, has completed restoration work of Moseley Road Baths, being converted for use as an arts and culture venue.
---
IHBC Marsh Award Nominations – Closing Date 30 March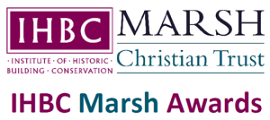 Celebrate your local 'retired members' and 'successful learners' with £500 cash prizes and 2020 Brighton School places!
---
Biodiversity Net Gain through UK Construction Projects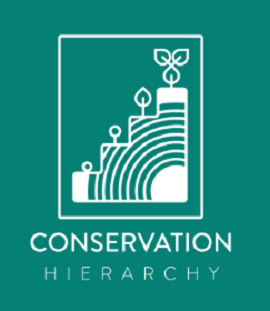 The Conservation Hierarchy is a new framework developed by the University of Oxford to help construction projects achieve Biodiversity Net Gain.
---
How Project Managers for Town Centre Developments can Balance Risk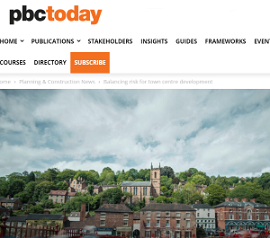 Jacqueline Hughes, senior risk analyst at Equib, in pbctoday discusses how project managers for town centre developments can get their risk management strategies right.
---
Red Tape is Strangling our High Streets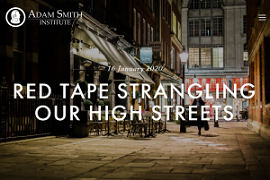 A new paper from the Adam Smith Institute argues that the problem with the High Street has been totally misunderstood, saying that we need to reform restrictive planning rules and reject a policy of managed decline to reinvigorate our town centres.
---
Calculating the full cost of energy used by buildings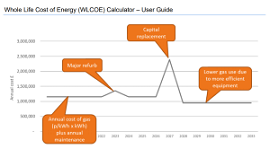 The Whole Life Cost of Energy (WLCoE) calculator – issued by government in BETA form – is intended to help building owners and operators to understand the full financial cost of the energy their buildings use, and welcomes feedback
---
England's heritage worth £31Bn: New Historic England report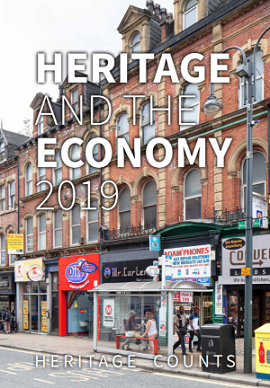 New research published by Historic England (HE) shows the value of heritage to England's economy as it contributes to economic prosperity and growth through jobs in the heritage and construction sectors and from tourism.
---