Swansea Canal Restoration
In August 2016, it was reported that a historic Welsh canal route was being revitalised with the help of an engineer who was originally involved in filling in the canal in the 1970's.
The Canal and River Trust wrote:
Volunteers working to restore lost sections of the Swansea Canal have enlisted an unusual ally – the engineer tasked with filling in the canal back in the 1970's.
Swansea Canal Society, working with Glandr Cymru – the Trust in Wales – made contact with John Evans as one of only three men alive who knows how the historic canal was buried in 1973, having been the engineer appointed by Glamorgan County Council to take on the project. He's now on board to help the restoration effort, and has been advising volunteers on how best to bring Lock 7, now the site of an old highways depot, back to life.
Martin Davies, a trustee of the Swansea Canal Society, said: 'John has shed new light on what happened on the day the lock was buried. He had to reduce the height of the lock chamber sides by five feet and remove a quarter of its length to level out the ground surface for a new council depot, but so sure was he that one day the lock would re-emerge that he repointed all the surviving stone work. It was then buried together with one hundred yards of piped canal. We hope that the Society and the Canal & River Trust can restore both lock and canal and reward John's act of faith.'
The Swansea Canal originally stretched the sixteen miles between Abercraf and Swansea, and like many of the UK's inland waterways fell out of use, closing to commercial traffic in 1931. The following fifty years saw much of the waterway filled in, leaving only six miles and six – out of an original thirty six – locks in water.
The restoration effort has been boosted by the huge commitment of local volunteers, who have clocked up over twenty five thousand hours' work on the waterway in the past three years alone. The Swansea Canal Society has also recently been awarded a 'Green Flag' to recognise the canal's environmental value to the local community.
Nick Worthington, waterway manager at Glandr Cymru, said: 'Swansea Canal Society have made huge progress in the restoration of the canal, and we're really grateful for the massive amount of work they put in. Getting one of the original engineers on board is a big step towards bringing lost parts of the waterway back into use, and the recent Green Flag award shows how much the canal already brings to the community.'
[edit]
External references
Featured articles and news
IHBC seeks perspectives on Brexit planning for conservation
We would like to hear from members with ideas on these matters, and/or any interest in joining an IHBC European Special Interest Group.
---
IHBC Reminder: Marsh Awards close end March 2017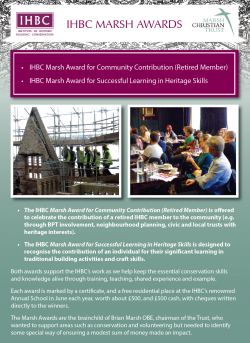 The 2nd IHBC Marsh Awards celebrating retired members and successful learners is now open - prizes include £500 and a free place at the IHBC's Annual School.
---
IHBC HESPR tender pick of the week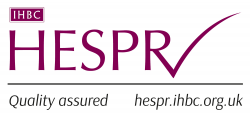 Director's top pick features a call from Blaenau Gwent County Borough Council for a specialist consultant to develop Town Centre Strategies.
---
IHBC CPD boost - How Business Improvement Districts impact on urban regeneration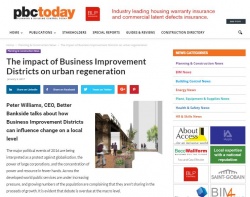 Peter Williams, CEO of Better Bankside in London, talks about how these can influence change on a local level in Planning & Building Control Today.
---
Scotland's Conservation Crisis No 2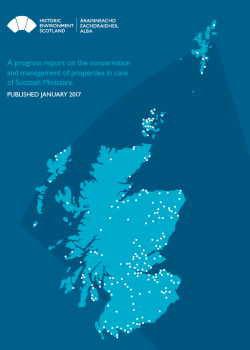 More than half of heritage sites and monuments managed by Historic Environment Scotland (HES) are at risk, according to a recent report.
---
Scoping for limited VAT review
The review will consider if the system is working appropriately in today's economy and identify simplification opportunities.
---
New Health and Work Strategy launched
Health and Safety Executive (HSE) concludes there is a role to play for everyone who has a stake or interest in improving health and safety in the workplace.
---
Apps will allow European online heritage curation
New social platform and smartphone applications (apps) will be developed by a European consortium to aid the documentation of Europe's cultural heritage.
---
Lord Prior appointed as new construction minister
Lord Prior of Brampton replaces Jesse Norman, who has become energy minister after just six months in the construction role.
---
Scarborough Futurist Theatre demolition approved
Plans to demolish a 1920s theatre have been approved by councillors amid an angry protest by more than 100 campaigners, according to the BBC.