HS2 Phase One - safeguarding directions updated
In August 2016, it was announced that additional properties and areas were to be covered by safeguarding regulations of the proposed HS2 route.
HS2 wrote:
Safeguarding is an established part of the UK planning system and ensures that land identified for major infrastructure is protected from conflicting development. The update follows a number of changes to the route that were agreed when the House of Commons Select Committee scrutinising the bill considered legislation to build phase one of HS2, between the west midlands and London. HS2 Ltd, the company designing and building Britain's high speed railway, has contacted the residents that are directly affected by the revisions.
The improvements to the route, made public during the Committee process, will mean fewer properties are affected by HS2. These changes include a 1.6 mile extension to the deep-bored tunnel under the Chilterns – preserving almost 30 acres of woodland while reducing the scale and duration of local construction activity.
The new directions also cover the realignment of the route near Lichfield to allow the railway to pass under the A38, the West Coast Main Line and the South Staffordshire Line rather than run over them on viaducts and make two crossings over the Trent and Mersey Canal. There are a range of other smaller changes to the route. As well as protecting the land required for HS2, safeguarding directions trigger statutory compensation arrangements for affected homeowners.
This means that owner-occupiers within safeguarding who qualify can apply to the Government to purchase their property and cover some additional costs. In addition to this statutory compensation, a range of discretionary property schemes are in place that go well beyond what is required by law, these include measures aimed at people affected by HS2 who live outside the safeguarded area.
[edit]
External references
Featured articles and news
IHBC asks you to contribute to the debate on gentrification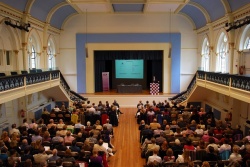 The Guardian reports on the dangers of gentrification - join the debate at IHBC NewsBlogs
---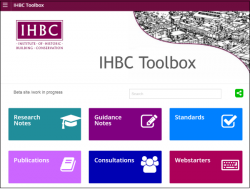 Our Toolbox offers easy access to the essential tools in conservation practice including links to Standards, 22 Practice notes, Consultations and much more.
---
Churchill Barriers to be listed

Second World War structures at Scapa Flow have been recognised as being of national importance by Historic Environment Scotland (HES).
---
Historic brick reservoir image wins award
The image of a covered reservoir in London's Finsbury Park has won the best architecture photograph of the year at the Arcaid Images Architectural Photography Awards 2016.
---
Westminster City Council gains approval for Special Policy Areas
The London Council's plans are given the go-ahead to management development in five unique specialist clusters.
---
Property Flood Resilience Action Plan out
An independent report has been issued relating to flood protection, aiming to help with flood resilience.