BRE joins in on the Heritage Open Day
This article was created by The Institute of Historic Building Conservation (IHBC). It originally appeared in the IHBC NewsBlogs
---
BRE's main site will be open as part of Heritage Open Days 2016.
BRE writes:
As well as the once top secret model of the Mohne Dam used in the early stages of developing the Dambusters' famous Bouncing Bomb, some of our larger test labs and the homes of our Innovation Park will be open to view for free.
There will be talks and presentations repeated through the day about the role of BRE in the Dambusters raids, and also about the B17 Bomber 'Choo-z-suzy' that crashed on this site in 1943.
The largest structural test hall in Britain, the fire test labs of Europe's largest fire test facility, and (possibly) the quietest place in the UK will be open for tours and demonstrations. 'Bucknalls', the 19th century mansion at the centre of the site (and which give the nearby roads Bucknalls Lane and Bucknalls Drive their names) will be open to see the oak panelled splendour of this former country house. And the eco-friendly show homes of our innovation park will be open too. You might also recognise a few locations from recent TV drama and comedy shows too.
On site cafe, bouncy castle, acres of lawns for picnics, free onsite parking and more… a whole day out for all the family (although sorry, no dogs please).
See photos from the 2015 Open Days on Flickr
[edit]
External references
Featured articles and news
IHBC asks you to contribute to the debate on gentrification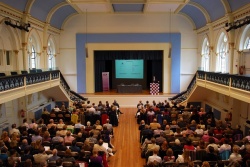 The Guardian reports on the dangers of gentrification - join the debate at IHBC NewsBlogs
---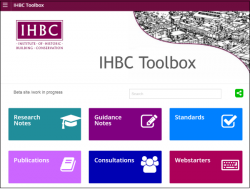 Our Toolbox offers easy access to the essential tools in conservation practice including links to Standards, 22 Practice notes, Consultations and much more.
---
Churchill Barriers to be listed

Second World War structures at Scapa Flow have been recognised as being of national importance by Historic Environment Scotland (HES).
---
Historic brick reservoir image wins award
The image of a covered reservoir in London's Finsbury Park has won the best architecture photograph of the year at the Arcaid Images Architectural Photography Awards 2016.
---
Westminster City Council gains approval for Special Policy Areas
The London Council's plans are given the go-ahead to management development in five unique specialist clusters.
---
Property Flood Resilience Action Plan out
An independent report has been issued relating to flood protection, aiming to help with flood resilience.