BREEAM Knowledge Sharing Ambassadors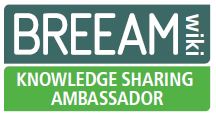 The following are current active members, click to read member profiles
Pallab Chatterjee
Samantha Phillipson
Gloria Lo
To increase knowledge sharing in construction sustainability by creating a Core Development Group of industry stakeholders who collaborate on and encourage knowledge sharing.
BREEAM Knowledge Sharing Ambassadors are a group of Sustainable Construction Professionals representing key and diverse stakeholder groups involved with BREEAM and related construction sustainability tools. The group meet, collaborate on, create and promote knowledge sharing of key information needed in the industry to accelerate the uptake of sustainability in the built environment.
[edit]
Charter
Each member commits to the following
To write one article per year (or make an equivalent contribution)

Preferably on a topic identified as typically required

To attend 2-4 online KSA collaboration meetings per year
[edit]
Application
Membership currently is by invitation but we are always looking to broaden the diversity of members. If you would like to apply to be invited then please contact [email protected]uk FAO Paul Thistlethwaite
[edit]
Next Meeting
Issue support documents
| | |
| --- | --- |
| | These are Multiple Author Articles - click on them and add to them today. It's easy. |
You can also add to General Multiple Author Articles here.
Issue support documents are written for named BREEAM Issues or sub-issues. More info. (ac) = awaiting content.
| | |
| --- | --- |
| Thanks to our Knowledge Sharing Ambassadors for a lot of this content | |
[edit] Management:
[edit] Health and Wellbeing
[edit] Energy
[edit] Transport
[edit] Materials
[edit] Land Use and Ecology
[edit] Pollution
Once an ISD has been initially created the '(ac)' marker can be removed
This particular index is based around the structure of the New Construction and RFO schemes.