Seven projects receive Historic Environment Scotland funding
In August 2016, it was announced that a castle in the Highlands of Scotland, believed to be the inspiration for 'Castle Leoch' in Outlander, was one of the recipients of heritage repair grant funding from Historic Environment Scotland (HES).
HES wrote:
Castle Leod in Strathpeffer, Easter Ross widely thought to be the inspiration/basis for the fictional 'Castle Leoch' in the successful Outlander novels, is one of seven recipients of building repair grants across Scotland. Other projects to benefit from the scheme include the creation of affordable housing in one of Glasgow's most deprived areas, and the creation of a health and wellbeing centre in Paisley.
The projects share a total of £576,460 awarded through Historic Environment Scotland's (HES) Building Repair Grant Scheme, with priority being given to those applicants who demonstrated that investment in their projects would result in community benefit.
Martin Fairley, Head of Grants at HES, said: The purpose of Building Repair Grants is primarily to assist with the repair and reuse of important historic buildings and sites, but also to ensure that the end use is something which the wider community benefits from. Amongst the beneficiaries of the latest round of funding there is a former school in North Glasgow, disused since 2013, which is going to be converted into affordable houses. We also have a former Sunday school in Paisley which will eventually become a health centre, helping people to stop smoking, offering health checks, as well as dietary, alcohol and drugs advice. And we are able to fund vital repairs to a community centre which has served the people of Aberfeldy for nearly 30 years.'
The Category B listed former Greenview School (originally Balmore Public School), in Parkhouse, North Glasgow is set to receive £109,250 funding to convert the building into 28 housing units to be set at affordable rents to those in housing need. This is part of a wider £3 million project from the North Glasgow Community Planning Partnership in the area which will create jobs and training opportunities.
The Category A Listed Castle Leod in Strathpeffer, Easter Ross is set to receive a grant of £13,680 as part of the third phase of a project to open up the 16th century building to the public. The castle is recognised as being of national and international importance due to its architectural quality and the survival of 16th and 17th century fabrics featured. The surrounding gardens and landscape are included on the national inventory for landscapes. The funding will be used to carry out essential repairs to parts of the castle, in order to facilitate the creation of a visitor centre, study room, and refurbished disabled toilet facility. The new visitor centre will allow the castle to increase its opening hours and days.
The Category C listed Memorial Hall in Paisley is located in an area recognised as one of Scotland's most deprived. Built by successful local architect Thomas G. Abercrombie in 1900, it is a rare example of a building purpose-built as a Sunday school. Paisley Seventh Advent Church have been awarded a £104,280 grant to assist with the conversion of the building to a church and health centre.
The Category A Listed James Watt Library in Inverclyde, dates back to the early 19th century and has been one of Greenock's most important civic buildings for a long time. Thanks to a grant of £297,000 it's long term future will be secured, parts of the building which have been unable to be used for years will be reopened, and the buildings capacity to provide high quality library, exhibition, and archiving facilities will be significantly improved.
[edit]
Find out more
[edit]
External references
IHBC NewsBlog
IHBC's 2019 'Yearbook' Now Released "Extending the Reach of the IHBC"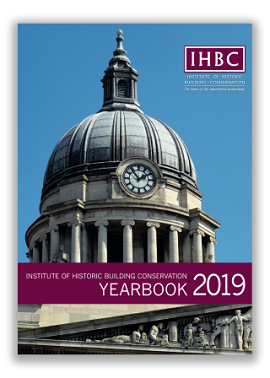 The IHBC's Yearbook for 2019 includes regular IHBC reviews, updates and listings, from IHBC's HESPR listing to our Recognised Conservation Courses and member directory.
---
IHBC 2019 Marsh Awards now out: at the IHBC's 2019 School, Nottingham 4 – 6 July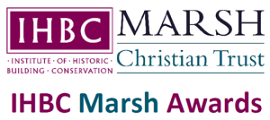 The judges are delighted to confer the 2019 IHBC Marsh Awards for Successful Learning in Heritage Skills and Community Contribution (Retired Member).
---
Rail stations in line for £300 million funding boost to improve disabled access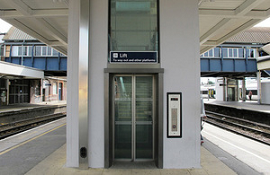 Disabled rail passengers across Britain will benefit from better access at stations and newly accessible stations will open up routes across the country.
---
A historical take on the future of Notre Dame, from IHBC's former Membership Secretary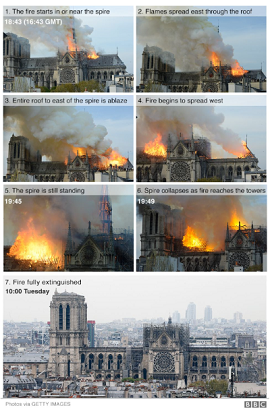 The IHBC asked former Membership Secretary Paul Butler for a take on some critical and historical issues around the modern response to Notre Dame.
---
CPRE's State of Brownfield 2019 report: Enough land for more than 1M homes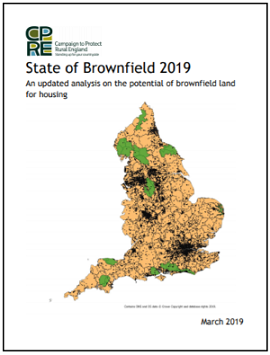 CPRE shows there is enough suitable brownfield land available in England for more than 1 million homes across over 18,000 sites and over 26,000 hectares.
---
BBC on 'The grief that comes from lost buildings'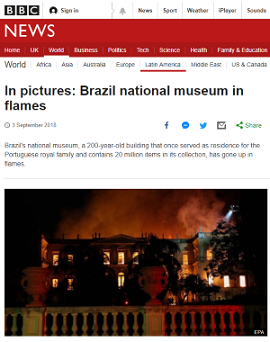 BBC News has reported on how, across the world, destruction of cultural attractions causes a specific sort of communal grief.
---
Enter the Brick Awards 2019: Closing 31 May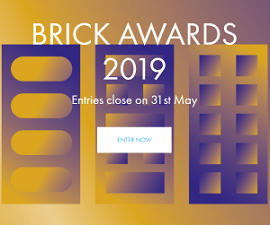 The Brick Development Association (BDA) has highlighted the opportunity to compete at the industry's highest level and be recognised by top-tier trade and national press.
---
STBA-SPAB Conference – 11 June 2019, London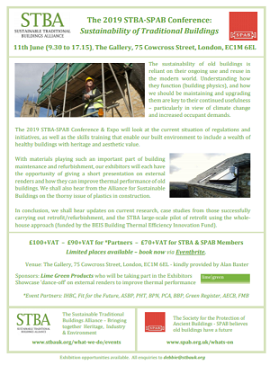 The 2019 STBA-SPAB Conference & Expo will look at the current situation of regulations and initiatives, as well as the skills training that enable our built environment to include a wealth of healthy buildings with heritage and aesthetic value.
---
Historic buildings on fire – Fisons Victorian factory near Ipswich destroyed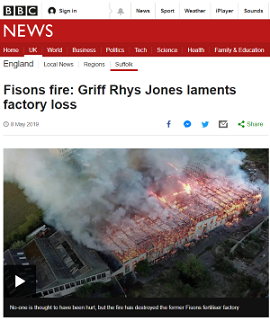 The former Fisons warehouse in Bramford, near Ipswich, was the victim on another fire affecting our heritage. Listed Grade II and dating back to 1858 the building was destroyed by a fire thought to be arson.
---
Highways England pours £4 million into canal restoration scheme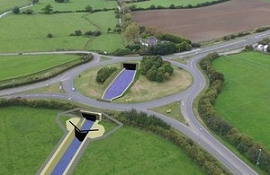 A mile-long stretch of canal in Gloucestershire that disappeared more than half a century ago is closer to being restored, thanks to £4 million of funding from Highways England.
---
Westminster: Legislative plans for Olympics-style body to oversee restoration works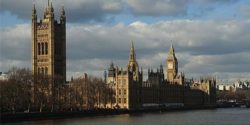 MPs vote on proposals for Houses of Parliament refurbishment, as the restoration and renewal of the Palace of Westminster reaches a major milestone.
---
Ever wondered 'How Venice Works', with 124 Islands, 183 Canals & 438 Bridges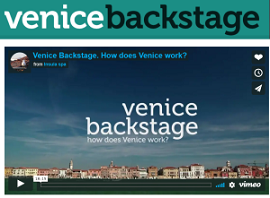 Open Culture has featured the Venice Backstage exploration of Venice and how, when the tourists leave the city, 60,000 year-round residents stay behind.
---
---