Seven projects receive Historic Environment Scotland funding
In August 2016, it was announced that a castle in the Highlands of Scotland, believed to be the inspiration for 'Castle Leoch' in Outlander, was one of the recipients of heritage repair grant funding from Historic Environment Scotland (HES).
HES wrote:
Castle Leod in Strathpeffer, Easter Ross widely thought to be the inspiration/basis for the fictional 'Castle Leoch' in the successful Outlander novels, is one of seven recipients of building repair grants across Scotland. Other projects to benefit from the scheme include the creation of affordable housing in one of Glasgow's most deprived areas, and the creation of a health and wellbeing centre in Paisley.
The projects share a total of £576,460 awarded through Historic Environment Scotland's (HES) Building Repair Grant Scheme, with priority being given to those applicants who demonstrated that investment in their projects would result in community benefit.
Martin Fairley, Head of Grants at HES, said: The purpose of Building Repair Grants is primarily to assist with the repair and reuse of important historic buildings and sites, but also to ensure that the end use is something which the wider community benefits from. Amongst the beneficiaries of the latest round of funding there is a former school in North Glasgow, disused since 2013, which is going to be converted into affordable houses. We also have a former Sunday school in Paisley which will eventually become a health centre, helping people to stop smoking, offering health checks, as well as dietary, alcohol and drugs advice. And we are able to fund vital repairs to a community centre which has served the people of Aberfeldy for nearly 30 years.'
The Category B listed former Greenview School (originally Balmore Public School), in Parkhouse, North Glasgow is set to receive £109,250 funding to convert the building into 28 housing units to be set at affordable rents to those in housing need. This is part of a wider £3 million project from the North Glasgow Community Planning Partnership in the area which will create jobs and training opportunities.
The Category A Listed Castle Leod in Strathpeffer, Easter Ross is set to receive a grant of £13,680 as part of the third phase of a project to open up the 16th century building to the public. The castle is recognised as being of national and international importance due to its architectural quality and the survival of 16th and 17th century fabrics featured. The surrounding gardens and landscape are included on the national inventory for landscapes. The funding will be used to carry out essential repairs to parts of the castle, in order to facilitate the creation of a visitor centre, study room, and refurbished disabled toilet facility. The new visitor centre will allow the castle to increase its opening hours and days.
The Category C listed Memorial Hall in Paisley is located in an area recognised as one of Scotland's most deprived. Built by successful local architect Thomas G. Abercrombie in 1900, it is a rare example of a building purpose-built as a Sunday school. Paisley Seventh Advent Church have been awarded a £104,280 grant to assist with the conversion of the building to a church and health centre.
The Category A Listed James Watt Library in Inverclyde, dates back to the early 19th century and has been one of Greenock's most important civic buildings for a long time. Thanks to a grant of £297,000 it's long term future will be secured, parts of the building which have been unable to be used for years will be reopened, and the buildings capacity to provide high quality library, exhibition, and archiving facilities will be significantly improved.
[edit]
Find out more
[edit]
External references
IHBC NewsBlog
IHBC London Branch Conference launched and open for booking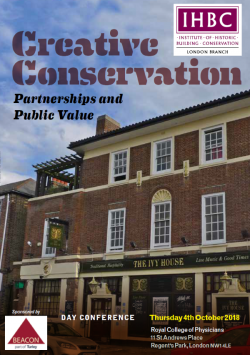 'Creative Conservation: Partnerships and Public Value' - 4 Oct, Royal College of Physicians - leading speakers, unequalled debate - a CPD opportunity not to be missed!
---
IHBC latest Jobs etc skills review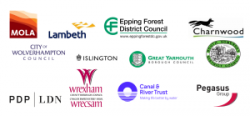 Specialist areas and skills in demand, from design and project management to regulation and more featured in our celebrated – and very cost-effective - IHBC Jobs etc service.
---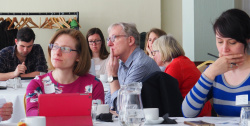 Ideas bear fruit, as early career members 'reverse mentor', generating fresh perspectives on the institute's future plans and structures!
---
IHBC Scotland at Listed Property Show in Edinburgh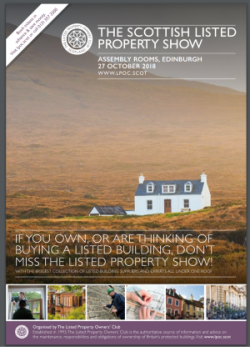 IHBC Scotland will host a CPD session at the Show on 27 October, while an IHBC stand will offer more informal access and conservation advocacy to visitors.
---
IHBC Heritage from the doorstep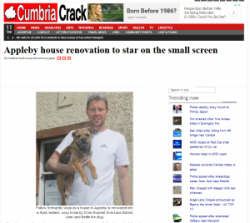 A traditional building in the Appleby Heritage Action Zone (HAZ) is filming its 'work in progress' as part of work grant aided by Historic England as reported by Cumbria Crack!
---
English Heritage celebrates the Cooper Car with a blue plaque.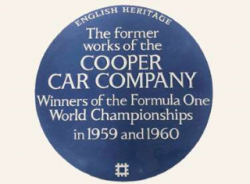 A blue plaque has been placed at the home of the former Cooper Car Company, marking its motoring heritage.
---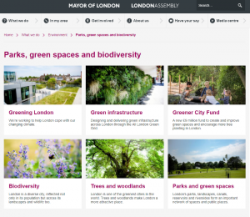 Community Tree Planting Grants and £1.5million woodland fund look to make London the world's first National Park City.
---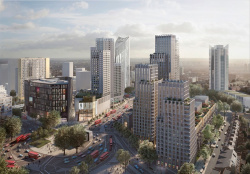 'What if mothers or teenagers designed our cities?' An opinion piece in the invites us to consider what our cities would look like if cities reflected their diverse populations.
---
V&A Dundee opens Saturday 15 Sept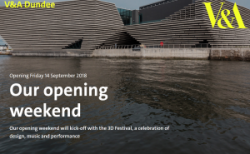 IHBC NewsBlogs reports on some building construction and collection highlights, including spectacular drone footage of work in progress and to completion.
---
IHBC supports LPOC petition on VAT reductions for Listed Buildings
LPOC notes '...it is perverse that repairs should be subject to VAT when new development is not'.
---
Loyd Grossman recently appeared on a BBC radio programme to discuss NIMBYism in heritage and development, the programme is currently available on BBC iPlayer.
---
Call to share land value with communities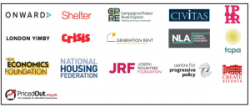 England's SoS for Housing, Communities and Local Government is sent an open letter by leading campaign organisations calling for land value to be shared.
---
Redrock Stockport wins 2018 Carbuncle Cup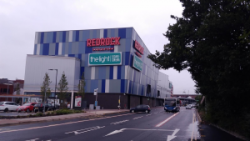 The 2018 winner of the Carbuncle Cup is Redrock Stockport, a £45m leisure complex and car park designed by BDP for the local council.