IHBC North West Branch Annual Conferences
This article originally appeared in the IHBC NewsBlogs
---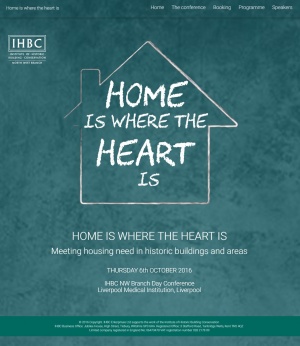 The ever popular IHBC North West Branch annual conference, which has covered such diverse topics as energy efficiency in historic buildings, empowering local communities, heritage and the 'high street' and technology in conservation, this year (2016) looks at meeting the housing need in historic buildings and areas.
'Home is where the heart is…' will take place in Liverpool on 6th October 2016.
Houses form the highest proportion of all heritage assets, whether purpose designed or later adapted to incorporate residential accommodation. Balancing the changing needs of homeowners whilst protecting the architectural and historic value of historic buildings continues to present ongoing challenges to architects and conservation professionals alike.
Meanwhile at a national level great efforts are being placed upon boosting the supply of new housing to the meet the demands of an increasing population and changing household structures. This has resulted in great development pressure within both urban and rural areas and heritage assets, historic buildings and or conservation areas, are no exception to this process.
This conference will explore the challenges of designing new homes within historic areas, consider how to sensitively adapt and convert historic buildings to meet the needs of existing and future occupants as well as highlighting examples of best practice both locally and nationally. It will be of interest to planners, architects, developers, property owners, amenity societies, and all those who manage and care for the historic environment.
See more at http://ihbconline.co.uk/newsachive/?p=13067
For more details and to book see housing.ihbc.org.uk
For past conferences see the IHBC North West Branch page on the IHBC website
External references
Featured articles and news
The Archaeologist meets Context
Director Sean O'Reilly salutes IHBC trustees in his regular 'Director's Cut' article which has also been recast as the IHBC's annual update in CIfA's member publication.
---
Reminder – nominate a retired member for the IHBC Marsh Award
The award for Community Contribution (Retired Member) open to a retired IHBC Full Member who has, since their retirement, worked on the historic environment for the good of a community.
---
Unsafe memorials in cemeteries
A Commons Library briefing paper considers safety and actions to address the risk of accidents caused by unstable memorials in cemeteries in England and Wales.
---
Report on Heathrow airport expansion summarises heritage impacts
A Department for Transport (DfT) consultation has just been launched which explores the heritage impacts of proposed developments at Heathrow.
---
Northern Powerhouse - Growth Deals
The Department for Communities and Local Government (DCLG) has published growth deals set up to help fund local enterprise partnerships for projects that benefit the local area and economy.
---
Guidance on project grants focused on jobs and growth with heritage opportunities
The Department for Environment, Food and Rural Affairs (DEFRA) has published guidance on grant funding for projects in England focused on jobs and growth in the rural economy while also offering heritage opportunities.
---
Cultural Heritage Workshop - Research Projects Parade
This event will be organized by the Joint Programming Initiative (JPI) on Cultural heritage on 20 and 21 February in Brussels.
---
Parochial house attached to picturesque cathedral in Belfast to be listed
The Belfast Telegraph reports that the building at St Peter's Cathedral in west Belfast has been recommended by the Department of Communities for B1 listing, reserved for some of the most special constructions in the country.