Historic Environment Scotland - 12 new commemorative plaques
In August 2016, HES (Historic Environment Scotland) announced details of 12 people to be commemorated under the commemorative plaque scheme, including entertainer Stan Laurel, Sarah Siddons Mair, early 20th century campaigner for women's education and suffrage and Sir Nigel Gresley, railway engineer.
HES (Historic Environment Scotland) wrote:
Glasgow's favourite 'Son of the Desert' is to be commemorated with a plaque, which will be mounted on the Glasgow tenement building where he spent many of his formative years. Although born in Cumbria, Stan Laurel (real name Arthur Stanley Jefferson) of 'Laurel and Hardy' fame, moved to Glasgow when he was a boy, and it would be in the city's famous Britannia Panopticon, the world's oldest, still-used music hall, that he would make his stage debut, aged 16.
Other recipients of the Commemorative Plaque Scheme include luminaries and pioneers in the fields of engineering, architecture, literature, science, politics, and the advancement of women's rights.
Martin Fairley, Head of Grants at Historic Environment Scotland, said: 'The idea of the scheme is to allow the public to tell us which historic figures deserve to be celebrated and commemorated. By installing a plaque on a building closely associated with that person we hope to emphasise the social and human element of local architecture. After all, a building can have a great influence on the character of the person who lived or worked there. This latest batch of nominations provides some fine examples of that, as well as some prominent figures, from Stan Laurel, to Nobel Prize winning physicist Max Born, famous biographer James Boswell, and medical pioneer Dr Flora Murray, to name just a few.'
Stan Laurel's plaque is set to be mounted on the wall of the tenement block on 17 Craigmillar Road in Glasgow's South Side where he spent part of his formative years. His father, also Arthur Jefferson, was a theatre manager and the family had moved north of the border when he was offered a job at the city's Metropole Theatre (now demolished).
The young Stan Laurel was fascinated by the theatre and made his first tentative steps into show business when he was 16, making his first professional performance on the stage of the Britannia Music Hall, which remains something of a mecca for Laurel and Hardy fans to this day. Although his career was to take him all over the world, Laurel always retained a strong affinity with Glasgow. Such was his popularity with Glaswegians that when Laurel and Hardy arrived on tour in Glasgow, huge crowds gathered in the streets to see the pair.
In total there are 12 recipients of plaques in this round, which includes the author Neil Munro, famous for his comic creation 'Para Handy', caption of the Vital Spark; Sarah Siddons Mair, early 20th century campaigner for women's education and suffrage; railway engineer Sir Nigel Gresley, who was responsible for creating many of Scotland's railway networks; and politician Robert Bontine Cunninghame Graham, who was the first ever socialist member of Parliament of the United Kingdom, and a founder of the Scottish Labour Party, as well as the National Party in Scotland.
The Historic Environment Scotland Commemorative Plaque Scheme celebrates significant historic figures by awarding plaques to be erected on the buildings where they lived or worked. Anybody can nominate a person to be recognised, by completing a simple application form that will be available later this year.
[edit]
External references
Featured articles and news
IHBC NewsBlogs now open for comments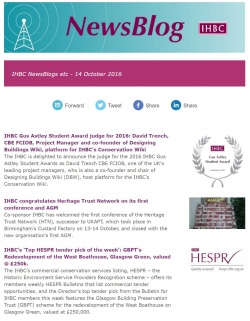 The IHBC has now opened its celebrated NewsBlog service to user comments, so members and users can open, join and extend the discussions around our news items.
---
IHBC HESPR tender pick of the week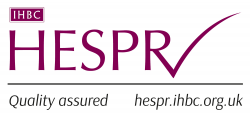 This week's Director's top pick for IHBC members features a call from Fenland District Council for archaeology, building investigation and community engagement.
---
IHBC Context CPD tale of two traumas - The importance of conservation expertise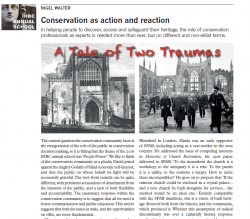 In helping people to discover, access and safeguard their heritage, the role of conservation professionals as experts is needed more than ever, says Nigel Walter.
---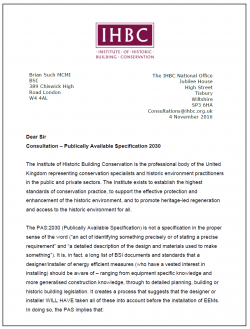 The BSI consulted on two Publically Available Specifications on energy efficiency measure (EEM) installation.
---
Churchill Barriers to be listed

Second World War structures at Scapa Flow have been recognised as being of national importance by Historic Environment Scotland.
---
Neighbourhood Planning Bill 2016 - 2017 – Committee Stage amendments
The Bill was amended during its Committee stage in the House of Commons, and a number of Government new clauses were added in relation to local plan making.
---
Complete Historic Environment Scotland survey
Historic Environment Scotland (HES) has announced a national campaign to find out what heritage means to the people of Scotland as part of the 2017 Year of History, Heritage and Archaeology.
---
Heating and energy-related reports for retro-fit projects
The UK government has published several reports on retro-fit issues for historic buildings.
---
US Embassy scheme receives conditional planning permission
Qatari-backed hotel scheme for the Grade II listed building in Mayfair will include 137 bedrooms, additional restaurants, retail and events space.
---
The pros and cons of crowdfunding architectural projects
A CLAD magazine feature discusses how crowdfunding can help get projects started and allow architects to be proactive.
---
Hidden paintings found at the Guild Chapel in Stratford upon Avon
Conservators have conclude it is one of the few places in Europe to have an almost complete medieval decorative scheme still in situ.
---
ebulletin&utm_campaign=c19f6a8b87-EMAIL_CAMPAIGN_2016_11_16&utm_medium=email&utm_term=0_56a3992b07-c19f6a8b87-129752081 Scottish Civic Trust calls for entries to My Place Awards
Community groups have been asked to nominate favourite new buildings, conservation projects and people in its annual awards (closing date 31 January 2017).
---
The Design Museum - regenerating a 1960s architectural icon
Museums Heritage says that after almost five years of restoration and refurbishment, the Grade II* Design Museum has been transformed into a modern multi-purpose space.
---
Property Flood Resilience Action Plan out
An independent report has been issued relating to flood protection, aiming to help with flood resilience.