Heritage Lottery Fund - Heritage Endowments
A new programme was launched in August 2016 by the Heritage Lottery Fund (HLF) called 'heritage endowments', intended to help organisations create a regular annual income.
The HLF wrote:
Helping people explore, enjoy and share their heritage, in all its diversity, is at the core of all we do at HLF. But that principle firmly relies on our heritage being open and accessible to the public, as well as safeguarded for the future.
As in any industry, an over reliance on a single source of income has the potential to weaken the resilience of a heritage organisation. Diversification is key and that's why today we've launched Heritage Endowments. Heritage Endowments will enable organisations to create financial reserves that can be drawn on and invested to create a regular source of annual income.
Now, these are challenging economic times and we appreciate that building an endowment and attracting philanthropic giving isn't easy. But where Heritage Endowments helps is by providing grants of £250,000, £500,000 or £1million that will be matched pound for pound by private donations.
Ros Kerslake, Chief Executive of HLF, said: 'Building an endowment is one way heritage organisations can enhance their long-term reserves, which is vital for financial resilience. In this difficult economic landscape that's a challenging ask but Heritage Endowments is there to provide the boost needed to make it happen.'
This new endowments programme builds on the success of Catalyst Endowments. A partnership between the Department of Culture, Media and Sport, HLF and Arts Council England, Catalyst has helped over 30 heritage organisations diversify their income streams by attracting private donations to create endowments. Heritage Endowments aims to continue this success.
[edit]
Find out more
[edit]
External references
IHBC NewsBlog
IHBC's HESPR Pick this week: Scottish THI seeks 'creative(s)' in community engagement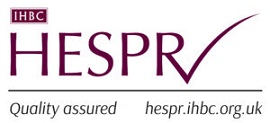 The IHBC's heritage business register HESPR emails members weekly 'News and Tender Alerts', and the IHBC Director's top pick this week features a call from a Scottish authority for 'creative(s)' to deliver 'community engagement projects', closing 28 October.
---
Banksy graffiti taken off Grade II listed Yorkshire bridge facing dismantling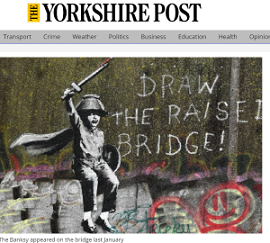 Graffiti by Banksy has been taken off a bridge in Hull as the Grade II (GII) listed Scott Street bridge itself faces dismantling.
---
The Liverpool Grade II 'jewel' that lies empty, derelict and vandalised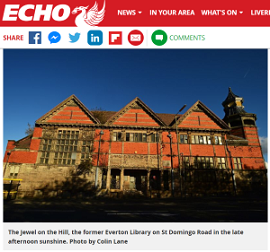 Liverpool landmark the Everton Library, a Grade II (GII) listed building that has been the focus of calls to restore it to its former glory continues to lie leaking, vandalised and derelict, when £5m could renovate the building, reports The Liverpool Echo.
---
Flintshire: Shotton steelworks' John Summers building to be restored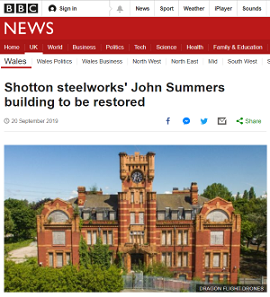 A landmark on a list of the UK's most endangered buildings, Shotton steelworks' Grade II-listed general office and clock tower, is to be brought back to life in Flintshire.
---
Rochdale Market, Manchester, to close as trader numbers and revenue continue to fall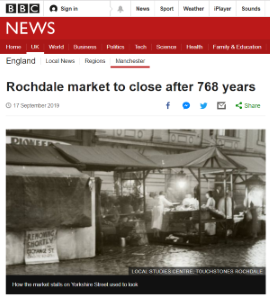 Rochdale Borough Council writes: Over the past year the number of traders regularly attending the market has halved and it is not financially viable.
---
IHBC supports Climate Heritage Network Global Launch: Edinburgh 24-25 Oct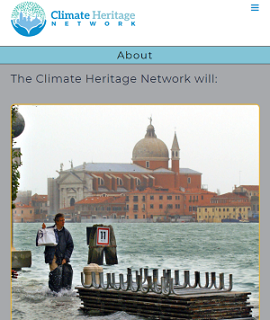 The Climate Heritage Network (CHN) Global Launch is a two-day program devoted to urgently mobilizing the cultural heritage sector for climate action across the globe.
---
Brunel's 'other bridge' in Bristol to be 'saved with £62k grant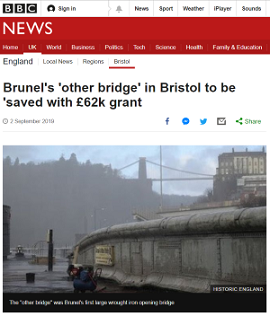 A swing bridge that was designed by Brunel is to be 'saved' with a £62,000 grant from Historic England.
---
Victorian Society announce Top 10 Most Endangered Buildings 2019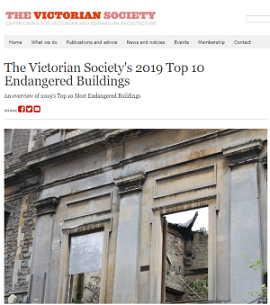 On September 13th the Victorian Society announced its Top 10 Endangered buildings list.
---
American Cities Then & Now: See How New York, Los Angeles & Detroit Look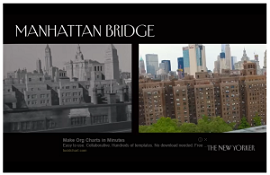 An Open Culture article takes a look at the American Cities of New York, Los Angeles and Detroit comparing how they look now compared to the 1930s and 1940s.
---
Great Yarmouth's Venetian Waterways to recapture former glories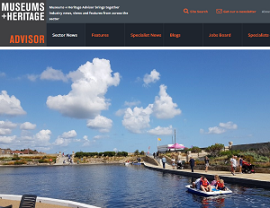 Great Yarmouth's 91 year old Venetian Waterways has been re-opened to the public following a £2.7 million regeneration project.
---