BREEAM Wiki launched
[edit]
BREEAM Wiki launched on 23 April 2018. Created by its users and stakeholders, BREEAM Wiki will advance knowledge sharing and collaborative solutions for the BRE family of sustainability tools.
BREEAM Wiki is part of the widely-used Designing Buildings Wiki, which is already an established favourite for the construction community with 3.7 million users a year. BREEAM Wiki promotes the uptake of sustainability by disseminating BREEAM best practice and lessons learnt, and making it easier for a diverse range of collaborators to share their knowledge. The development of the Wiki comes at a time when there is increasing evidence that crowd-sourced knowledge is more comprehensive and representative.
There are already more than 160 articles on BREEAM Wiki, together with a specially-written series of Issue Support Documents created to disseminate the most immediately-useful information for individual sustainability topics.
Paul Thistlethwaite of BREEAM said; "We have set up the BREEAM Wiki within Designing Buildings with an emphasis on ease and accessibility. It is designed to allow a wide range of interested parties to contribute. You can add a single line to an existing article and add value in less than a minute. The wisdom of the crowd often outstrips that of a few experts and that is a resource that we want to harness."
Co-founder of Designing Buildings Wiki, Dr Gregor Harvie, said; "Sustainability is all about working together for the common good. BREEAM Wiki is a fantastic opportunity for practitioners to share what they know and help others create a more sustainable environment. There's already lots of great information on BREEAM Wiki, and it will get even better as more people engage with it."
To contribute to BREEAM Wiki go to https://www.designingbuildings.co.uk/BREEAM_Wiki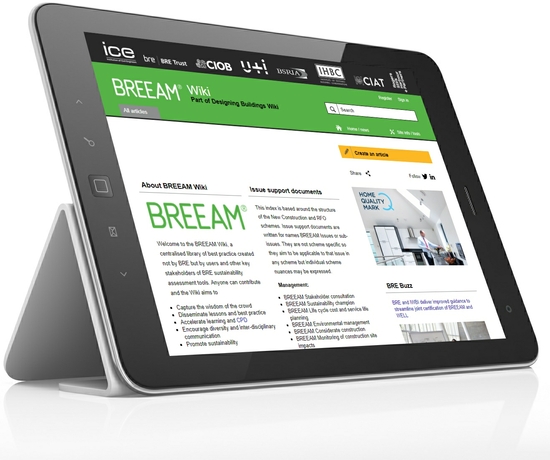 BREEAM is the world's leading sustainability assessment method for masterplanning projects, infrastructure and buildings. It recognises and reflects the value in higher performing assets across the built environment lifecycle, from new construction to in-use and refurbishment. BREEAM does this through third-party certification of the assessment of an asset's environmental, social and economic sustainability performance, using standards developed by BRE. This means BREEAM-rated developments are more sustainable environments that enhance the wellbeing of the people who live and work in them, help protect natural resources and are more attractive property investments. https://www.breeam.com/
Designing Buildings Wiki is used by 3.7 million people a year to find and share construction industry knowledge. Created in 2012, it includes 6,500 articles about the planning, design, construction and operation of built assets. Everyone is free to write about things they know and to find out about things they don't. Users can add their profile to articles they write, so when people read them, they find out about the author too. Every change is checked to ensure that the high quality of the site is maintained.
Designing Buildings Wiki is supported by; The Institution of Civil Engineers, Rogers Stirk Harbour + Partners, The Chartered Institute of Building, The Institute of Historic Buildings Conservation, U and I Group PLC, BRE Trust, BSRIA and The Chartered Institute of Architectural Technologists. https://www.designingbuildings.co.uk
Issue support documents
| | |
| --- | --- |
| | These are Multiple Author Articles - click on them and add to them today. It's easy. |
You can also add to General Multiple Author Articles here.
Issue support documents are written for named BREEAM Issues or sub-issues. More info. (ac) = awaiting content.
[edit] Management:
[edit] Health and Wellbeing
[edit] Energy
[edit] Transport
[edit] Materials
[edit] Land Use and Ecology
[edit] Pollution
Once an ISD has been initially created the '(ac)' marker can be removed
This particular index is based around the structure of the New Construction and RFO schemes.