The Royal Society of Arts Heritage Index Update
In September 2016, The Royal Society for Arts (RSA) asked for help to update last year's Heritage Index, including both thoughts on criteria (survey closing 7 September) and suggestions for new data.
The RSA wrote:
In September 2015, we launched the first iteration of the RSA's Heritage Index. This was an unprecedented data exercise, bringing together over 100 ways to measure the richness of heritage assets and activities across every local area in England, Scotland and Wales.
We are now in the midst of work to refine the previous index, and to expand on the range of data included. To make sure we don't miss anything, we are asking you to consider submitting data, and to suggest improvements to the way in which we combine the many sources of data to produce a single Heritage Index score. We are also building a Northern Ireland index…
Now we're looking to make the Heritage Index bigger and better for 2016....
...We'd also like you to tell us what you thought of the way in which we combined the many indicators of heritage. Have a look at how we balanced the indicators to produce a single Heritage Index score – for example, we 'weighted' UNESCO World Heritage Sites more heavily than Grade II listed buildings....
[Links to Wales and Scotland are available through the survey.]
[edit]
External References
The Royal Society of Arts - https://www.thersa.org/action-and-research/rsa-projects/public-services-and-communities-folder/heritage-and-place
Featured articles and news
IHBC Gus Astley Student Award 2017 now open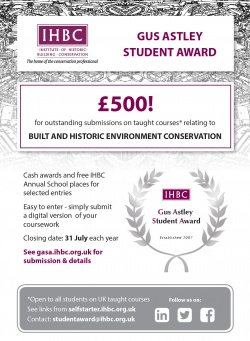 Send in your coursework on a taught course by 31 July for a chance to win a prize and attend the IHBC's Annual School in Belfast in June 2018.
---
Can Wellington (NZ) save its heritage buildings before it's too late?

---
Local military heritage at risk
The Daily Telegraph reports that many small regimental museums are to lose Ministry of Defence (MoD) funding by the end of next decade.
---
Heritage Open Days festival 2016 attended by millions
The Heritage Open Days (HODs) 2016 Impact Report shows an estimated 3 million visitors attending 5293 events with £10m for local economies.
---
International News - Cultural Protection Fund projects announced
The British Council has announced the initial projects to be supported by the Cultural Protection Fund, which will protect heritage overseas.