Cosmati work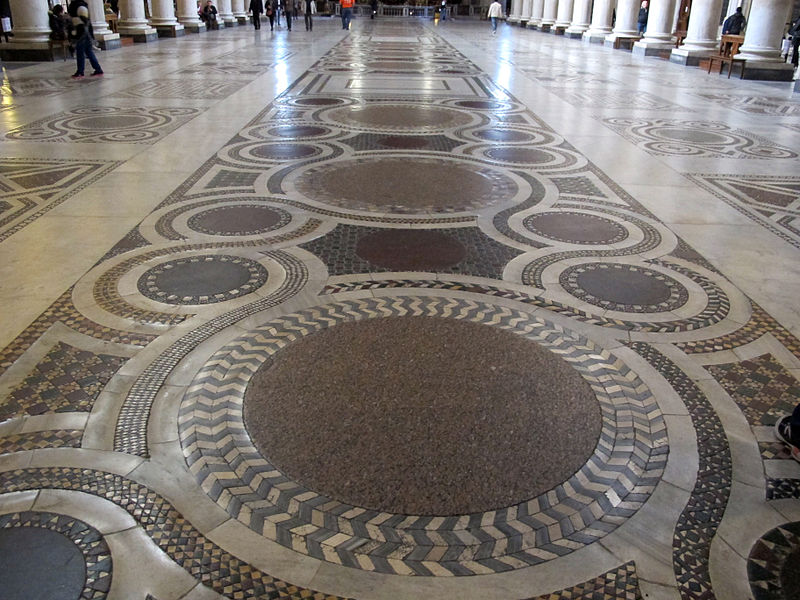 Cosmati work on the floor of Santa Maria Maggiore in Rome.
[edit]
Introduction
Cosmati work (also referred to as Cosmatesque) is a type of specialised decorative work that typically includes inlays of coloured stones (marbles and porphyries), glass, gilding and so on laid in a bed of mortar. Unlike mosaics, where the pieces are generally small cubes, Cosmatesque features materials of different shapes fitted together to make a pattern in a style developed in Italy.
Cosmati work was frequently used in Italian Romanesque architecture including floors, pulpits and other decorative work. It appears most frequently in buildings constructed around Rome and Naples in the 12th and 13th centuries.
Roman marble workers of this period were known collectively as the Cosmati. This naming convention originates with the name "Cosma", which is a recurring name of several families and generations of Roman marble workers.
Cosmatesque decoration is not entirely confined to Rome, or even to Italy. There are two Cosmatesque pavements at Westminster Abbey, the finest of which is found in the sanctuary in front of the high altar. This pavement has been described as one of the pre-eminent works of art of medieval England. Some of the stones were acquired from Roman-period archaeological sites. This intricate 13th-century floor lay hidden under carpet to protect its fragile surface for over a hundred years, until a two-year restoration project (2008–10) by the abbey brought it back to life.
IHBC NewsBlog
Canal River Trust secures funding to create waterway roles for young people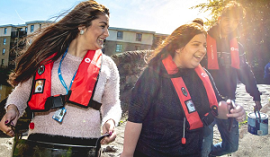 The support will create dozens of opportunities in heritage repair and construction and waterways management, funded by the Department for Work and Pensions.
---
2021 Building Conservation Directory published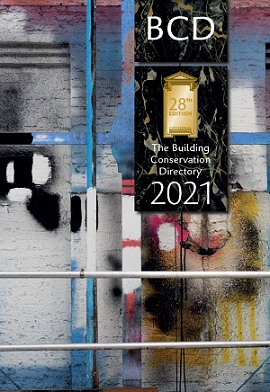 The 2021 edition of the Building Conservation Directory, also available online, has been published. Find skilled trades specialising in work to historic and traditional buildings.
---
BT dials up 'Adopt a Kiosk' scheme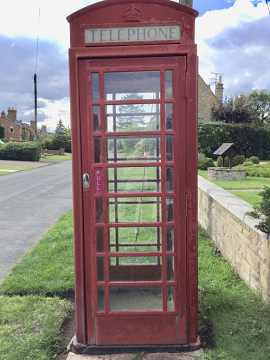 BT has revealed that almost 4,000 of its iconic red phone boxes across the UK are available for local communities to adopt for just £1.
---
Watch IHBC's webinar on 'Retrofit of Traditional Buildings'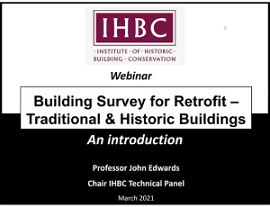 On 26 March the IHBC, led by Prof. John Edwards, hosted a free one-hour CPD webinar 'Introduction to Building Survey for Retrofit' for sector professionals.
---
Has the world left Europe behind?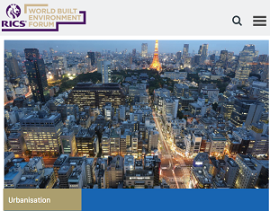 Greg Clark, writing an opinion piece for RICS, explores how good governance in cities pays dividends.
---
AHF on 'Transforming Places through Heritage'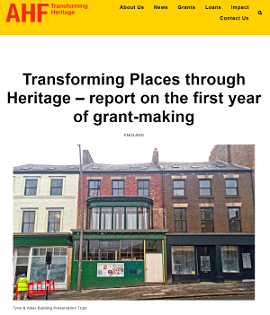 The Architectural Heritage Fund has issued a report on the first year of its 'Transforming Places Through Heritage' grants programme, funded by DCMS.
---
'Star Cities', Marvels of Renaissance Engineering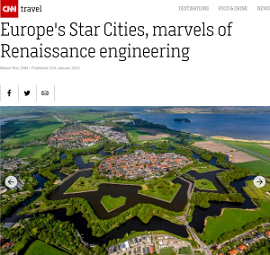 Europe's star cities are scattered all over Europe but their perfect geometrical beauty can only be fully admired when seen from above.
---
COTAC Releases Insight 1 series – The Need to Appreciate the Built Heritage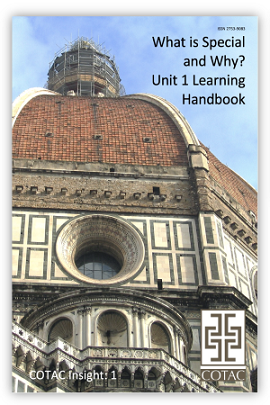 The freely available Insight 1 series targets a wide range of cohorts who wish to gain an appreciation of practical heritage conservation.
---
Palace of Westminster 'deteriorating faster than it can be fixed'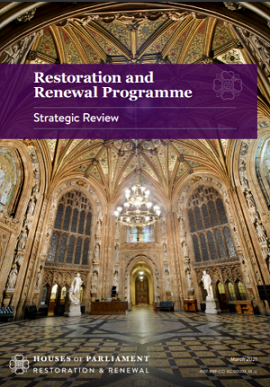 The restoration and renewal of the Palace of Westminster is of 'paramount importance' according to the recent strategic review.
---
Find Webinars and other Events pertaining to Heritage Conservation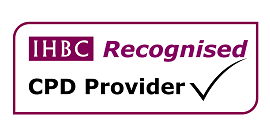 The IHBC's monthly CPD Circular showcases upcoming Events, Awards, Placements, Bursaries & Scholarships, Calls for Papers and more from across the UK and beyond.