CIfA IHBC reciprocal taster memberships
This article originally appeared in the IHBC NewsBlogs
---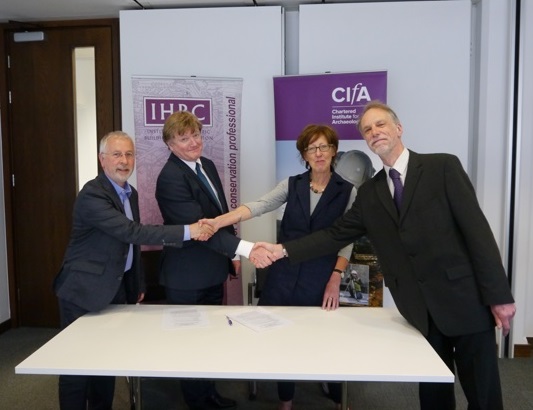 The IHBC and CIfA have announced the first major outcome of the newly signed Memorandum of Understanding (MoU) between the two organisations: free 1-year 'taster' memberships to help new members experience our respective disciplines and support at first hand.
IHBC Chair Mike Brown and CIfA Chair Jan Wills issued a joint statement saying: 'We are absolutely delighted that our new Memorandum of Understanding is already delivering a great new deal for all our members. Our free 1-year reciprocal 'taster' memberships offer just the sort of value, benefit and capacity building our hard-hit heritage sector so badly needs.'
'This innovative initiative will also enhance mutual understanding and respect across our diverse but critical constituencies. It will also extend our collective reach and impact far beyond the usual heritage borders and, hopefully, into the hearts of government and industry.'
CIfA CEO Peter Hinton said: 'Those CIfA members whose work involves or informs built and historic environment conservation are encouraged to seek additional professional recognition for this specialist work by applying for IHBC membership – just as we encourage those conservation specialists whose work involves archaeology to seek accreditation from us.'
IHBC Director Dr Sean O'Reilly said: 'We are very pleased to be able to recommend to all IHBC members whose work involves archaeological practice the generous offer of free CIfA membership for a year so they can experience the discipline and service at first hand and at no cost. And where our members' work involves or informs archaeological practice, we would also encourage them to seek from the CIfA that recognition, status and accreditation.'
For background see the IHBC NewsBlog
IHBC NewsBlog
10 Days to submit for IHBC Student Award 2018 with up to £5000 to be won
Photo: Colin Higgs (http://www.portreathstudio.com) from Hilary Wyatt's winning submission to the 2016 IHBC Student Award, on historic marine infrastructure.

The IHBC's 2017 Gus Astley Student Award closes on 31 July, so if you have relevant coursework be sure to submit it online and on time.
---
Meet the IHBC national officers online
Following their election at the IHBC's AGM in Manchester, the institute's officers summary details have been posted on the IHBC's website.
---
IHBC welcomes Appeal Court timely reaffirmation of legislation over policy
IHBC's Policy Chair said: 'This judgement…. makes clear the importance of up-to-date development plans, and that the NPPF is not the over-riding consideration in every planning decision'.
---
Consultant for Stage 2 HLF bid for Mansfield Townscape Heritage Scheme, closing 7 August, valued at £70,000.
---
Listing of Humber Bridge and Philip Larkin house celebrates the heritage of Hull
Humber Bridge joins top 2.5% of listed buildings on the 36th anniversary of its official opening by The Queen, as 9 new listings are added during Hull City of Culture 2017.
---
Scottish Government launches consultation on socio economic duty
In 2017, Scotland will become the first part of the UK to introduce the 'socio-economic duty' and a consultation paper is a key way to get the implementation right.
---
Historic England seeks advice and guidance on advice and guidance
The online survey's objective is to review HE's online advice and guidance to find out if the right information is being provided to the right people in the most effective way.
---
Archikids Festival - free architecture festival for kids and families in London
From 22 - 23 July 2017 free architecturally-inspired activities and workshops will be held, led by architects, artists and designers for kids and their families to explore the city.
---
Economic boost for the north of England as HS2 routes confirmed
Transport Secretary Chris Grayling confirms Britain's high-speed rail lines to the north-west, East Midlands and Yorkshire will give the North of England a huge economic boost.
---
Heritage funding in England and Scotland tops £486 million
Two reports detail the amount of financial support the EU has provided to heritage in England and Scotland between 2007-2016, together identifying more than £486 million.
---
Civic Voice makes Special Award for Development in a Conservation Area
To mark the 50th anniversary of the Civic Amenities Act 1967 Civic Voice has awarded 3 Special Awards to projects from across England for enhancing a conservation area.