CIfA IHBC reciprocal taster memberships
This article originally appeared in the IHBC NewsBlogs
---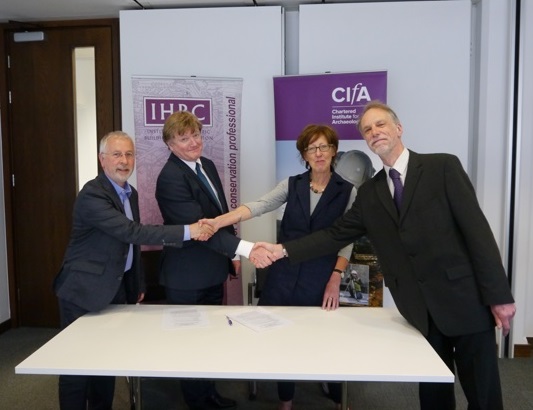 The IHBC and CIfA have announced the first major outcome of the newly signed Memorandum of Understanding (MoU) between the two organisations: free 1-year 'taster' memberships to help new members experience our respective disciplines and support at first hand.
IHBC Chair Mike Brown and CIfA Chair Jan Wills issued a joint statement saying: 'We are absolutely delighted that our new Memorandum of Understanding is already delivering a great new deal for all our members. Our free 1-year reciprocal 'taster' memberships offer just the sort of value, benefit and capacity building our hard-hit heritage sector so badly needs.'
'This innovative initiative will also enhance mutual understanding and respect across our diverse but critical constituencies. It will also extend our collective reach and impact far beyond the usual heritage borders and, hopefully, into the hearts of government and industry.'
CIfA CEO Peter Hinton said: 'Those CIfA members whose work involves or informs built and historic environment conservation are encouraged to seek additional professional recognition for this specialist work by applying for IHBC membership – just as we encourage those conservation specialists whose work involves archaeology to seek accreditation from us.'
IHBC Director Dr Sean O'Reilly said: 'We are very pleased to be able to recommend to all IHBC members whose work involves archaeological practice the generous offer of free CIfA membership for a year so they can experience the discipline and service at first hand and at no cost. And where our members' work involves or informs archaeological practice, we would also encourage them to seek from the CIfA that recognition, status and accreditation.'
For background see the IHBC NewsBlog
IHBC NewsBlog
IHBC's HESPR Pick this week: Scottish THI seeks 'creative(s)' in community engagement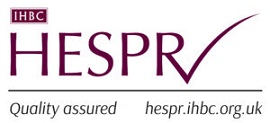 The IHBC's heritage business register HESPR emails members weekly 'News and Tender Alerts', and the IHBC Director's top pick this week features a call from a Scottish authority for 'creative(s)' to deliver 'community engagement projects', closing 28 October.
---
Banksy graffiti taken off Grade II listed Yorkshire bridge facing dismantling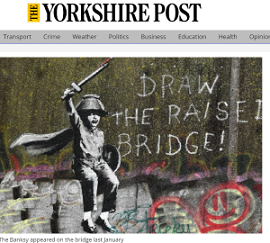 Graffiti by Banksy has been taken off a bridge in Hull as the Grade II (GII) listed Scott Street bridge itself faces dismantling.
---
The Liverpool Grade II 'jewel' that lies empty, derelict and vandalised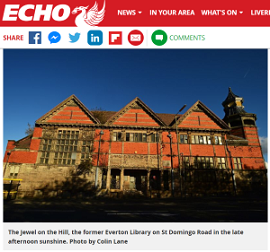 Liverpool landmark the Everton Library, a Grade II (GII) listed building that has been the focus of calls to restore it to its former glory continues to lie leaking, vandalised and derelict, when £5m could renovate the building, reports The Liverpool Echo.
---
Flintshire: Shotton steelworks' John Summers building to be restored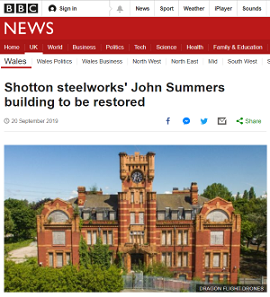 A landmark on a list of the UK's most endangered buildings, Shotton steelworks' Grade II-listed general office and clock tower, is to be brought back to life in Flintshire.
---
Rochdale Market, Manchester, to close as trader numbers and revenue continue to fall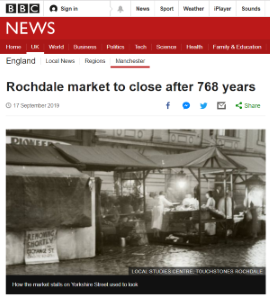 Rochdale Borough Council writes: Over the past year the number of traders regularly attending the market has halved and it is not financially viable.
---
IHBC supports Climate Heritage Network Global Launch: Edinburgh 24-25 Oct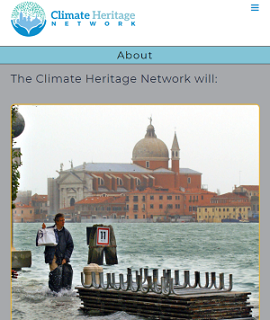 The Climate Heritage Network (CHN) Global Launch is a two-day program devoted to urgently mobilizing the cultural heritage sector for climate action across the globe.
---
Brunel's 'other bridge' in Bristol to be 'saved with £62k grant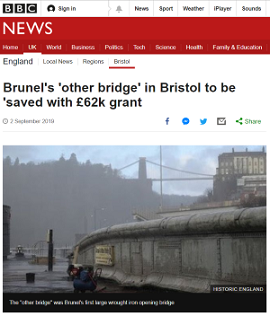 A swing bridge that was designed by Brunel is to be 'saved' with a £62,000 grant from Historic England.
---
Victorian Society announce Top 10 Most Endangered Buildings 2019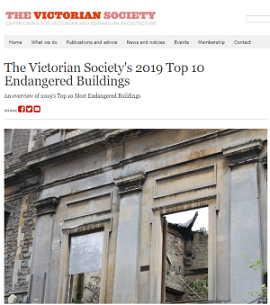 On September 13th the Victorian Society announced its Top 10 Endangered buildings list.
---
American Cities Then & Now: See How New York, Los Angeles & Detroit Look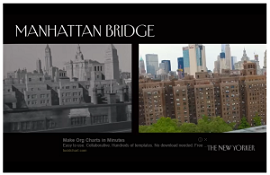 An Open Culture article takes a look at the American Cities of New York, Los Angeles and Detroit comparing how they look now compared to the 1930s and 1940s.
---
Great Yarmouth's Venetian Waterways to recapture former glories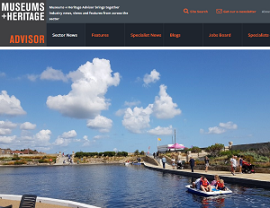 Great Yarmouth's 91 year old Venetian Waterways has been re-opened to the public following a £2.7 million regeneration project.
---