Planning Portal relaunch interactive tool
In September 2016, it was announced that the helpful interactive tools published by Planning Portal in England which explain permitted development (PD) rights were to be relaunched, using new technology and fully responsive interfaces which mean they work on all devices.
Planning Portal wrote:
The current Planning Portal interactive houses have been with us since 2008. They were ahead of their time, but the technology they use is now out of date and critically, can't be viewed on mobile devices. Given that mobile and tablet usage continues to grow and the rest of our site is completely responsive to different screen sizes, it's time to upgrade them.
So for the last few months we've been working on new improved interactive guides, using technology which can be seen on all types of device, including all Apple and Android ones, and is responsive to different screen sizes. We've taken the opportunity to improve the integration between the houses, the mini guides and the site content, making it easier for users to find what they want more easily.
We've also taken a fresh, modern approach to the design, using an illustrative style which research tells us makes it easier for users to relate to their own homes.
Much as we loved the old houses, we're really excited about the new ones and hope you will be too. They'll be live next Wednesday, 31st August on the English site, but you can see a sneak preview of the new homepage below.
[edit]
External references
Featured articles and news
IHBC asks you to contribute to the debate on gentrification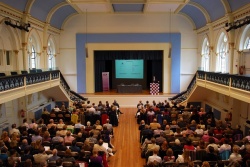 The Guardian reports on the dangers of gentrification - join the debate at IHBC NewsBlogs
---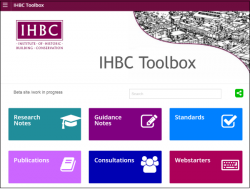 Our Toolbox offers easy access to the essential tools in conservation practice including links to Standards, 22 Practice notes, Consultations and much more.
---
Churchill Barriers to be listed

Second World War structures at Scapa Flow have been recognised as being of national importance by Historic Environment Scotland (HES).
---
Historic brick reservoir image wins award
The image of a covered reservoir in London's Finsbury Park has won the best architecture photograph of the year at the Arcaid Images Architectural Photography Awards 2016.
---
Westminster City Council gains approval for Special Policy Areas
The London Council's plans are given the go-ahead to management development in five unique specialist clusters.
---
Property Flood Resilience Action Plan out
An independent report has been issued relating to flood protection, aiming to help with flood resilience.